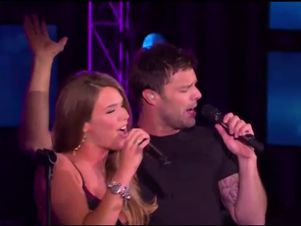 Well, my pretend husband gave his first interview since coming out and professing his love for me. He chose to go on Oprah for the festivities, and while I missed seeing the show myself, I did manage to catch it on YouTube. I am so grateful for those who make things like this available. The interview was rather beautiful, really, and was able to surprise me with some of the detail in which Ricky talks about his life. I remember being there, the times of self-loathing because society was telling me I was wrong, evil even. It does take time to process the whole thing, to figure out how to get comfortable with yourself before you can really get honest with yourself and everyone around you. And the 'at home' footage with his kids are just too precious. But I thought this might be a perfect chance to run a clip of Ricky performing his latest single, The Best Thing About Me Is You, a duet with the gorgeous Joss Stone.
In his tour, he was also scheduled to stop by
The View
, and I found this clip online, and thought I would run it as well. When I first saw it, it did bring a tear to my eye.
You can pick up Ricky's single on iTunes
here
or on Amazon
here
. Both are running $1.29 for the single. I have, of course, purchased it, and really like it. I hope he'll have a great time with it, and it will be getting good radio play. After all, Papi got twins to feed. A big part of this press tour is the promotion of his book, Me, which was just released. You can find it on Amazon
here
. And, of course, you can check out his official website
here
.