I must admit, I only recently discovered the music of Ryan Dolan, the Irish Pop singer who made me fall in love with the single and music video for "Start Again", a song I still play often. To check out that video, visit
my post here
. Now there is another single, "Fall to the Floor", and once again, he has me right in the palm of his hand. The song is incredible, and when I see the shot of him and his tattoo, I am mesmerized. I must admit, Ryan is a yummy treat.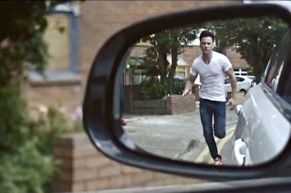 I know it seems wrong, but I am just insane for this song. It is a sumptuous Pop-tastic dessert, both sweet and savory, with just the right amount of salt. And it still manages to deliver the goods of the emotional text of a breakup song. Dolan's voice soars, whispers, and communicates all the hurt you need. And the music video captures is all perfectly, from the tear-stained cheek of the handsome ex-boyfriend, to chasing him further down the block than you ever should. We've all been there, or at least I have. But for me, I never looked quite as delicious as the Irish hunk. This is the music video for "Fall to the Floor" by Ryan Dolan.
You see, that is everything I need, and just a bit more. I tell you, I can watch and listen to this forever. You can purchase "Fall to the Floor" from
iTunes
and
Amazon
. To learn more about Ryan Dolan, visit his
official website
. You can also 'follow' him on
Twitter
, and 'like' him on
Facebook
.