Recently I was looking through my music collection, and I realized how long I have been a fan of several performers. One of those was British singer/songwriter Matt Fishel, who I discovered back in 2009. It was then I found the "Football Song", and the delicious music video that went with it. Since that moment, Fishel has had me in the palm of his hand. I purchased the 'Coming Out' EP, and went back to 'The Superfishel Experience', Matt's 2003 release, which I found on iTunes. And I've been collecting his music ever since. That would include his latest release, 'Not Thinking Straight', released last year with track after track of irresistible yummy Pop goodness.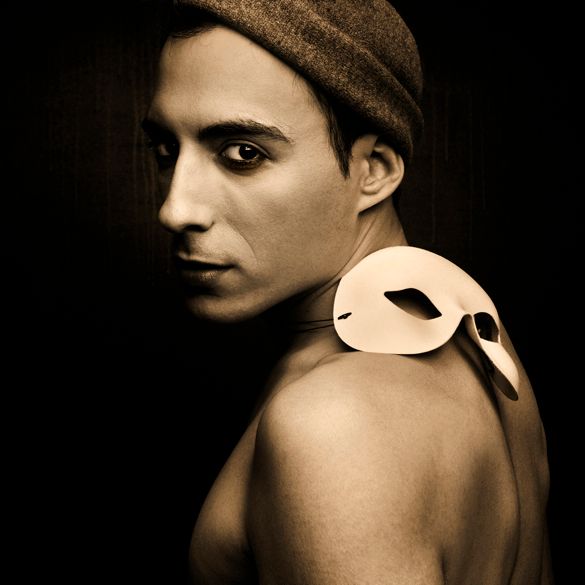 That would bring us to Fishel's latest release, 'Cover Boy', which hit the shelves earlier this week. It is a collection of seven cover songs, all songs from the 1980s, 1990s, and the first decade of the new millennium. From what I understood from Matt's discussions before the release, these were all favorite songs, and he was excited to share his take on them with us. I was excited to hear it, for Fishel has an amazing grasp of Pop music, serving up delicious treats with each release. So when taking on the treats of some of his favorite artists, my expectations were raised. And with my first listen of 'Cover Boy', he not only met them, but exceeded my expectations. The first track is "Summer Rain", a song off Belinda Carlisle's 1989 album 'Runaway Horses'. The track was the third single, released in 1990. While Carlisle's original was a fantastic love song, Fishel's take is a bit moodier but still imbued with love. The next track was a ccomplete mystery to me. I looked up "Run With Us", and discovered it was the theme from 'The Raccoons', an animated series on Canadian television from 1985 to 1991. Most notably sung by Lisa Lougheed, who also voiced one of the characters on the show. As I listened by Matt's version, I felt an urgency, with the hint of danger you might expect from a show based on action. This was a wonderful surprise, filled with fun and mystery. The third track on 'Cover Boy' is also the first single and music video, so you can check it out for yourself. This is Matt Fishel singing "Finally", CeCe Peniston's huge hit from 1991, off her album of the same name.
The song feels so new, so fresh, I just love it. I will admit I didn't really recognize the next song. I read the title "Big Casino", and there was some research to do. Oddly enough, this was the most recent track, so bad on me! The song is from the American band Jimmy Eat World, best known for their Top 5 hit "The Middle" from 2001. Matt chose to cover the 2007 single, which went to #3 on the Billboard Alternative Songs chart. Matt really brings the melody to life in his version. For the fifth track, Matt picked a song by Madonna, although not one the iconic star ever released as a single herself. "Sky Fits Heaven" was a track off the 1998 album by Madonna, 'Ray of Light', but remained one of Fishel's favorites. Matt took the Electronic/Dance track and made it pure Pop. That is followed by a song off the soundtrack to the 1984 film, 'Streets of Fire'. The song was written by Jim Steinman in just 2 days, after the producers could not clear a Bruce Springsteen song they wanted to use. While the movie didn't fare well with the audience, the soundtrack did much better. I remember watching the music video for "Tonight Is What It Means To Be Young", performed by Fire Incorporated. While Matt's version is not as over the top and bombastic as the original, it still has an operatic feel, as would most of Steinman's songs. There is a youthful zest to the version I love. The final cut is another from the 1990s, a sweet time for music. The 4th single off Bjork's 1995 album 'Post' was released in 1996, and was a special favorite of Fishel. At least I must imagine tit to be, for he also included a version on his 2003 EP, 'Coming Out'. The latest is a more refined version, tighter and more crisp, even as a choral acapella version. Yes, Matt's rendition of "Hyperballad"is special, and should not be missed. As a matter of fact, 'Cover Boy' should not be missed at all. Matt tackled doing a cover album by not going the expected route, and taking on the greatest hits of his favorite artists. The collection is a thoughtful and tuneful journey, one I keep taking again and again. You can purchase 'Cover Boy' from
iTunes
and
Amazon
. To learn more about Matt Fishel, visit his
official website
. You can also follow him on
Twitter
and 'like' him on
Facebook
.