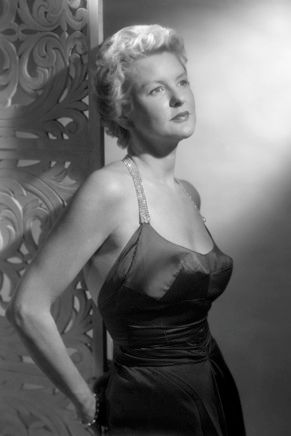 When I learned last Thursday of the passing of iconic actress, singer and personality Elaine Stritch, I was not only sad for the loss, but also at a loss for how to celebrate her life. After all, she was 89 when she passed, having left Manhattan about a year before. Before she left, Stritch was still playing a regular gig at the Cafe Carlyle. She was last seen on Broadway in 2011 (at age 86), playing Madame Armfeldt in 'A Little Night Music', a great musical by Stephen Sondheim. So she had been performing in some form or another for the better part of 70 years, working with some of the biggest names in entertainment. From Irving Berlin to Noel Coward to Sondheim, from Ethel Merman to Kim Stanley to Bernadette Peters, and Stritch not only held her own, but shone bright. She brought a vibrancy to many roles few could equal. How can you capture that?
Well, the woman herself captured her life in a way only she could when she appeared in the one woman show 'Elaine Stritch At Liberty', which combined songs, stories, and bravura in a brilliant way. The show took the world by storm in 2002, earning Stritch a 2002 Tony Award for Best Special Theatrical Event as well as the 2002 Drama Desk Award for Outstanding Solo Performance. In 2004, a documentary was made about the show, and after broadcast, earned Elaine the Primetime Emmy Award for Outstanding Variety, Music, or Comedy Special. In the show, she tells many stories about dates with Ben Gazzara, Gig Young, and a very handsome Rock Hudson. She speaks about doing summer stock, working with George Abbott, and phone calls with Noel Coward. And she talks about her drinking. And she sings. In other words, no one celebrates Elaine Stritch better than Elaine Stritch. This is a full-length 'Elaine Stritch At Liberty', running just over two hours.
I hope you enjoyed the show. Rest in peace, Elaine Stritch. I am sure no matter where you are, there is an large appreciative audience giving you a standing ovation. You can find the 'Elaine Stritch At Liberty Original Broadway Cast album' from
iTunes
and
Amazon
. You can also order the DVD from
Amazon
.