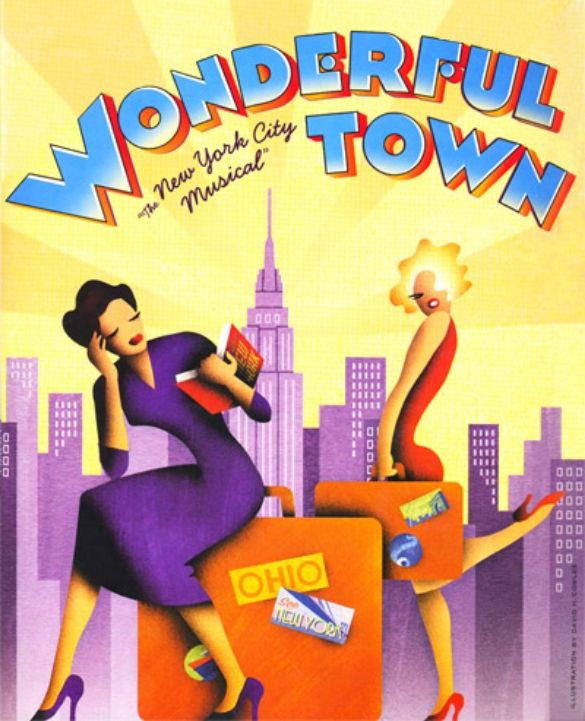 I must start by saying I love this musical, and have since I first discovered it when doing a production at Albright College in Reading, Pennsylvania. But then again, it would be tough to not love the 1953 musical, with a book written by Joseph A. Fields and Jerome Chodorov, lyrics by Betty Comden and Adolph Green and music by Leonard Bernstein. The story was based on the short stories of Ruth McKenney, originally adapted as 'My Sister Eileen', the 1940 Broadway play by Fields and Chodorov. There are some great songs, many that I still remember fondly even though I worked on it over 30 years ago.
The original production starred the magnificent Rosalind Russell as Ruth, the older sister who moved to New York with her sister, Eileen, played by Edie Adams. Together, their adventures are brought to life in the musical. I am particularly fond of the song "Ohio", which I often sing to myself when the situation calls. On their first night in the city, Ruth and Eileen lament the decision to move, sining "why-oh-why-o-why-o, why did we ever leave Ohio". In 1958, the production was put together for a television special, with Eileen played by Jacqueline McKeever. This is Russel and McKeever sing "Ohio" from 'Wonderful Town'.
In December of 2002, the Berliner Philarmoniker produced a full concert version of 'Wonderful Town', as part of the New Years Eve celebration. In the lead roles, they cast impressive Broadway star Kim Criswell in the role of Ruth, and six-time Tony Award winner Audra McDonald in the role of Eileen. The show was sold out, and got outstanding reviews. It can be found on DVD. I just adore Audra's voice, and can't help but listen and sigh whenever I hear it. This is Audra McDonald singing "A Little Bit In Love" with the Berliner Philharmoniker.
In 2003, there was a fantastic revival of 'Wonderful Town'. It was directed by Kathleen Marshall, and starred 2-time Tony Award winner Donna Murphy as Ruth and Jennifer Westfeldt, star of the film 'Kissing Jessica Stein'. The revival ran for over a year at the Al Hirschfeld Theatre. This production started out as part of the 'City Encores!' concert series, with Murphy headlining. Later in the run, Brooke Shields replaced Murphy as the star. I loved the way Murphy brought the song "Swing" to life. There is a joy and vibrance to her voice and performance. This is "Swing", as sung by Donna Murphy in the 2003 Broadway revival.
If you are interested, you can purchase the 'Wonderful Town Original Broadway Cast Recording' from
iTunes
and
Amazon
. You can also find the 'Wonderful Town 2003 Revival' recording from
iTunes
and
Amazon
. Be careful on Amazon, for when I clicked for the Revival, it kept bringing me to a cut-rate Rosalind Russell recording. If you'd like the more classical approach, you can find the Berliner Philharmoniker with conductor Simon Rattle's concert version of 'Wonderful Town' on DVD from
Amazon
.