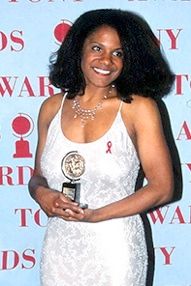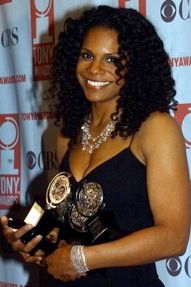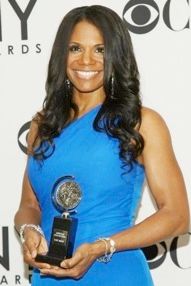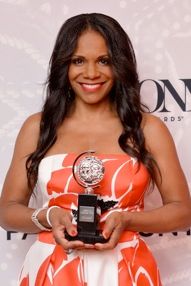 Audra McDonald winning Tony Awards from 1994 to 2014.
There is only on actor in the entire world who can say they have won six Antoinette Perry for Excellence in Theater Awards, and she just so happens to be American. The honor, better known as Tony Awards, are given out to the best Broadway has to offer every year since 1947, a tribute to Antoinette Perry, an actress/director/producer who was also one of the co-founders of the American Theatre Wing, the group behind the awards. She passed away in 1946, and the following year, the ceremony was held in her honor. Over the last 20 years, singer/actress Audra McDonald has been nominated eight times, and this year, she was nominated once again for her performance as Billie Holiday in 'Lady Day at Emerson's Bar and Grill'. This is a clip of Audra singing "Crazy He Calls Me" as Holiday.
I thought it might be nice to revisit a few of her Tony -wining performances, starting with the very first win, just twenty years ago. Not only is she an amazing actress, Audra is also gifted with an outstanding voice, which haled her capture the first Tony Award. In 1994, she won the Tony for Best Performance by a Featured Actress in a Musical. It was her portrayal of Carrie Pipperidge in 'Carousel', with the music of Richard Rodgers and lyrics of Oscar Hammerstein II, that first caught the attention of so many. Here she is as Carrie singing "(When I Marry) Mister Snow".
In 1996, she collected her second Tony for her work in Terrence McNally's 'Master Class', earning Best Performance by a Featured Actress in a Play. In 1998, she was back on Broadway as Sarah in 'Ragtime', a show with a book by Terrence McNally, lyrics by Lynn Ahrens, and music by Stephen Flaherty. The show tells the stories of Upper-Class white residents of New Rochelle, New York, African American residents of Harlem, and Eastern European immigrants living on the Lower East Side, during a time when the social structure of the world was changing, as was the music people were listening to. Playing Sarah earned her the Best Performance by a Featured Actress in a Musical Tony. I couldn't find a good clip of Audra singing live from the show, but this is her singing "Your Daddy's Son" from 'Ragtime Original Broadway Cast' album.
In 2004, Audra won the Tony for Best Performance by a Featured Actress in a Play for her role in 'A Raising in the Sun'. Audra played Ruth Younger in a revival of Lorraine Hansberry's iconic play. Audra shared the stage with Phylicia Rashad, Sanaa Lathan, and Sean 'Puffy' Combs. Then she had to wait another eight years, when she starred in the revival of the 1935 musical 'Porgy and Bess', with music by George Gershwin, libretto by DuBose Heyward, and lyrics by DuBose Heyward and Ira Gershwin. Audra sung the part of Bess opposite Norm Lewis' Porgy, in a production that created some controversy by making some changes to the story. After all, almost 70 years had passed since it was first created, and much has changed in how themes and stories can be depicted on the stage. Audra earned her fifth Tony Award, tying her with Angela Landbury and Julie Harris. With Bess, she claimed the Best Performance by a Leading Actress in a Musical, her first in that category. This is a clip of Audra singing "Summertime" from 'Porgy and Bess'.
On June 8th of this year, at the 68th annual ceremony, McDonald earned her sixth Tony, this time out for Best Performance by a Leading Actress in a Play. Not only did it set a new record, it also gave her a Tony in each of the categories available, as both leading and featured actress in a play and musical. Here she is, accepting the award amidst the standing ovation from the appreciative audience.
Congratulations, Audra McDonald for continuing to put in such excellent work on the Broadway stage. She's also done much more, from starring on television in 'Private Practice' to making records in the record studios and on concert stages. She was also Mother Superior in the recent production of 'Sound of Music' televised live last December, starring Carrie Underwood. I love listening to Audra sing, and have several of her albums in my collection. Her voice is so clean, so pure, I simply cannot resist her. You can purchase her outstanding latest album, 'Go Back Home', from
iTunes
and
Amazon
. To learn more about Audra McDonald, visit her
official website
. You can also 'follow' her on
Twitter
, or 'like' her on
Facebook
.