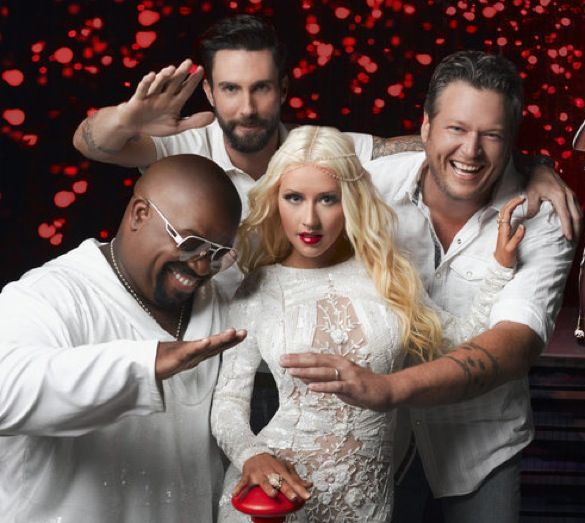 Left to right: Cee Lo Green, Adam Levine, Christina Aguilera, and Blake Shelton.
Last night, Tessanne Chin, Will Champlin, and Jacquie Lee all gave their fans plenty to cheer about with strong performances, the type that earned them a berth in the finals. Adam Levine and Christina Aguilera also worked hard, doing duets with their artists, and beaming proudly when they were singing. Coaches Blake Shelton and Cee-Lo Green seemed surprisingly more interested than I might have guessed, despite the fact Carson Daly rarely asked for their thoughts on performances. But they stayed engaged and polite, allowing the three artists to take over center stage. And with the show tonight, we can expect less deference to them, as the producers have signed up some stars to make the evening a celebration worthy of crowning a champion.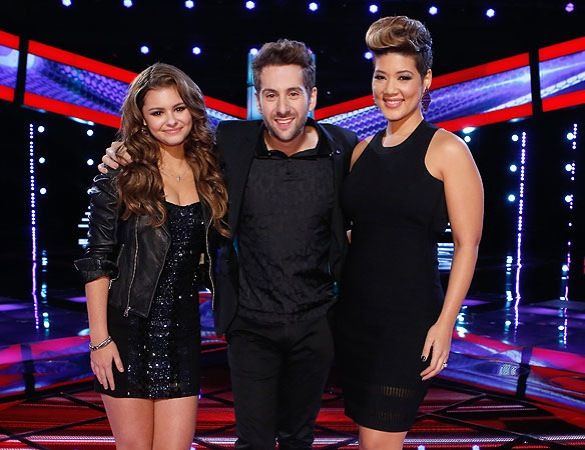 Clockwise: Jacquie Lee, Will Champlin, and Tessanne Chin.
When all was said and done, when the last notes were sung, and the last instruments played, I came to the conclusion that Tessanne Chin had won the night, earning the title of 'The Voice', at least in my eyes. Her talent to sing every song given her this season has been remarkable, showing off her power, as well the softness and vulnerability of her voice. Her recording of "I Have Nothing" starting up the iTunes chart the minute it was released, and soon made it to #1. Her duet with Adam Levine, "Let It Be", went to #4 on iTunes at the close of voting. Jacquie Lee also scored with "And I Am Telling You", making it to #9, while Will Champlin's recording of "(Everything I Do) I Do It For You" went to #10. Will and Adam's "Tiny Dancer" clocked in at #11, while Jacquie and Christina's "We Remain" went to #21. While signs might point to Tessanne being crowned, we never know for sure until the announcement is made, about 115 minutes into the 120 minute broadcast.
The show kicks off with Carson on stage with the finalists, and he introduces the coaches. He begins to recap last evening. Then he speaks with Adam, who talks about how much he enjoyed performing with his team. And Christina is just thrilled with Jacquie and her performances. But it is time to bring back all the talented singers as the Top 20 sings "Tonight Is The Night", the hit from Outasight.
The coaches seem relaxed, and happy to be there. Adam is sad a winner must be named, they were all so good. Cee-Lo remains impressed they were that good, after a long and arduous process. Christina is still excited about Jacquie's performances, and the great night it was. Blake wants to first mention he has presents for the coaches, and then makes the announcement that he can tell us who the winner will be - either Tessanne, Will, or Jacquie. And speaking of Christina's artist, she is the first one up to bring back some friends to join her. Jacquie sings with Matthew, Caroline, Cole, and James, taking on the iconic 'Bohemian Rhapsody'. The song is great fun. Then we learn that Tessanne will be singing with one of her favorite artists, when she joins Celine Dion on "Love Can Move Mountains". They are fantastic together, just electrifying. The audience goes wild! Carson is quick to point out Celine will be back on to sing again later in the program. Then we are reminded that Ryan Tedder wrote a song for the winner of the show to sing, once the announcement is made. But first, Tedder comes out with his band OneRepublic to sing their new single, "I Lived".
"I Lived" can be purchased from
iTunes
and
Amazon
. It was great the band played it totally live, and had the audience out of their seats. I cannot wait to hear the song he wrote for the winner! After a commercial break, it is time for more music, but first there is a tribute to Cee-Lo Green, and his use and occasional abuse of the English language. Ray, Preston, Matt, Nic and Josh sing a Bruno Mars song, "Treasure". They sound great, and very boyband. Nic is jamming, as expected, but while he sounds great, Ray was not buying into the dance moves. And I respect him for that. For his song, Will has asked Jonny, Cole, Caroline and Austin to join him singing "Wagon Wheel". The song was written by Bob Dylan and Ketch Secor, and perfect for this group of artists. It is a wonderful and rootsy performance. After a break, Carson talks with the parents of the finalists, and it is a sweet moment. Then it is time to pay a tribute to Christina, and the magnificent noises she can make. And then Jacquie Lee gets to sing with the band Paramore on their hit "Ain't It Fun".
This is a great pairing, and allows Jacquie to really shine. I wish she had sung some music like this during the season. Paramore's "Ain't It Fun" can be purchased from
iTunes
and
Amazon
. Carson introduces some amazing ladies for the next performance when Amber, Shelbie, Stephanie Anne, Kat, Tamara, and Grey sing Kelly Clarkson's "My Life Would Suck Without U". It is a rousing rendition, bringing the coaches to their feet. Next, we see the finalists getting a private tour of the backlot of Universal, and soon we find out all three are getting a brand new car from Kia Motors! Then we see the final confessional, and the touching words from the finalists who explain what winning could mean to them. Then it is time for Celine Dion to return to the stage to sing her new single. Celine is joined by Ne-Yo to sing "Incredible".
Their voices work really well together, and it is a lovely song. "Incredible" can be purchased from
iTunes
and
Amazon
. After the break, Carson talks to Ryan Tedder about the song to be sung by the winner. We learn Ryan will continue to work with the winner in the new year, creating more music with them. Will returns to the stage to share the spotlight with Aloe Blacc to sing "Wake Me Up", and they sound great together. This is a fantastic song, and Will seems so happy to be singing it. After a break, Tessanne brings back her friends, so she, James, Preston, Olivia and Grey sing "Hold On, I'm A Comin'", the big hit for Sam and Dave in 1966. The group has a bunch of fun, and James is a live wire! They bring the coaches to their feet once again. And it is time to pay our final tribute of the night, to Blake Shelton and his inability to dance. But it is time for out next guest of the evening, as Lady Gaga comes out to perform "Do What You Want" off the album 'ArtPop'. This is the official video for "Do What U Want" by Lady Gaga featuring R.Kelly.
But for the performance tonight, Gaga is joined by Christina Aguilera, with the ladies in beautiful matching outfits. They both sound wonderful, and Christina's fellow coaches are brought to their feet. "Do What U Want" by Lady Gaga and featuring R.Kelly can be purchased from
iTunes
and
Amazon
. And after another commercial break, and 113 minutes of programing, we finally get to hear some results. The finalists are brought out on stage, and each takes a turn to thank their coach. Then it is time to learn the artist in third place, and it is Will Champlin.
That leaves Tessanne and Jacquie, and we learn that Jacquie Lee places second and the winner of 'The Voice' is Tesssanne Chin! The confetti falls, and it is time to sing her new song.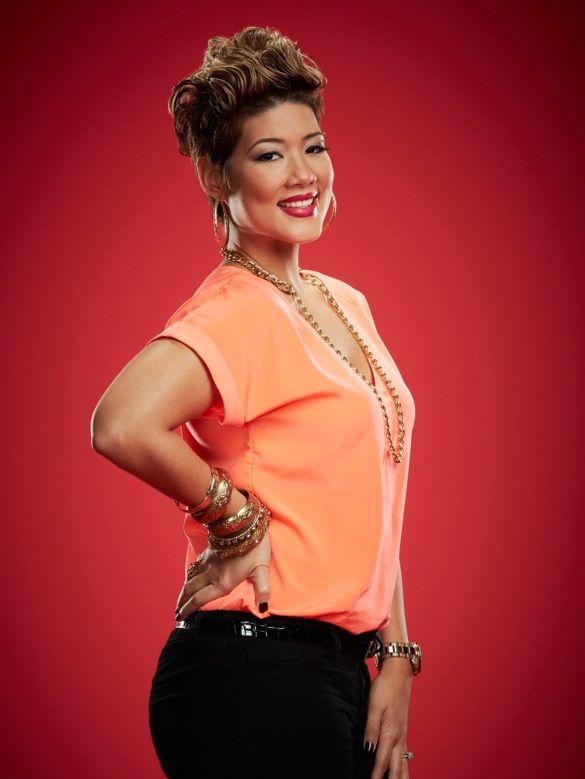 'The Voice' will return with Season 6 in February, with coaches Adam Levine, Blake Shelton, Usher, and Shakira. To learn more about 'The Voice', visit the
official website
. You can also 'like' them on
Facebook
, and 'follow' them on
Twitter
.