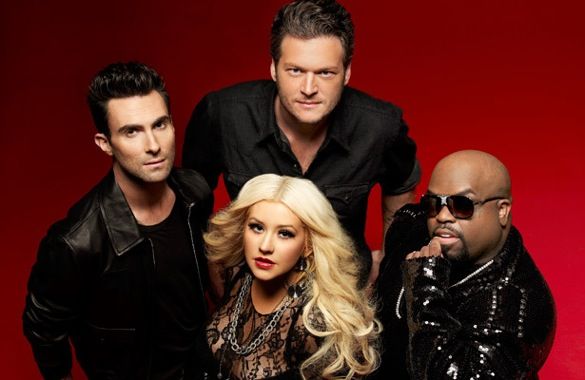 Left to right: Adam Levine, Christina Aguilera, Blake Shelton, and Cee Lo Green.
Last week, we said goodbye to Ray Boudreaux and Caroline Pennell, and, for all intents and purposes, lost Cee Lo Green as a coach, as his team has been eliminated. I was surprised, for I thought Caroline was a front runner. And who would have thought Team Adam would still be in tact, with no one sent home? Team Christina has two artists remaining, while Team Blake has one, making the Top 6 an interesting group. Last week, Twitter saved Christina's Matthew Schuler, so he and his mentor need to figure out a way to get back to the top of the charts. And if we are to take anything from the iTunes charts last week, the Top 2 from last week were Cole Vosbury and Will Champlin, who have something in common. Both men found their current places on The Voice via a "Coaches Steal", as Cole started his journey on Team Cee Lo before being picked up by Blake, and Will began on Team Adam, was stolen by Christina, and then stolen back by Adam! Have the voters gotten behind them, or is there still work to do? Guess we need to watch to find out!
Left to right: Blake Shelton, Christina Aguilera, Carson Daly, Cee Lo Green, and Adam Levine.
Carson Daly greets us onstage with the Top 6, introduces the judges, and explains the night will have each artist singing two songs, the first picked by the coaches. Only five will move on to next week, so the stakes are even higher this week. First up is Cole Vosbury, and after he gets a guitar from coach Blake, we learn he will be singing "Rich Girl" by Hall & Oates. I am surprised, for the song sits in a pretty spot in Cole's range, and he does a nice job. I wish he would have brought something more of himself to the song, for it came off a bit karaoke, at least to me. Next up, it is the first song of the night from Tessanne Chin, and Adam has asked her to sing Bob Marley's "Redemption Song".
The song is a gorgeous one, and a perfect choice for Tessanne. It is a beautiful message, and she delivers it with a magnificent ease and power. That was just a moving performance. After a break, it is time for Matthew Schuler, who sings "Story of my Life" by One Direction. Instead of a tape of his rehearsals, there is a direct message to his family, an obvious appeal to the voters. The song is an okay song, but the early part once again showcases a weakness of his voice, when the softness becomes thin and faint. Once the song takes off, and he can sing at full-throttle, he regains control, although there were a few wonky notes toward the end. I know he considers himself an Alt.Rocker, so I am confused why Christina keeps giving him Pop songs. Christina is excited, and pleads for people to support him. Adam is polite, but distracted. They spend too much time discussing Blake's Thanksgiving, but soon we learn that Will Champlin was assigned to sing "A Change Is Gonna Come", written and first sung by the great Sam Cooke. This is a great big song, and somehow, Will manages to pull it off nicely. He starts by playing the piano, before leaving it, and taking control of the room with his vocals. He seemed to lose a bit of that control near the end, but recovered nicely. Adam loved what he did with it, and Cee Lo was also impressed, and loves his heart and his soul. We get a message from James Wolpert next, telling us how his Dad has inspired him and given him the courage to do this show. He will be singing "Fell In Love With A Girl", written by Jack White and recorded by his band, The White Stripes.
This is a great song choice, and is right in his wheelhouse. He pared it back, and is performing with his acoustic guitar. He is in fine voice, and delivers a great song. There is a fumble in the middle, I am not sure if there were missed lyrics or what, but soon I forgot about it. He was solid, and brought it home quite well. Adam applauded him, and loves the way James takes on each song. Blake didn't notice a problem, but thought James was strong, and held perfect pitch throughout. After a break, it is time for the youngest artist in the competition to take her turn on the stage. Talking about wanting to connect to the soft and hard parts of the song, Christina gives Jacquie Lee the song "Cry Baby", made famous by Janis Joplin. I hope she does, for she needs to do show us depth and textures beyond 'loud'. With this song, Janis showed such tenderness, it made the hard parts that much nicer. Jacquie does an okay job, but I wish I'd heard more vulnerability in her voice. It was nice, but not as special as I would have hoped. Christina comes up to explain she has left her heart and soul on the stage, and is so very proud. Cee Lo believes she is a medium of some sort, channeling an old soul. While I liked it better than last week, I can't say I am on board the Jacquie train. After a break, it is time for Cole Vosbury to sing "Better Man" by James Morrison.
This is a wonderful song, and I have always felt this is the type of artist Cole is. He dedicated to a past love, but remained somewhat vague about the whole thing. The song is delicate and sweet, but so from the heart, and Cole delivers the goods big time. I love when Cole shows this side of himself. Blake loved it, and is so proud of him. Cee Lo is so proud of him, the way he opens up to the audience. Christina loves him, but thinks she hears something in his voice that worries her a bit. Not sure I heard that... After a break, Tessanne Chin returns to sing Katy Perry's "Unconditional". She dedicates it to family, her mom and dad, who have supported her so much on her journey. Tessanne has such depth and strength in her voice, this is a great choice. Her voice is so amazing, so fantastic, it is just soars and glides through the rafters of the stage. This was out-of-this-world great. Adam is very proud of her, and loves that she was able to sing Bob Marley and Katy Perry on the same night. Blake cuts to the bone, and tells her she is a world class vocalist, the likes of which have not been seen on this show before. Big praise, indeed. After a break, Christina is back with Matthew Schuler. She wants him to take on "When A Man Loves A Woman" made famous by the great Percy Sledge, the iconic song. This is his first Soul classic, and he wants to do well. While this is actually better suited to his range, he doesn't really have a bluesy voice. During the breakdown, I kind felt like it fell apart a bit, and he never really recovered. I was really hoping for better for Matthew, a bit of a disappointment. Christina loves him, and is so proud of him. She has plans, if people will vote for him to continue. After a break, we come back to hear Will Champlin sing "Hey Brother" by Avicii. Adam thinks it is perfect for him, as he is a fearless artist. The song defies labels, and that appeals to Adam.
Will begins the song playing the banjo, and soon is taking command of the stage and the song. This is another great performance, and Will is showing skills like few have tonight. He delivers a Bluesy and bright performance, and lays it down. His voice picks up and soars, never failing to reach for the stars. Adam is just so proud of him, and loves that he can handle whatever he is given. Blake loved the song, and thought playing the banjo was so cool! After a commercial break, we learn Jacquie Lee will sing "The Voice Within", written by Christina Aguilera and Glen Ballard, and made famous by Christina. And she dedicates it to her coach, who has inspired her to sing when she was little, singing along with this song. Right away, I hear why this song won't work for me. Jacquie has a harsh tone in her voice, even when trying to be soft. On the runs, her voice slides in awkward ways, not always nicely. However, the last two lines of the song show a vulnerability and softness I've never heard before. This didn't ultimately work for me, and was hoping for better. I'd like her to have better control over her instrument, and fear she might just be too young to do that. After the final break of the night, and it is time for James to close out the show. James Wolpert sings "I'd Do Anything for Love (But I Won't Do That)" written by Jim Steinman, and recorded by Meat Loaf. When paired together, Steinman and Meat Loaf are the kings of operatic bombast, making songs filled with high drama and huge notes that few could sing as well. James comes out on a smokey stage, a little soft and subtle, but is soon soaring and flying, floating through the airwaves with flair. His voice is so perfect for the Rock Operas of Steinman, and he once again impressed me. Adam loved it, but pointed out James was not feeling well, and lost his voice this morning. I saw no sign of that in the performance. Cee Lo was impressed, and thought they had saved the best for last.
While there wasn't a truly bad performance in the first half, I must say it wasn't the strongest showing of the season. But the second round showed great progress, allowing the vocalists to show their stuff. For most it worked to their advantage, and for a few, it didn't. At least in my humble opinion. To me, the three strongest of the night were Tessanne, James, and either Cole or Will. Tessanne was strong in both outings, my pick for best of the night. James showed a great range, and never took a step out of line. I thought Both Cole and Will were good, but not great in their first song, but quite wonderful on the second. My bottom two would be Matthew and Jacquie, but I am not sure the voters will agree with me. I would have thought Jacquie was on the bottom last week, not Matthew. Only one will be going home, and I am not sure if the show will put it up for Twitter vote again. Those are my thoughts for the night. The results are coming tomorrow night, at 9PM on your NBC station.