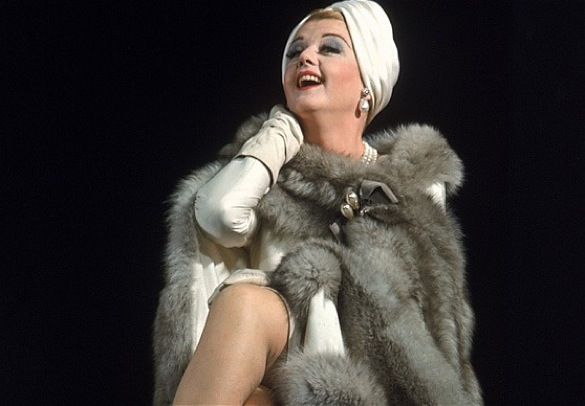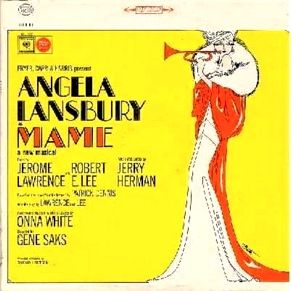 Top: Anglea Lansbury in 'Mame'. Bottom, left: Lansbury with Beatrice Arthur.
Bottom, right: The cover of the Original Broadway Cast album.
In 1966, a little musical opened on Broadway, and, almost fifty years later, there are still people talking about it. Of course, when that show starred Angela Lansbury and Beatrice Arthur, with music and lyrics by Jerry Herman, that is something you might expect. The musical was also directed by Gene Saks, a hugely successful director who also happened to be married to Arthur. From all reports, Lansbury and Arthur were good friends throughout their lifetimes, and reunited to perform "Bosom Buddies" on the 1987 Tony Awards. But the real reason I am speaking of 'Mame' tonight is because this holiday season, it is time to celebrate. That is exactly what Jerry Herman had in mind when he wrote "We Need A Little Christmas", the wonderful song Mame sings to her young nephew during the Great Depression. Sometimes, people just need to add a little something extra in your life. This is Angela Lansbury from the original cast album of 'Mame', singing "We Need A Little Christmas".
And while I have featured a clip from the 1987 reunion of Arthur and Lansbury singing "Bosom Buddies", I thought I would add another nugget to the post, and allow Beatrice Arthur to sing her big song from the show, "The Moon Song (The Man on the Moon)". Arthur played Vera, best friend to Lansbury's Mame. Vera was an actress, albeit one who has a fairly big drinking problem. She also had a flair to pick some unusual roles for herself, like that of a lady astronomer. That is why she sings "The Moon Song (The Man on the Moon)", from the original Broadway production of 'Mame'.
Have a great holiday season! And if you "need a little Christmas", you can purchase the Original Broadway Cast Recording of 'Mame' from
iTunes
and
Amazon
.