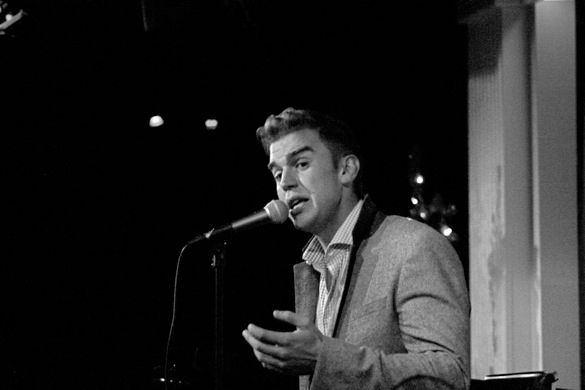 When I went to see Spencer Day singing live at the Rrazz Room the beginning of the month, I had a true goal in mind. I was hoping he would sing at least one of the holiday songs off his 2012 EP. 'If Christmas Doesn't Kill Me', so I could tape it for the blog. But I also wanted to enjoy the show, and take pictures of the handsome singer while he was doing his thing live. (That is one of my picutres from the night above.) Well, I must admit I didn't get my video camera set up soon enough, and when he sang the title cut second, I missed it. Thankfully, another patron was way more ready than I was, and caught it on video. This is Spencer Day singing "If Christmas Doesn't Kill Me" at the Jazz club in New Hope, PA.
Now, I mentioned he released an EP of holiday songs, and I have to tell you, it is one of my favorites. It is a collection featuring one classic and three brand new seasonal songs. The first track is the classic, "Silver Bells", written by Ray Evans and Jay Livingston, first released in 1950 by Bob Hope and Carol Richards. Spencer puts his own smooth patina on the jewel. Next up is "My Kind of Christmas", written by Spencer and Cliff Goldmacher. (This pair also wrote the sexy and fantastic "Till You Come To Me" off Spencer's 'Vagabond' album). There is a sweet blues quality to "My Kind of Christmas" that I love. "If Christmas Doesn't Kill Me" was again written by Day and Goldmacher, and it combines the reality of living in tough economic time with the joy of the season to bring out a bittersweet quality that also has a touch of humor involved. The last cut on the EP, "Christmas Without You" was written by Goldmacher with Joel Evans. It has a bubbly charm, and features a piano solo that brings so much warmth to my heart. I invite you to watch and listen to the video below, and get a delicious taste of all four songs!
Like I said, the EP immediately became a favorite of mine, and a valued addition to my holiday playlist. You can find 'If Christmas Doesn't Kill Me' on
iTunes
,
CD Universe
, and
Amazon
. To learn more about Spencer Day, visit his
official website
. You can also 'like' him on
Facebook
and 'follow' him on
Twitter
.