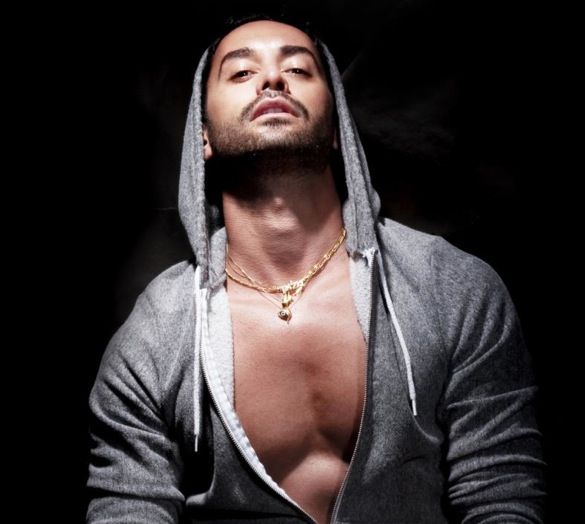 I find that whenever I hear Angleo is going to be releasing new music, I can't help but get exited. I've been enchanted by his music for some time, since first hearing great songs like "Terrible Heart" and "Hands Down". And it never hurt that he was quite the handsome singer, too. I mean, really, just look at that picture above here... But you don't see a picture while listening to the iPod, and where it really counted, I was in heaven when I listened. Well, earlier this week, he released a new EP and I couldn't wait to buy it.
Such was the case when 'Words & Stones' come out on December 3rd, and I have been loving it ever since. It is an 8-track collection with four remixes of "Bring Me Down", and four new songs I hadn't heard before, but are now committed to memory! The music, wonderful ElectroPop/Dance grooves, are flirty, sexy, sweaty and soulful, everything you could want. Like clockwork, I start dancing in my chair, unable to control myself. Check out this first track on the EP, "Bring Me Down" (The Sanfernando Sound Radio Edit).
The remixes of "Bring Me Down" have their own flavor, like different levels of hot sauce. I do love the Radio Edit, it is pretty cool. The first of the other songs is "Prayer for Me", a bit darker is feel, kind of a smokey texture. It really makes me think of great music from Janet Jackson, like she should be hearing this, and recording it! "Flow Back" opens with a wonderful percussive feel, and has a bright and shimmering glaze. There is a real joy to this song, addressing love and opening your heart. The song seems to breath and grow, and become huge in sound. The next track, "Last Man Standing", features Raff, and the Brit and the New Yorker sound great together, and makes me want to hear more from them. But then again, I've never been able to satiate my thirst for Angelo's music. See for yourself, and listen to "Last Man Standing" featuring Raff.
There is something intrinsically sexy and real on "Without Me", equal parts Electro-Soul and Electro-Pop. It is like the sprinkles on top of your ice cream cone - sure, it would still be yummy if they weren't there, but given the choice, you 'd always ask for them, cause they make it that much better. The EP ends with "Bring Me Down" (The Sanfernando Sound Slow Down), which does just that, takes the tempo down to make it a soaring and soulful ballad. 'Words & Stones' is a great collection of songs from a very talented man. It seems like a great sound to have on your iPod when you are working out, or wanting to bliss out. I love it! You can purchase the 'Words & Stones' EP from
iTunes
and
Amazon
. While you are shopping, you can still find his wonderful album 'Narcissus Drowned' on
iTunes
and
Amazon
, too! Either or both would make a wonderful Christmas gift to others, to for yourself! For more about Angelo, check out his
official website
. You can also 'follow' him on
Twitter
and like' him on
Facebook
.