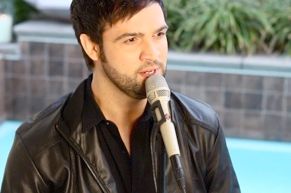 I love "Pure Imagination", a song from the film 'Willy Wonka and the Chocolate Factory', written by Leslie Bricusse and Anthony Newley for the movie, and sung by the amazing Gene Wilder. This morning I offer you a version sung by Chadwick Johnson, with Spadoni on piano. I am a big fan of Chadwick and that magnificent voice, and I could listen to him sing just about anything. But when he has a wonderful song like this one, I am in heaven. This is Chadwick Johnson singing "Pure Imagination".
When I hear Chadwick sing, he captures my heart every time. For more about Chadwick Johnson, visit his
official website
. You can also follow him on
Twitter
, and "like" him on
Facebook
. You can purchase his most recent release, 'Soul Rising', from
iTunes
and
Amazon
.