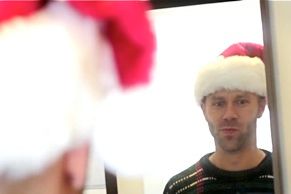 With each video, be it the official music video or just a live performance from his living room, Jeffery Straker has charmed me me time and time again. It is pretty easy, for his music is intoxicating, and maybe even a bit addictive. So I was pretty darned happy to hear he was making an original Christmas song, and now I can share it with you! Even better, it comes with a music video that is smart, funny, and kinda sexy, just like the singer/songwriter himself. I am thrilled to offer you "Comin' Home For Christmas", Jeffery's new Pop carol, custom-made for the holidays. It seems Jeffery might be having company for the holiday, and he needs to get ready for the special arrival. Just a little spoiler - it's not me, dammit! Here is "Comin' Home For Christmas" by Jeffery Straker!
This couldn't move into my December playlist fast enough. This Pop confection is a delightful Christmas cookie, delicious treats sprinkled with all kinds of yummy goodness. "Comin' Home For Christmas" is available for purchase from
iTunes
and
Amazon
. To learn more about Jeffery Straker, visit his
official website
. You can also 'follow' him on
Twitter
, and 'like' him on
Facebook
. As you might have realized by now, I am a big fan of Jeffery's music. You can purchase his latest release, 'Vagabond', from
iTunes
,
Amazon
, and
Bandcamp
. It would be well worth it!