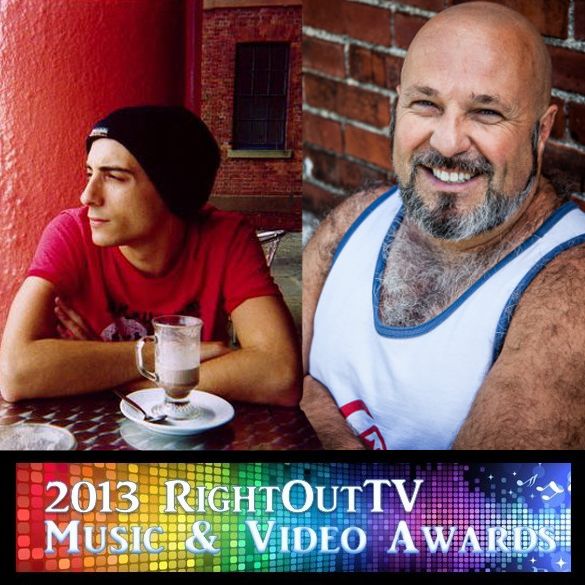 I am pleased to showcase the recent winners of the 2013 RightOutTV Music & Video Awards, pointing a spotlight on a few of the many talented members of the LGBT community making music. This year, awards were given in 18 different categories, with 17 different acts receiving them. The awards are given by RightOutTV, a website founded by Marlee Walchuck and Tully Callender. The website promotes Gay, Lesbian, Bisexual, and Transgender artists, allowing a platform for their voices to be heard, and a place for those wanting to support them to visit on a regular basis. "If you watch the awards show you'll see that we don't just promote and award these artists because they're gay. These are high-level, multi-talented, professionals with star quality," says Marlee Walchuk, co-producer of the awards. "Even though most of these artists are not being heard on mainstream radio yet, they deserve every success enjoyed by their straight counterparts."
I continue this series by offering you some more great videos, the first of which is the one that claimed the title of Best Pop/RockVideo, Matt Fishel's "When Boy Meets Boy". Now I must admit I am a huge fan of Fishel's music, ever since I first saw the music video for "Football Song", which truly warmed my inner gay-boy heart. In fact, it was named Best Video So Far in the 2012 RightOutTV Music & Video Awards. Earlier this year, Matt released a new album, featuring "When Boy Meets Boy", a sweet and charming story of young love that I just love. And the video is something very special, for it is directed and animated beautifully by Joe Phillips.
"When Boy Meets Boy" can be found on the album 'Not Thinking Straight', which can be purchased from
iTunes
and
Amazon
. You can also order hard copies, both autographed and not, from
Matt's online store
. I love the album, and think it is a "must have" in your collection. To learn more about Matt Fishel, visit his
official website
, 'follow' him on
Twitter
, and 'like' him on
Facebook
.
Next up, we have a very special category,indeed. Six songs and artists were nominated, and any of them could have claimed the top prize. The award for Most Moving Video went to Doug Strahm, for his "Leaving It Behind". The song is a touching and heartfelt song, and the video takes it to a new level. It manages to take a look at the life of a man serving the country in the armed forces, putting his life and love on hold while going overseas. Both the song and video are so well done, it is easy to see why Doug Strahm's "Leaving It Behind" was named Most Moving Video.