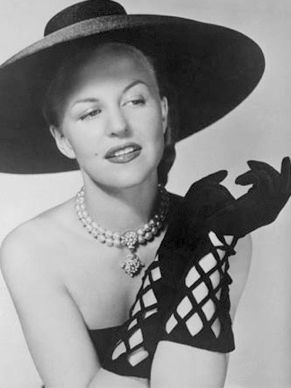 Clockwise: Patti LuPone, Margaret Whiting, Sarah Vaughan, and Bernadette Peters.
After watching the live production of 'Sound of Music' on NBC this week, I was inspired to hear more music from Richard Rodgers and Oscar Hammerstein II, the songwriting team behind some very impressive musicals. I will admit I was quite inspired by Audra McDonald's breath-taking "Climb Ev'ry Mountain", and so I thought to find some versions of their songs that were not from the original Broadway productions or films. And that is what I accomplished that with the first entry, a song from the musical 'The King & I'. The Broadway show debuted in 1951, and almost instantly became a classic, with some great songs. That included "I Could Have Danced All Night", a beautiful and soaring song. Well, unless it was in the hands of songstress Peggy Lee, who added a little Cha-Cha to the proceedings. This is the ever-surprising Miss Peggy Lee singing "I Could Have Danced All Night".
In 1949, Rodgers and Hammerstein opened a little show called 'South Pacific'. The show, based on James A. Michener's Pulitzer Prize-winning 1947 book, 'Tales of the South Pacific'. The show won an amazing 10 Tony Awards, including Best Musical, as well as awards for both Rodgers and Hammerstein. With songs like "A Cockeyed Optimist", "Some Enchanted Evening", "Younger Than Springtime", "Bali Ha'i", and others, it is no wonder the show immediately became a hit. One of the songs that registered with the audience and singers alike was "I'm in Love With a Wonderful Guy", a wonderful song about love. That same year, it was recorded by the daughter of composer Richard Whiting. This is Margaret Whiting singing "I'm in Love With a Wonderful Guy".
In 1945, Rodgers and Hammerstein had another show debuting on Broadway. After having a huge hit with 'Oklahoma', the pair feared the audience and critics would be comparing them. So they went with a very different show in 'Carousel', a musical that was darker, yet still vibrant. It had several great songs, but one that always appealed to me was "If I loved You", originally sung as a duet between John Raitt and Jan Clayton on Broadway. I decided to go with a stunning rendition by the amazing Bernadette Peters, recorded for her 2002 album 'Bernadette Peters Loves Rodgers and Hammerstein'. There is something that is just so simple and lovely about the recording, so pleasure enjoy Bernadette Peters singing "If I Loved You".
For the last song of the night, I go to the 1945 film 'State Fair'. Rodgers and Hammerstein adapted this one from the 1933 musical of the same name, directly for film. There was no stage production, well until one was produced in 1996, long after both Rodgers and Hammerstein had passed away. There were several popular songs in the score, but I thought I'd share "It Might As Well Be Spring", winner of the Academy Award for Best Original Song of 1945. And I really love this version by the spectacular Sarah Vaughan. This is Sarah singing "It Might As Well Be Spring".
Have a great weekend!