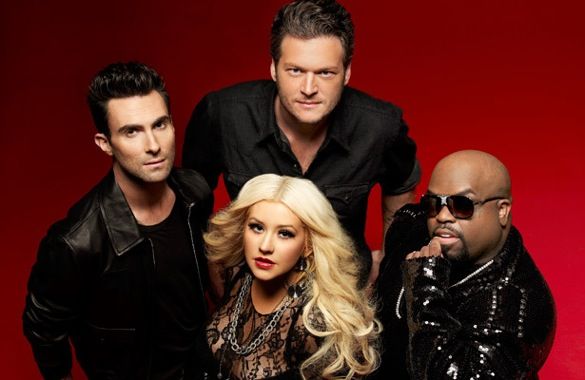 Left to right: Adam Levine, Christina Aguilera, Blake Shelton, and Cee Lo Green.
Last week, the voters sent home Matthew Schuler, another of the early frontrunners. It was the last time the 'Instant Save' was to be used, as this week, the results will be a tally of the votes combined with single sales. James Wolpert joined Matthew in the bottom two, but was saved on Twitter. In an interesting aside, the Twitter vote was used four times, and since the second week, the 'saved' artist of the previous week was sent home. Kat Robichaud won the first week, and was sent home week two when Caroline Pennell was saved. Caroline went home week 3, when Matthew Schuler was saved. And last week, Matthew went home, and James Wolpert was saved. Can James buck the trend, and sing his way into the finals next week? James is one of three artists making it through from Team Adam, joining Will Champlin and Tessanne Chin in the Top 5. Team Blake has Cole Vosbury, while Team Xtina has the final competitor, Jacquie Lee. Five will sing tonight, but only three will make it to the finals next week. But first, they must sing...
Left to right: Blake Shelton, Christina Aguilera, Carson Daly, Cee Lo Green, and Adam Levine.
Carson starts the show announcing this is it, the semifinals. Only three artists will move forward to next week, and only the votes tonight will save them. After introducing the judges, and Blake wearing a silly beard, it is time for the contests to sing a group number. It is then the light bulb goes off, and Blake was wearing a Cole beard, supporting his last artists. They go for "The Best Day of My Life" by American Authors.
They all do well save Cole, whose microphone is having issues, and is soon turned off. It was a tech issue, not a Cole issue, but I guess we should all be grateful this happened during the group number, not while he was singing his solo. Carson tells us the first two up will be James Wolpert and Will Champlin, both members of Team Adam. And after the commercial break, it is time for James to sing, and he will be taking on a classic song from U2, "With or Without You". This is one of James' favorite songs, and one of Adam's as well. James comes out singing, sounding quite nice. But it is in the chorus when he soars, He stays on key, and has a great deal of emotion to carry the song beautifully. This was a great way to kick off the semifinals. Adam is as proud of James as he could be, and Blake thinks he might have put himself back in the competition, the vocals were so strong. Christina offers a lukewarm response, but that is to be expected. After another commercial break, we come back to Will Champlin offering another special performance. But first, Carson introduced Danielle Bradbery, the winner of The Voice Season 4, and who will be singing tomorrow night on the results show. Back to Will, Adam has given him "Carry On" by the band Fun. The song is incredibly dynamic, and a great fit for Will.
Will starts off with a softness in his voice, and you can feel the build and he pushes harder and harder, and he looks like he is having a great time out there - I don't remember seeing him look that relaxed on stage. Once again, Adam is proud, and so happy to see Will smile. Cee-Lo loved the performances, and thought it was 'swaggy'. After another break, and an interview with the judges for the next show, 'The Sing-Off', we learn that Jacquie Lee is next up, and will sing "Angel", the great Sarah McLachlan song. I am unsure of the song choice, but will give it a listen. In the first half of the song,there are pitch issues. I just don't feel the emotional connection, and when trying to be soft, the notes have issues. And she gets a bit too revved up in the middle, and I was unnerved. After she was done, Christina was proud as can be, and showing a bunch of dynamics. Christina declares her the clear winner, even before hearing two artists. Cee-Lo loved it as well, and thought it was a affecting performance. Before going into a break, Carson tells us Cole Vosbury will be singing Garth Brooks, and Tessanne Chin will be singing one of the most celebrated songs of all time. During that break, we see another commercial for the Kelly Clarkson Christmas special, and it is too funny to see Blake in an elf costume. When we come back, Carson asks everyone to give the band a well-deserved round of applause. It is time for Cole to sing "Shameless", the song by Billy Joel that was a big hit for Garth Brooks, making it to #1 on the Billboard Country chart. Cee-Lo joins Blake to talk to Cole, and tell him how proud they both are of him. Blake loves the song, as it has some Rock, some Country, and some Soul, making it perfect for Cole.
Cole starts off at the piano, without a hat on. I like that. But I must admit the first third of the song is dragging a bit, but on the second chorus, Cole comes alive when he steps from behind the piano. There are a couple of bad notes at the top of his register, which has never been his strong point, but for the most part, it went very well. Theoretically, this sealed his spot in the finals. Blake loved it, and feels Cole has really found who he is as an artist, and has really bloomed. Cee-Lo loved it, and feels Cole is a true Rock Star. On his way off the stage, Cole gets a hug from Coach Blake, and another from Co-Coach Cee-Lo. Once more, we are back in a commercial break, with only Tessanne left to perform. This is exciting, for I think she is truly an amazing and special artist. I can't wait to hear her close out the show this week. With the seemingly endless ads ending, we go back to Carson, who introduces the next singer. Tessanne sings "Bridge Over Troubled Water", written by Paul Simon and made famous by Simon & Garfunkel, being a huge #1 hit in 1970. This is an amazing song.
Tessanne is ready to give her all, and she comes out looking confident and ready. There is a lovely softness as she opens the song. But as she enters the chorus, we hear hints of her power. There is a wonderful emotional depth to her performance, such a beautiful tone to her voice. That was a remarkable performance, and the crowd is going nuts. Adam is speechless, and feels so amazed by her talent. He thought it was the most powerful and graceful performance. Blake just loves her, and is blown away by her performance. It is time to go, and time to vote. For me, Tessanne stole the night with her considerable talent. I would say the three boys, James, Will, and Cole are in the middle of the pack, although I think Will impressed me most of those three. For me, Jacquie was the weakest of the night, with that unfortunate song choice. If I were a betting man, Cole has had strong support on iTunes this season, so I would bet he and Tessanne are through, to be joined by Will or James, with the other going home tomorrow night with Jacquie. But only time, and your votes will tell. Tuesday night, 9PM, on your local NBC station, we will all learn the results.