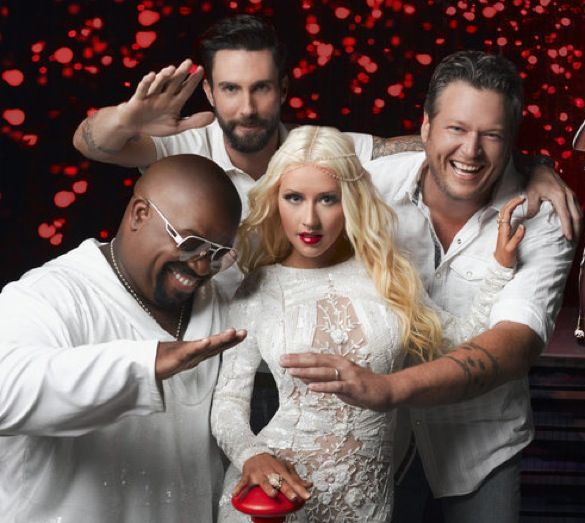 Left to right: Cee Lo Green, Adam Levine, Christina Aguilera, and Blake Shelton.
The Top 6 performed last night, each artist singing two songs, hoping to show a versatility that would appeal to the voters, and to the fans eager to buy good songs on iTunes. Tonight, the number of contestants moving on is five, so there will be just one artist leaving. Will Team Adam finally lose a member? Will Team Blake be eliminated from the competition? Will Team Xtina be left with just one, like Team Blake? We won't know until the last minutes of tonight's show. What we do know is at the end of voting, all 12 songs from last night made it to the Top 50 on the iTunes Singles chart, a remarkable result. While we know positions, but not sales numbers, interpreting those numbers is not easy. But it seemed like two artists lagged behind the others in sales, Matthew Schuler and James Wolpert. On the other end of the spectrum, Tessanne Chin had the top-selling single with "Redemption Song", while Cole Vosbury had the strongest night, with "Rich Girl" and "Better Man" finishing at #16 and #23 respectively. But will the sales numbers translate to votes? Last week, the bottom 3 on iTunes only supplied one of the three to make the bottom 3. So we will have to wait and see.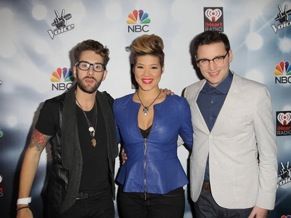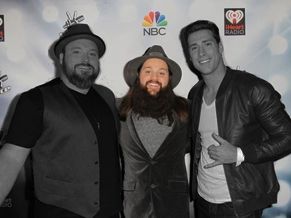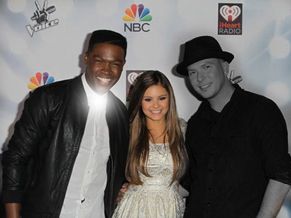 Clockwise: Team Adam, Team Blake, Team Xtina, and Team Cee Lo.
The show starts with Carson Daley on stage with the remaining competitors, to figure out who will be competing in the Semifinals. After introducing the coaches, Carson reviewed the performances with the videotape look at last night, touching on the many high spots of the competition. But it is time for the first guest appearance, as Kelly Clarkson is introduced as family, recalling the days as a mentor for Team Blake. She sings "Underneath The Tree" off her Christmas album, 'Wrapped In Red'.
As is always the case, Kelly sounded amazing. If case you were wondering, 'Wrapped In Red' is available from
iTunes
and
Amazon
. Kelly mentioned she has a Christmas special coming up, and reminded us all that she is pregnant. She does look like she is glowing. Carson chats with the judges, as all mention how much they love their artists, and hope their fans on Twitter are ready to support them. You can sense Adam and Christina are a bit worried. But soon Carson introduces the first group number of the episode, as Jacquie, Matthew, and Tessanne sing "You Got The Love", the song by Florence + the Machine.
They do a nice enough job, but it isn't as special as it could have been. Then again, I bet they didn't spend a great deal of time rehearsing it, either. Quickly, Carson moves to the business at hand, the results. The first person announced safe is from Team Xtina. It is Jacquie Lee. After a commercial break, we come back to a performance by Blake Shelton, and he has Season 1 contestant Xenia joining him on a holiday favorite, "Silver Bells".
They sounded great together. "Silver Bells" can be found on Blake's album, 'Cheers - It's Christmas'. It is available on
iTunes
and
Amazon
. Soon it is time to get back to the results, and it is Cole Vosbury from Team Blake who is safe, leaving Tessanne, James, and Will from Team Adam, and Matthew from Team Xtina still up for elimination. That means at least on artist from Team Adam will be up for the Twitter vote, at the very least. After a break, it is time for Will, Cole, and James to sing, as they take on Extreme's "More Than Words" with Nuno Bettencourt playing on guitar, and joining on the chorus.
The boys did a nice job, although it did show a problem or two in their higher register. Quickly Carson gets the remaining artists together, and goes back to results. The next person on to the semifinals is Tessanne Chin from Team Adam. This leaves three artists at risk, and we are close to using the #VoiceSave to help an artist. After a commercial break, the Top 6 return to the stage to sing a medley of Christmas songs. It was nice, but it is time for the last three to come to the stage. Carson tells us the next person moving to the semifinals is Will Champlin from Team Adam. That means it is Matthew and James in the bottom two. If James makes it through, Adam promises to be a better coach next week. Christina returns to "Hallelujah" to make the case to save Matthew. After a commercial break, Carson asks Blake his thoughts, and he thinks maybe James, but the predictions have always been wrong. Cee Lo isn't sure, and thinks it will be close. As the credit roll, we learn Twitter saved James, and it is the end of the line for Matthew Schuler.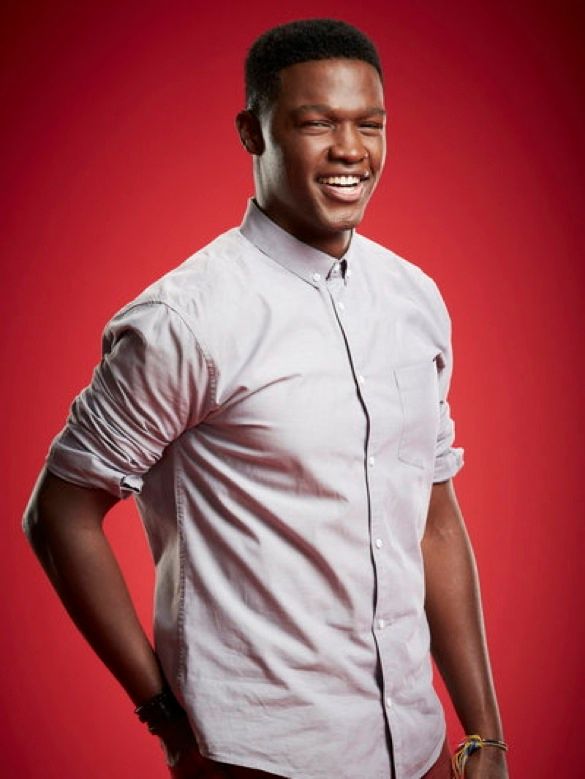 Tune in next week, when the Top Four will return to the stage to see if they can keep the dream alive! To learn more about 'The Voice', visit the
official website
. You can also 'like' them on
Facebook
, and 'follow' them on
Twitter
.