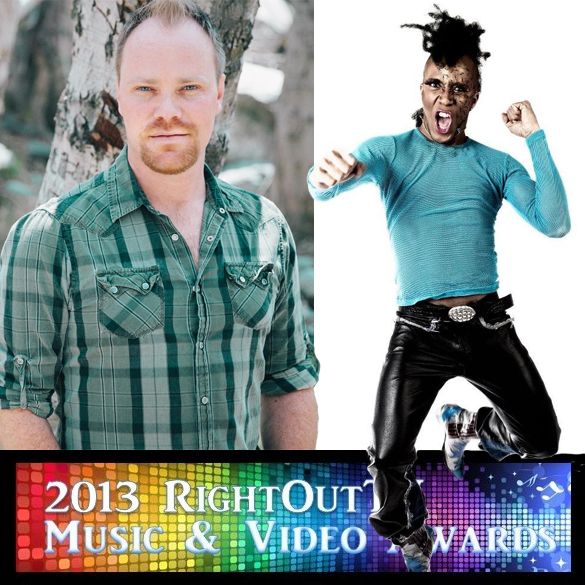 I am pleased to showcase the recent winners of the 2013 RightOutTV Music & Video Awards, pointing a spotlight on a few of the many talented members of the LGBT community making music. This year, awards were given in 18 different categories, with 17 different acts receiving them. The awards are given by RightOutTV, a website founded by Marlee Walchuck and Tully Callender. The website promotes Gay, Lesbian, Bisexual, and Transgender artists, allowing a platform for their voices to be heard, and a place for those wanting to support them to visit on a regular basis. "If you watch the awards show you'll see that we don't just promote and award these artists because they're gay. These are high-level, multi-talented, professionals with star quality," says Marlee Walchuk, co-producer of the awards. "Even though most of these artists are not being heard on mainstream radio yet, they deserve every success enjoyed by their straight counterparts."
I will conclude this series featuring the winners of the 2013 RightOutTV Music & Video Awards with the two remaining categories. First up, I will bring you the Fan Favorite, Troy Jackson. It is hard to describe Jackson and his music. He is part Punk, part Hip-Hop, part Dance, and part Soul. and, depending on the song you are listening to, the recipe can vary. He is bold, a little brash, and as honest as the world will let him be. One way to get to know Troy would be to watch his music video for "The Batty Boys Revenge", found on Troy's 2009 release, 'Cd of Troy'.
You can purchase 'Cd of Troy' from
iTunes
,
Amazon
, and
CD Baby
. But Troy recently released a new single, "Icons", which has a slightly different sound. It is much more melodic, and makes a stronger statement on the whole. I love the song, and am happy to share it with you now. This is "Icons".
And, finally, with my final winner of the 2013 RightOutTV Music & Video Awards, I bring you the artist with the Best Video So Far. I can honestly tell you as someone who filled out a ballot on this category, it was a tough one to be sure. I am not privy to the final totals, but I am sure they must have been close. And the winner was Kevin Wood and his stylish turn in "Make It In LA". There is a wonderful Country meets Pop feel to the song, and that is delightfully captured in the video. I loved it, and immediately went online to purchase the album it was on. I hadn't been familiar with his work before, but I most certainly am now.
"Make It In LA" can be found on Kevin's 2006 release, 'Finding Me'. You can purchase from
iTunes
,
Amazon
, and from the
online store
. To learn more about Kevin Wood, visit his
official website
. You can also 'follow' Kevin on
Twitter
, and 'like' him on
Facebook
. And Kevin has a new album, 'Out Among the Wolves', coming out in January of 2014. I've had a sneak peak, and it is one to keep an eye out for! And I am already looking forward to the 2014 edition of the RightOutTV Music & Video Awards. Until then, visit the
RightOutTV website
and check out the great music you can find there.