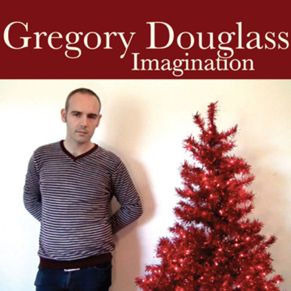 When it comes to the music of Vermonter Gregory Douglass, I must admit to having a problem. You see, I just can't get enough. The talented and handsome singer/songwriter have been making music for a while now, and I do believe I have his complete collection in my iTunes. After all, you never know when you might need to get that fix, or which song might be needed to scratch that itch. This time of year, I am looking for holiday music, and once again, Gregory does not disappoint. In 2010, he released an amazing new song he had written, and it remains a favorite of mine today. "Imagination" is both dreamy and sweet, with a wonderful cello accompaniment by Monique Citro. This is the music video for "Imagination".
I really do love this song, and love when it comes up in my Christmas Mix. You can purchase "Imagination" on
iTunes
and
Amazon
. One of the wonderful things about being a fan of Gregory, besides the music and some cool music videos, is feeling safe in the knowledge "Imagination" is not the only song to play during the holiday season. In fact, Gregory has a 2009 release that is quite special. 'Merry' is 5-song collection that combines a few old favorites with some special new songs from Douglass.Among the older songs was a wonderful cover of Wham's "Last Christmas", first heard in 1984. It was written by the oh-so-talented George Michael, and went to #2 on the UK Pop chart, behind only "Do They Know It's Christmas?", the fundraiser by Band Aid, which included both George and Andrew from Wham. This is a video featuring the song "Last Christmas".
The 'Merry' EP also includes original songs "What A Long Year It Was" and "Walking in the Air", as well as classic favorites "God Rest Ye Merry Gentlemen" and "O Holy Night". I'd tell you my favorite, but I can't pick one, they are all so good! 'Merry' can be purchased from
iTunes
and
Amazon
To learn more about Gregory Douglass, visit his
official website
. You can also 'follow' him on
Twitter
and 'like' him on
Facebook
.