Left to right: Blake Shelton, Christina Aguilera, Carson Daly, Cee Lo Green and Adam Levine.
Last week, it was revealed that Jacquie Lee, Will Champlin, and Tessanne Chin would be competing tonight for the win, and coaches Christina Aguilera and Adam Levine could not be happier. On a sad note, this will be the first season Blake Shelton will not have a finalist competing for the win. It also marks the first time someone received the 'Judge's Save' and made it to the finals. In fact, Will was saved twice, once by Christina when eliminated by Adam, and then re-saved by Adam when eliminated by Christina! In the remaining contestants, we have two female power singers, and one guy who can really be both powerful and a little quirky.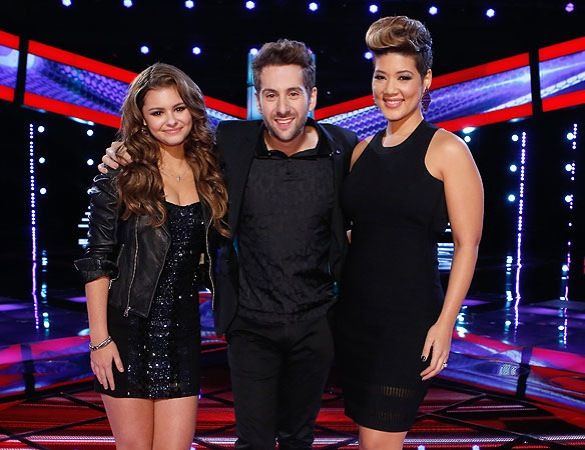 Left to right: Jacquie Lee, Will Champlin, and Tessanne Chin.
Tonight, each finalist will sing three songs, two solos, and one with their coach. One of the solos is the song that made the chairs turn in the blind audition, as well as a brand new song. In fact, if the leaks are right, Jacquie will be singing a song co-written by her coach, and sung by her for the soundtrack of 'The Hunger Games - Catching Fire'. The show begins with a montage, showing the Top 3 on their journey, from blind auditions to Finals. And they jump right in with songs, as coaches Blake Shelton, Cee-Lo Green, Adam Levine and Christina Aguilera sing "Pour Some Sugar On Me" with the help of the band Def Leppard, who had a #1 hit with the song 25 years ago.
Well, that certainly lit the fire for the night. After a commercial break, it is time for Tessanne Chin to sing the song "Try" by Pink, and all three chairs turned around, and all four judges fought to get her on their team. Before the performance, Adam remarks how he knew when he heard her she would be here in the finals, competing for the win. She is in great voice, showing both power and control. She moves with such ease and grace on the stage, showing real charisma. Adam is so proud, and tells her that he has learned so much from being her coach. Cee-Lo tells her he is a fan, and that everyone watching is as well. There is a question session, and it can't pass quickly enough. And it is time for another look back as Will Champlin sings "Not Over You" by Gavin DeGraw.
Will does seem to really thrive with this song, and he shows such great range with it. He was excellent in the audition, causing three chairs to turn. He has such a great quality in his vocals, which build so nicely as the song goes on. Adam talks about how inspiring it has been to work with Will, and how much respect he has for him. Through it all, his work ethic has kept him strong. Christina also appreciates how, like him, she can get in her own head too much, and he has managed to stay strong and good despite how tough it can be. After another break, it is time for Jacquie Lee to sing the song that introduced her to the audience, "Back To Black". The Amy Winehouse was a perfect fit for her, and made two chairs turn, including Coach Christina. She does a nice job with the song, but I must admit I am not a big fan of her voice, which as times has a harsh and shrill edge. And it does with this song, too. Christina is thrilled to be her coach, and loves to be able to support this 16-year-old. She makes Christina happy to be a part of her journey. After another break, it is time for the artists to duet with their Coach. First up, we have Tessanne and Adam to sing "Let It Be", the iconic song by The Beatles.
First up I have to say, Tessanne's dress is stunning. Looking at her actually distracted me from looking at Adam, which isn't and easy thing to do. It is an odd duet, for Tessanne's voices is so much fuller and richer than Adam's, but somehow, she makes it work. Again, she shows an ability to show a softness in her vocals, a vulnerability. When they break it down for a Reggae section, it is a great moment. After a break, we learn that Jacquie will be joined by Christina to sing "We Remain", co-written by Christina for the soundtrack of ''The Hunger Games - Catching Fire'. The song is not an easy sing, as it is as rangy as one would expect from a Christina song. Christina was quite kind, and took the very high end, allowing the full body of Jacquie's voice to take center stage. And they looked lovely in their red dresses. After a break, it is time for the final duet of the night, as Will teams up with Adam to sing Elton John's "Tiny Dancer".
Who knew the song would be great for Adam's voice? Adam keeps his vocals simple, and allows Will to take wing with his vocals. He looks so happy singing up there, smiling and moving to the beat he hears in the music. This is really much nicer than I thought it would be, for I find Will's voice to be very different than Adam's, but in both his duets tonight, Adam had made them work. After another break, and an odd moment with Blake and cakes, Carson brings the Top 3 back on stage, and they sing "I'll Be There", a huge hit for the Jackson 5 forty-two years ago. It is a sweet moment, but it really shows me that, no matter how the results play out, Tessanne has the voice that stands out to me. But the tenderness of the connection between Jacquie, Will, and Tessanne is unmistakable. There is another break, and it is time to begin the final song for each artist. The first up is Tessanne, who takes on another powerhouse when she sings "I Have Nothing" by Whitney Houston.
It is not easy to take on an icon like Houston, but if there is someone up to the task, it is Tessanne. Sorry, I wrote nothing while she was singing, for that took my breath way. There was brilliance and power, and such a richness, I am without words. Adam is also speechless, so blown away by her ability to take on every task, and take them to places unexpected. For him, she is the winner of 'The Voice'. I fear I have a tough time arguing with him on that one. Another break, and it is time to for Will Champlin to sing "(Everything I Do) I Do It For You" by Bryan Adams. Adam works closely with him in rehearsals, and I think it paid off. His emotional connection to the song is so strong and true, it is like he is bleeding the song. And as he is wont to do, Will takes the song down roads and alleys to make it truly his own. At the end of the song, he kisses his wife and his daughter, a truly wonderful moment. He is a wonderful performer, as he has proven time and time again. Adam is so proud of him, and thinks he can declare a victory, no matter the outcome, for making it to the end despite the crap he has been through on the show. Blake always enjoys his performances, and thought it was great he kept this one simple, with no extra glitter. And now it is time for the last competitive performance of the season, as Jacquie Lee sings "And I Am Telling You I'm Not Going" from 'Dreamgirls'. The song was originally sung by Jennifer Holliday in the Broadway production of 'Dreamgirls', which earned her the Tony Award. Later, Jennifer Hudson picked up the Academy Award for her performance in the film version. This is the live version from the 1982 Tony Awards, featuring the incredible Jennifer Holliday.
This is another huge song, one dripping with emotional hurt and and heart-wrenching pain. It is big and powerful, and comes from down deep. Most of the way through the song, I just feel this was a bad song choice. I don't feel the emotional connection to the lyric, and I am saddened by that. I know I might very well be in the minority here, but that was lacking. The song comes from the soul too much to be as karaoke as that. Christina is so proud, and feared that she is coming for her career. Blake is amazed at the journey she has made on the show, and how perfect the coach/artist pairing was for her.
For me, there is only one conclusion, and that is Tessanne Chin took this season of 'The Voice'. She has consistently shown me the range and strength of a world-class vocalist, week after week. Her connection to the material has been so right on, and I can't think of a bad turn she has made this season. She will get my votes. To vote for your favorite, you can call, purchase the song on iTunes, and go to 'The Voice' website. To call, each phone number has 10 votes. For Tessanne Chin, call 1-855-864-2301; for Will Champin call 1-855-864-2302; and for Jacquie Lee call 1-855-864-2303. To vote on iTunes, just purchase the song offered - but keep in mind, only one purchase per account will count as a vote. To vote online, just go to
'The Voice' Online
, and I think you have 10 votes per email address. Voting closes at 11AM Eastern Standard Time Tuesday morning, and the results of that vote will be made public on Tuesday night, 9-11PM, on your local NBC station. The guest list for that show is looking big, with Lady Gaga and R. Kelly, Celine Dion and Ne-Yo, OneRepublic, and Paramore scheduled to appear.