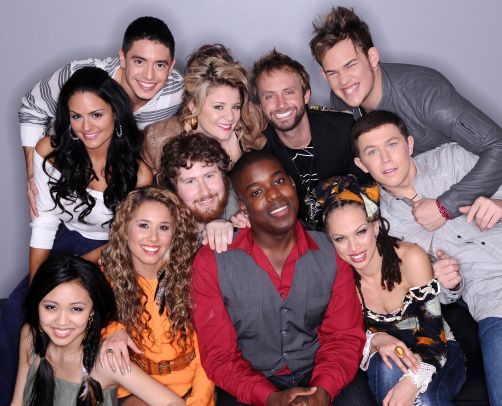 After a retouched clip from last night about Motown, we hear from Crusty that there were over 30 million votes last night, proving how strong the kids were. To help get them ready for this great night was none other than Mr. J-Lo, Marc Anthony.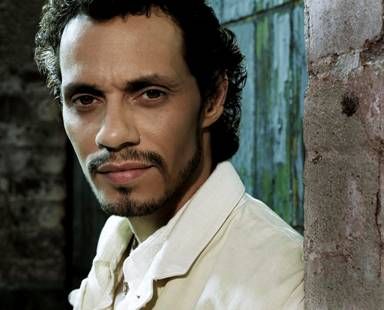 Marc Anthony stopped by to help the kids with the sound issues of performing live. He helped them deal with the use of the in-ear technology, and the mix and balance of the live performance. And he was backstage during the show, pointing out when the little missus, J-Lo, might have gone astray... Soon, the kids were singing a medley of Motown hits, looking disorganized and embarrassed, as usual. That is followed with a very special surprise performance by the magical Stevie Wonder. He sings his song
Happy Birthday
to Steven Tyler, who is clearly touched.
Lauren, Pia and Scotty are the first to the center of the stage. Crusty tells them they are going on the tour, and the youngest of the three, Lauren, gets bleeped on air. Three safe, with 8 still to find their fate this week.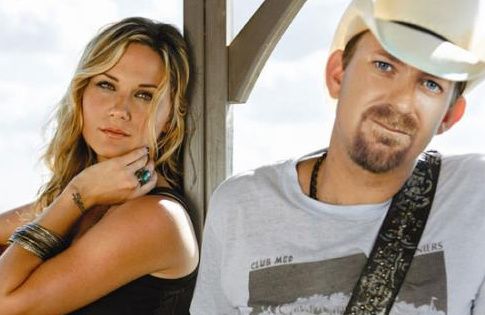 Sugarland performs
Stuck Like Glue
for the Idol audience. They are, of course, a duo made up of Jennifer Nettles and Kristian Bush. They are adorable, and fun to watch. The song is this odd cross between Country with a bit of Reggae. But songstress Nettles can sing just about anything.
After an homage to Professional Wrestling, it is time for more results. James and Paul are called to center stage with Crusty, who tells them they are not safe, "I mean, really, not safe." Hulk Hogan comes out and tells them they are safe and going on tour. Then he "pops" Crusty, sending him into the audience, before ripping his shirt. I yawn... However, there are now 5 safe, with 6 looking to hear of their fortunes following the commercial break.
The break gives us more Idol news, as we see a commercial for
Soul Surfer
, starring Season 4 American Idol, Carrie Underwood, in her first film role.
Jacob, Thia and Stefano are the next called to Crusty, and right away, we learn Jacob is safe, and on the tour. After the vote, we learn Thia is in the bottom 3, as is Stefano. Stefano becomes the first guy to hit stools. Naima, Haley, and Casey are called out, to learn their fate. First person safe is Naima, getting ready for the tour. The final person in the bottom 3 is Casey. Now that is a surprise, I thought he would be safe for another few weeks before the audience caught on... After two weeks of all-girl exits, the boys outnumber the girls 2 to 1 tonight. Might a guy be leaving?
After the break, we are getting a performance by Jennifer Hudson, the only Idol alumni with an Academy Award.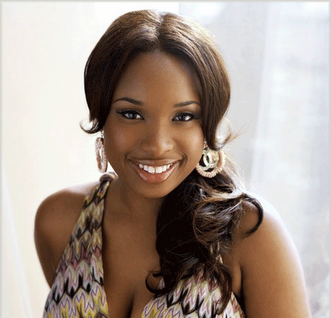 She sound fantastic, and reminds me how not special many of this crew are. We also see George Huff singing backup for Ms. Hudson. Crusty returns to the results quickly, and we learn Thia is safe, leaving the two gentlemen to ponder the results. Going home tonight means no tour, and that means no paycheck through September. There is a bunch of money on the line, with one guy losing big.
After the break, we learn the results, and it is Casey who is in danger of leaving tonight. Casey, singing for his life, chooses to sing I Don't Need No Doctor, a hit for Ray Charles in the 60s. But he is stopped quickly, the judges announcing they don't need to hear more, they will use the save. I mean, really, this early? Vetoing the vote of the people at this point is truly a surprise.
Casey is staying on. Jennifer tells him to get it together, and start to connect with the people again. Randy tells him to be the artist they loved. But that does mean two people are going home next week. And, it was announced, that all 11 will be going on tour. I guess the thought of loosing Casey or Stefano scared Mr. Nigel a bit...