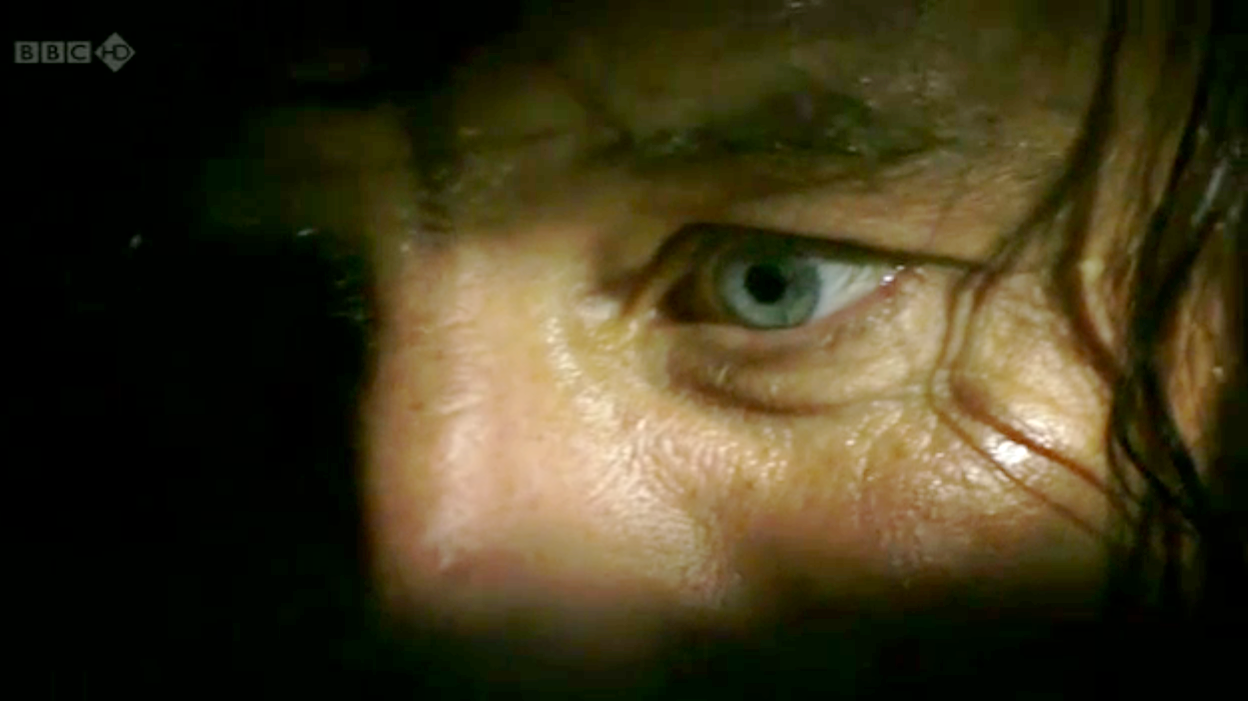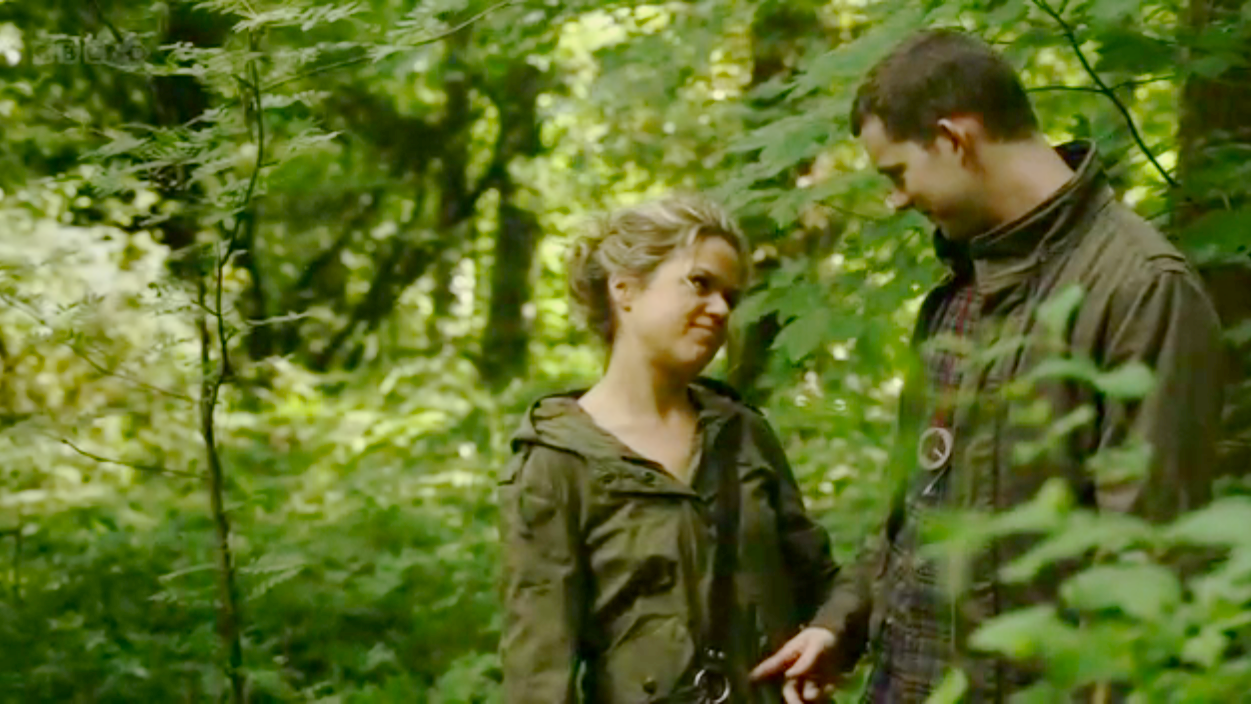 This week's episode features the music of Rudenko and Steve Wheel.
After the recap brings us up to date, we now know that Mitchell has taken out Graham, just before he launches a killing spree of his own. It is then that Mitchell discovers he has kept a scrapbook about the Box Tunnel murders. He brings it back to the house. Nina decided she needed more information, like can the pregnancy sustain through a transformation? But, she would really like to have the child with George. But things seems to be building for Mitchell, and he becomes tighter wound with each new wrinkle. But he hopes to let it all go as he gives his heart to Annie. Up to date, we start the new episode. We venture back in time, to about 15 years ago, in fact. My pulse increases as soon as I notice Robson Green once again playing McNair, this time with long hair and a mesh tank top. He is there with Tom, his son, and is trying to relax the boy as he is apparently going through his first transformation. He reminds him of what his mother used to say, to be brave. He locks Tom in the van, and takes off. Such is the life of a werewolf family.
Cut to George and Nina taking a walk in the woods, with George being all cute and Big Daddy, smiling and touching Nina's belly. They are a darling couple, and it is disturbing when we notice Tom watching them silently from the woods. We discover George is looking for Tom, hoping to get some information about werewolf pregnancies. George picks up his scent, so Tom takes off to the van and his father. Tom tells him he has seen another werewolf, and he wants to meet them. McNair locks him in, not ready to trust anyone where his son is concerned.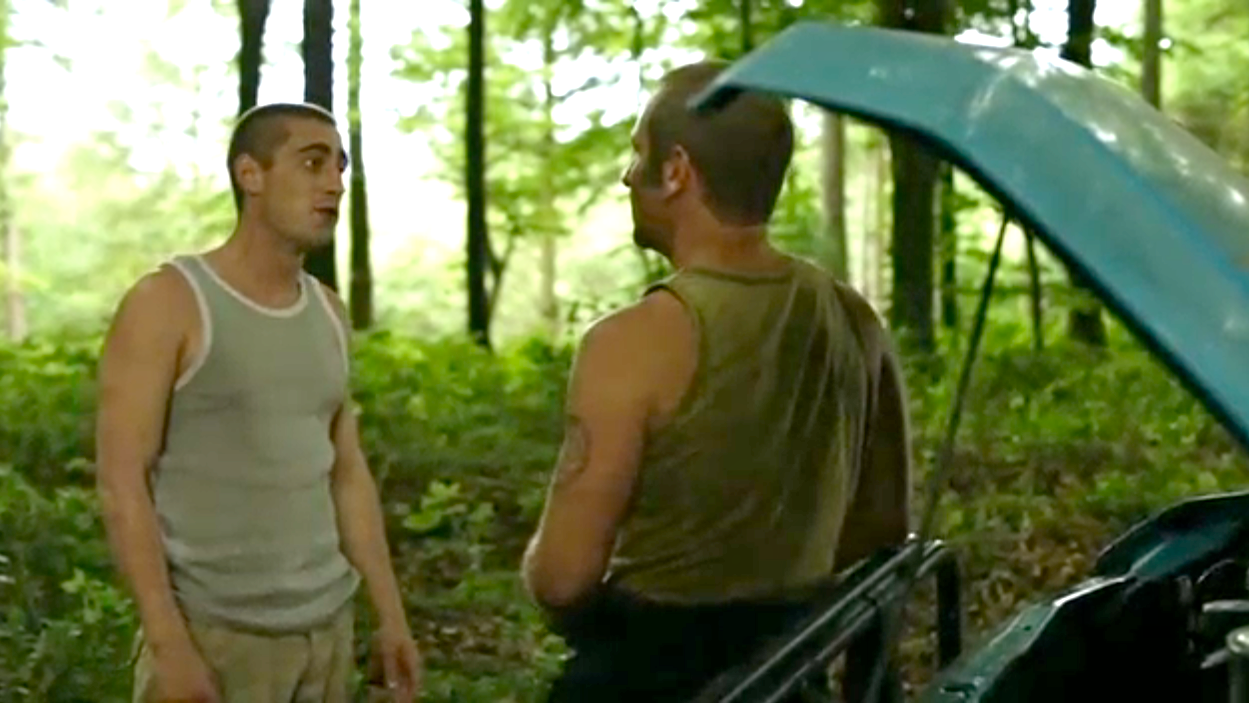 Now we cut to the house, where Mitchell is on the bed with Annie. While they have the emotional thing mostly figured out, the physical side of the relationship seems to be a work in progress, starting from the ground up. How will Annie be able to learn to touch? How will Mitchell learn making love is not a luncheon special? Annie is pushing a bit, and Mitchell just wants to cuddle now, taking it very, very slowly. They step back and cuddle, with jaws clenched.
Cut back to the woods, as George and Nina walk into Camp McNair to find the handsome young cub. The come upon McNair, who is being cagey and lose the young couple. Tom is watching again, and accidentally knocks over some things in the van. George pushes, identifying himself and Nina like the boy, and possibly the father... Nina clarifies, mentioning the word werewolf. McNair is unfazed, and says he can't help. Nina goes on to mention the pregnancy, and the need for information. McNair doesn't blink. Feeling dismissed, George bangs on the van, asking for answers. McNair apologizes to Nina, brandishing an axe, forcing the couple away. They leave contact information should he change his mind, and leave.
Back at the house, Annie has kept herself busy making a sex list, things they could try. Mitchell seems a tad uncomfortable with it all. Annie is on Mitchell's lap, trying a bit of dirty talk when George and Nina come home. George is taken aback. Mitchell offers that they are trying ventriloquism. To change the topic, Mitchell asks what the couple have been, and they can't seem to give the same answer, no matter what. There is a pensive moment before they all scatter, looking for an escape from an uncomfortable moment.
Speaking of uncomfortable moments, McNair and Tom are in the supermarket, putting some food in the cart, and others in hiding places, while they chat. Tom wants to meet George and Nina, while McNair explains why shouldn't. It evolves into a sex chat that is just, well, wrong. Does Tom have 'certain urges' toward Nina? McNair wants him to separate the yearnings for pretty Nina versus finding "the Pack," others like themselves. McNair is trying his best, but it seems like this is an unscheduled father-son chat gone slightly off the rails.
Mitchell is up in the attic, finally getting a chance to go through the book, and notices a clipping with Lia's picture. He is drawn to the book. As he reads, he notices a message on a kids toy, "wolf shaped bullet." He freaks a bit, and needs to clean things up before Annie sees the book. Annie wants to have a conversation about the secretive nature of their relationship, while both thought the other wanted to keep it on the down low. Mitchell kinda melts down a bit, then pulls it back together.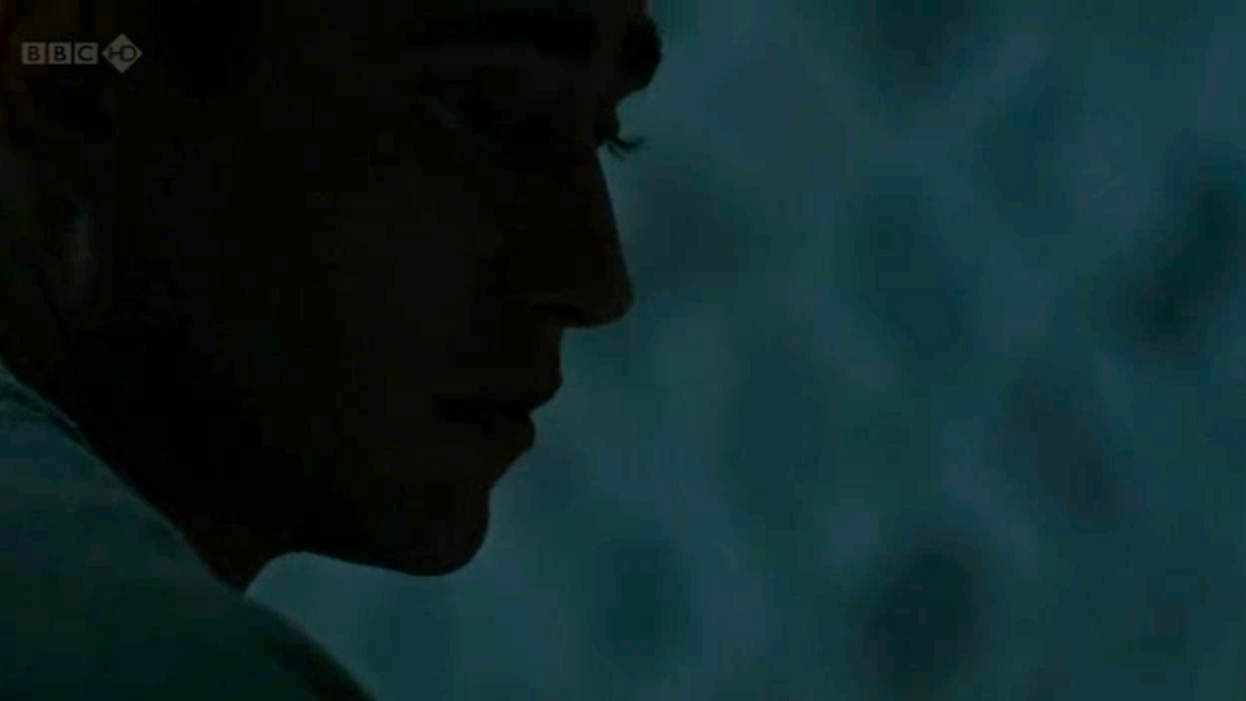 Someone breaks into George and Nina's room while they are sleeping, leaving them a little carved totem of some kind. It is Tom, with his beautiful eyelashes. As he goes to leave, Mitchell senses a werewolf in the house, and goes after Tom. There is quite a fight, but Mitchell gains the upper-hand until interrupted by McNair, there to save his son. Tom has been cut, and needs help. Nina will try, since McNair refuses to go to hospital. But McNair won't stay in a house with a vampire, for they cage werewolves to kill, all for sport. Mitchell doesn't believe him, and questions why they are in the house. Nina blurts out she is pregnant, and looking for answers. Annie is giddy, and so is Mitchell.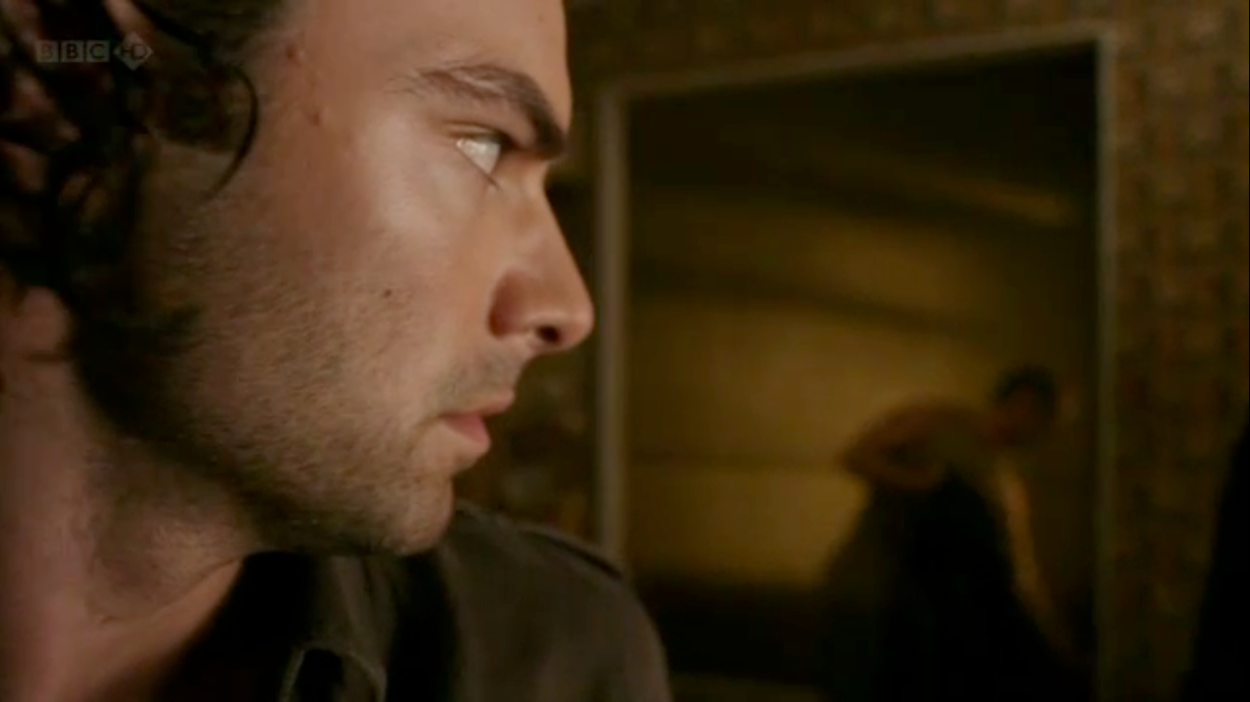 The werewolves retire to another room, as Nina tends to Tom's wounds. She listens intently as McNair explains how "the curse" only makes them stronger, and will not hurt the baby - it didn't hurt Tom, did it? Nina seems a little relieved, until she notices something, and asks about Tom's mother. McNair says she was killed by vampires, explaining his disdain for the breed.
As we cut to the next scene, she here the rock music of Steve Wheel as the sound of
Lulu Mae
plays on the soundtrack.
As
Lulu Mae
fades under, we find George cooking as Annie and Mitchell sit that the kitchen table, the revelation of the pitter-patter of paws on the floor taking over. But soon Mitchell is back to McNair and Tom, wondering why they were there. George explains what they might lack in social graces, they really just want to help. Mitchell wants to know what Nina thinks, as Tom obviously is attracted. They are volatile, he says, and he doesn't trust them. George admits he is scared, and needs them, just like he will need his friends. Mitchell seems to understand. Nina and Tom come down to the kitchen, Tom wearing George's fleece, looking quite fetching. It gives George pause, and Mitchell heads out to work.
Well, he wasn't called in to work, he is actually heading out to the woods to find the camper, to learn a bit more about the new guests at the house. He finds the camp, and breaks in. He finds more carved totems, and then some garlic, some stakes, and some vampire fangs. And some clippings about the Box Tunnel murders. Could they be the wolf-shaped bullets?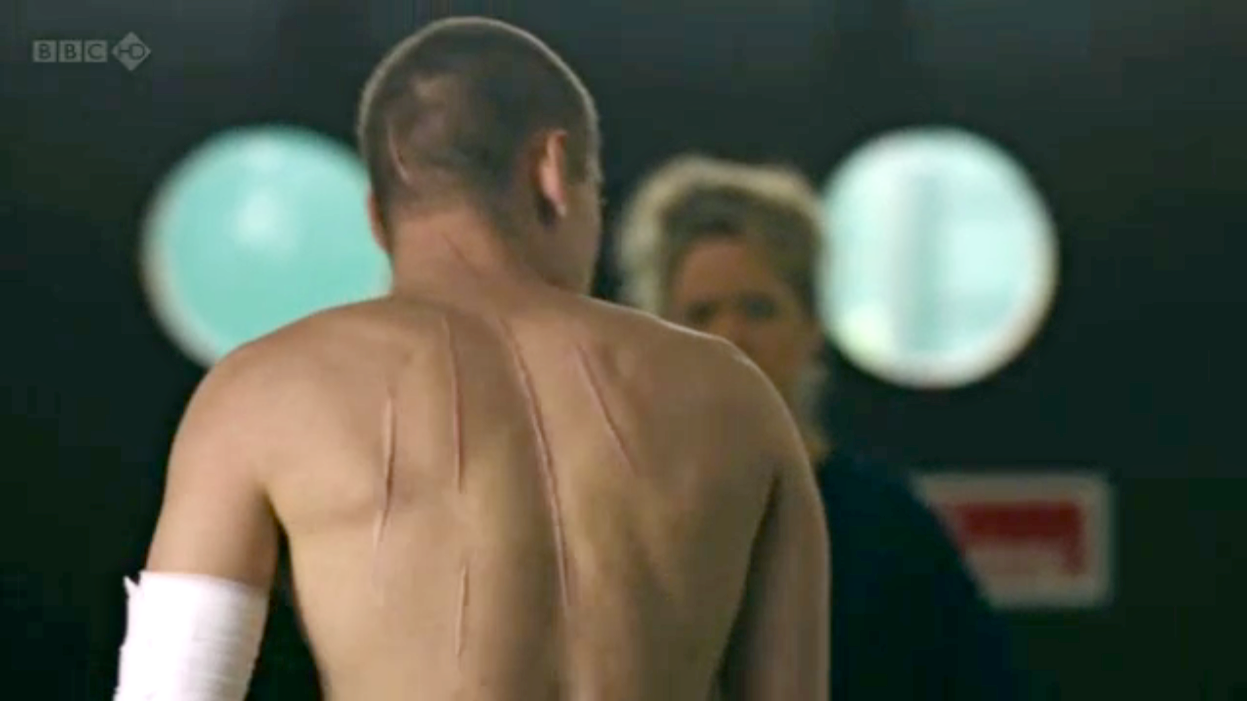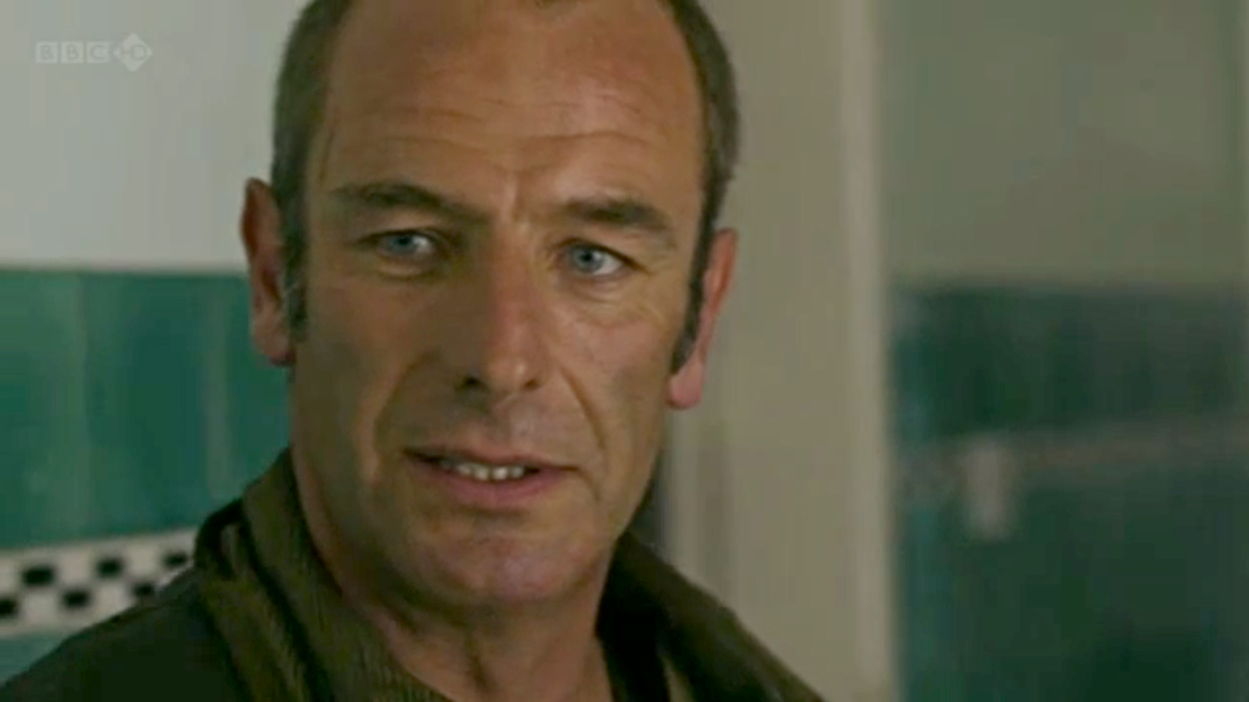 Back in the hospital, Nina is asking Tom about his mother. He tells of living a life in a house, until the vampires came along, and blew the house down to get them, three of them. they got his mother, cause she was too slow, with a baby in her arms. He was just a baby, and only knows this from his father. She sends Tom off for x-rays, and tells George McNair is full of crap, telling lies. She sees the scratches on the boy, and knows he wasn't born a werewolf. She is scared, for she is carrying the baby.
McNair is with Annie back at the house, and calls her on the relationship with Mitchell. She explains that her track record is not the greatest, so, for her, Mitchell is marriage material, no matter what McNair might think. Mitchell comes back from his search, and confronts McNair. McNair tells him he will spill Mitchell's blood, cause he spilled his boy's. Mitchell whips out the stake, and this is quickly becoming the hottest scene ever. [Come on, Robson Green and Aidan Turner going face to face - YUM!] I am sure they said many things, but I just know McNair won, and Mitchell was a bit freaked out.
Mitchell, who seems to be the kind of bad decisions these days, goes to visit with the Hardgraves, the failed adoptive parents of young Adam a few shows ago. To make up for the embarrassment of that scene, he will let them have McNair, He let's them know, in no uncertain terms, if they touch Nina, George or Tom, he will kill them.
Back at the camper, McNair is trying to get the camper running, but Tom wants to ask questions. How can they find a pack if they can't talk to other werewolves? McNair reminds his son of why they live as they do...to get even with the vampires who killed Tom's mother. McNair reasons that George and Nina will not like them very much once they kill their friend. He's got a point.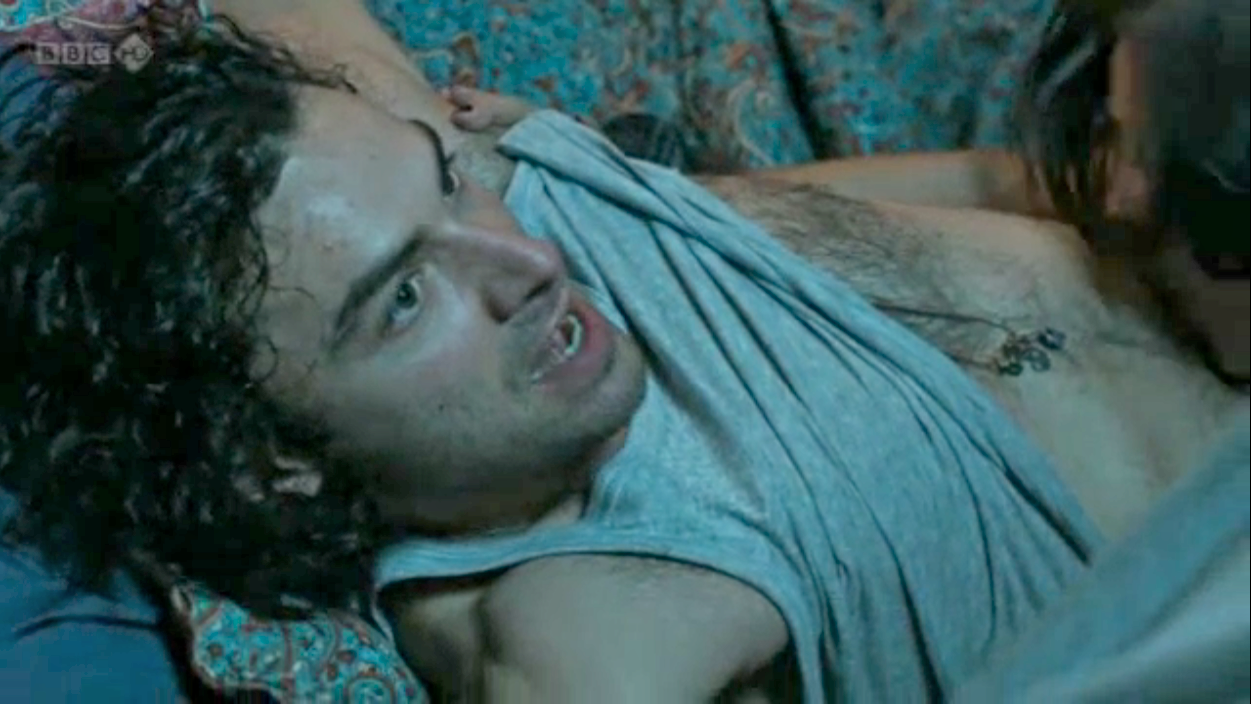 Annie takes Mitchell out to a pick-up-bar, figuring this could solve their physical issues. Mitchell is surprised, a little freaked, but willing to play along. Speaking of playing, while in the club, the song
Everybody
by Rudenko is playing, and the crowd there seems to be enjoying it a great deal.
A woman, Sadie, comes over and practically throws herself at Mitchell. In their bedroom, George and Nina are coming up with kid names, and talk slips to Annie & Mitchell's romance. Nina doesn't approve, which annoys George. Meanwhile, Mitchell has brought home the woman, who is busy getting sick in the bathroom. George enters the hallway to find them, and they discuss the relationship. George thinks it is great, until the tart comes out the the bathroom, ready for sex with Mitchell. They run off to Mitchell's bedroom, Annie in hot pursuit. George, on the other hand, is perplexed.
Sadie is ready to do the deed, and Annie is feeling less and less like the idea is good with every passing moment. Mitchell, on the other hand, is more and more into it, feeling the blood pumping, hearing the blood pumping, wanting to taste that blood. Yes, the fangs pop out, and he's ready for a late night snack. Annie is freaked, as is Sadie, who quickly leaves.
Soon we are back at the hospital, George and McNair chatting while awaiting the results of Tom's tests. McNair is extolling the joys of raising a boy, well, until puberty, when the call to the young wolf is strong. Meanwhile, Tom is in with Nina, taking off his shirt, eager to impress her. She tells him to stop, and George walks in, none too impressed. But Nina has news for him, and he won't like it. He is not McNair's son. His parents were killed in an animal attack, and he was presumed dead.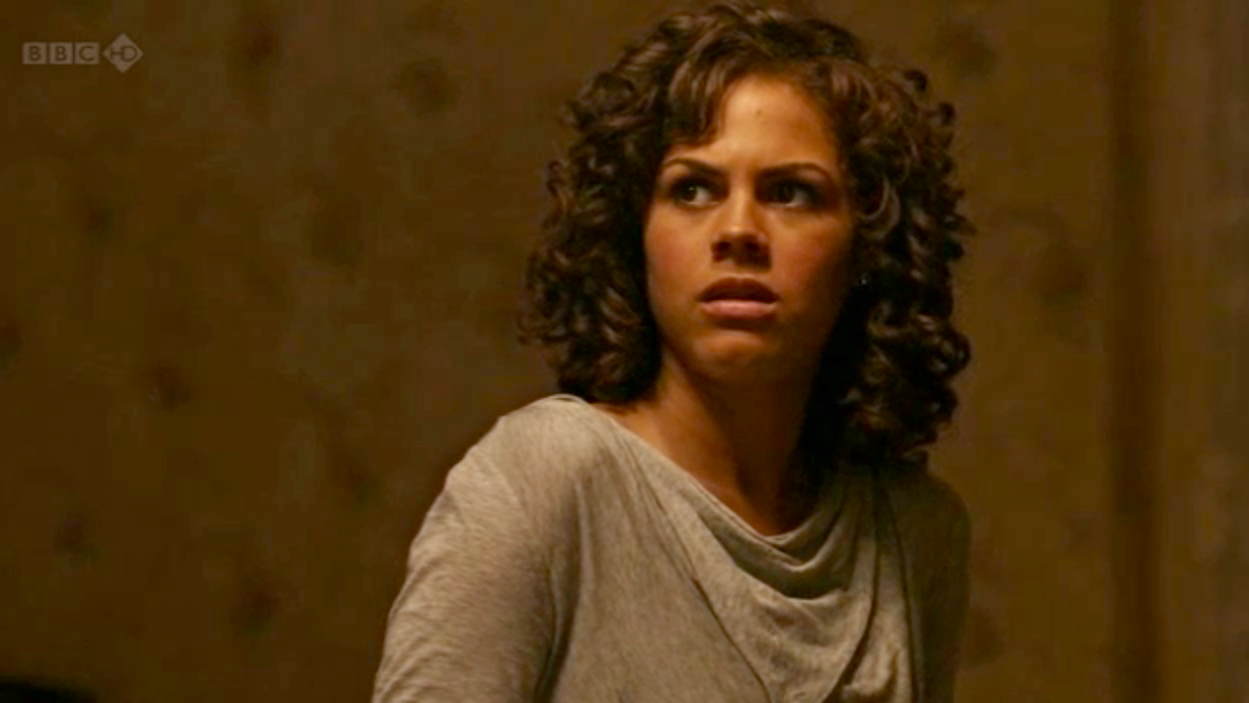 Will Annie and Mitchell have a chance to chat about what went wrong with their "date"? Can they find love? What will Tom do? Will he stay with the friends, or stick with McNair? Why did Nina decide to do it the day of the transformation? What about Mitchell's deal with the Hardgraves? Will the next date night be a night at the fights? Who is in the wheelchair at the end?
To find out the answers to those questions and more, watch BBC America Saturday night 9PM, 8PM Central time. For more about the show, you can check the official website
here
.