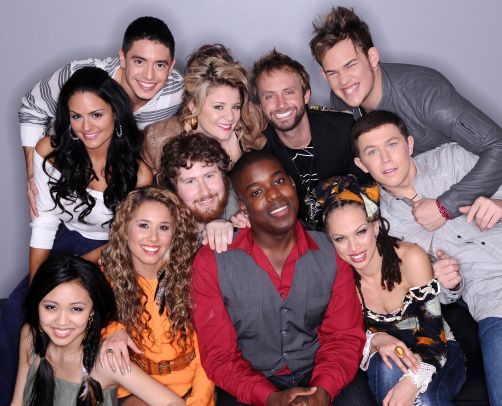 While it might seem like we are watching a rerun, once again we will see the Top 11 on American Idol competing this evening. With the events of last week, and Casey getting the Judges' [Producers'?] Save last week, the show returns to the drawing board to give fate another twirl and see if their histrionics can lift Casey over two other competitors, or the save will be wasted. The two differences are the this week, the kids will be singing songs from the Elton John catalog, and tomorrow night, two will be going home, leaving us with the Top 9 for next week.
They begin with a dramatic clip of the excitement of last week, from the introduction to Casey shaking on stage, shocked he go the save.
Scotty is up first, and will be singing Elton's one and only Country song,
Country Comfort
. Scotty also comes out with a guitar, which is the first time I thing he has on the finals. His grandmother is there, and he sings to her. He does a nice job, singing well. The judges love him once again, and the audience cheers loudly.
Naima Will be adding a reggae touch to
I'm Still Standing
. This is an unusual choice, yet not surprising from Naima. She is a wonderful performer, and it turns out I really love what she is doing with the song. She stayed on key, and put a new and different spin on an Elton classic. The judges don't agree with me, and think the reggae feel wasn't right for the song, but she did a nice job with a bad idea. I would disagree, as this song needed updating, some new spin put on it. Hmmm, the first contestant tossed under the bus in favor of Casey? Maybe, maybe not...
Paul is up next, and he will be singing the classic
Rocket Man
. He comes out wearing his "Tournament of Roses" jacket, and he begins with his very simple arrangement of the song. He is sounding good, and is giving, for me, his best performance of the finals. It is a quiet delivery. The judge's are not as fond of it as I was, thinking it was just a little off, a little too "quiet comfort" for them. Not surprising, but I disagree. Pia follows Paul, singing Don't Let The Sun Go Down On Me, obviously ignoring the judge's request for an uptempo song. She starts the song bathed in red lights and smoke, and I have to laugh. Rickey must be panicking with the red light! Ha! She is singing well, and is soon joined on stage by eight or so backup singers, a traveling choir. That seems distracting, at least to me. She sings well, although I have to say I've heard it sung much better, with a better connection to the lyrics, like George Michael.
Stefano sings
Tiny Dancer
, a song that has be sung many a time on the Idol stage. As he opens the song, he is dead on, sounding fantastic. He is allowing for a starting point, and soft beginning, giving the song someplace to build to. He takes it there, and back down again, closing softly, with a hand to Jennifer. Again, I think this is his best performance to date. J-lo thought it started iffy, but took off quickly to someplace special. Randy and Steven both liked it, thinking it was a great job.
Lauren is singing the best-selling song in Billboard history. She is taking on
Candle In The Wind
, which was played everywhere when Elton retooled it for Princess Diana. She is putting a Country touch to the song, which doesn't bother me at all. However, at the beginning of the song, she seems to bolt ahead of the beat, losing the tempo. Once she settle into the song, she does a nice job. The judges love it, ignoring the early issues and take it to amazing levels.
James is up next, with
Saturday Night's Alright For Fighting
. He comes out like he is busting it all out, and to me, he is Up With People Meets Axel Rose. Except for the very end, he brought little new to the song. The judges go crazy, talking about how great he was, what a great performance. I think I need to clean my television screen. Cause I just don't think he is near as good or interesting as they seem to think, each and every time out.
The youngster is next. Thia chooses
Daniel
, a beautiful, heartbreaking ballad. She dedicates it to her brother. She sings it very nicely, but the arrangement takes much of the character out of the song, leaving it a little generic. Jennifer loved it, with very kind words. Randy had some problems, although Steven agreed with Jennifer, leaving Randy on his own.
The man with a second chance is up next. Casey, fresh from the Judges' Save, will take on Elton's
Your Song
. The song producer tells him to shave the beard, and he leaves us in suspense as to what he did. He performs to song sitting next to the piano, a quiet, nice song, that he takes to an angry place. Then it goes back to sunny, although a touch off-key. Randy and Steven pat themselves on the back for saving Casey, and Jennifer chimes in, too. They loved it, not finding it as inconsistent as I did.
Jacob is singing
Sorry Seems To Be The Hardest Word
, a song he knows from Mary J Blige, not Elton. The song starts and it seems like Jacob might be taking it down a notch, but that notion quickly goes to the wayside. To make him seem more restrained, the background singers go all out. The judges love him, still not broaching the concept of over-singing at all. Well, maybe Randy did, but I am not sure, he was just too vague with his thoughts tonight.
After the break, we have the final singer of the evening, Haley. She is singing
Bennie And The Jets
. She opens it with a 30s jazz feel, before it moves to another era, somewhat unspecified. I thought it was a muddled arrangement, and her performance was everything but organic. However, the judges loved it, and Randy calls it the best of the night. I am at a total loss with that critique. I mean, come on, WTF!
As we watch the recap, I am not sure what is going to happen. I think Thia might be in trouble, as in a medley, it seemed awfully sluggish. The same might be said about Paul's performance, but I really liked it, so who knows? With two going home this week, I think the voting is way up in the air, and there is a place for a surprise elimination. Randy tells America to get it right - yet doesn't tell us what that is. Tomorrow night, the results show will include Fantasia, always setting people on their ear, so it should be fun.