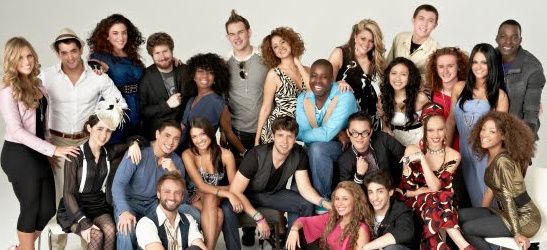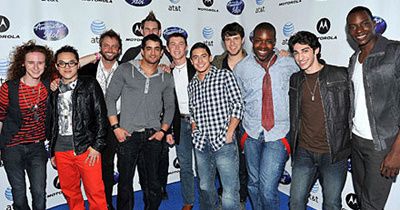 Over the course of a 2-hour show, 10 young people will know that American has given their dreams of stardom an extension. But that also means that 14 young people will know the voters are not backing their dreams. By the end of 2 hours, we will know the wild card picks of Randy, Jennifer and Steven. And by the end of 2 hours, we will see the hopes and dreams of at least 11 young people destroyed as they are sent home. Just as we have seen the last nine years.
After the Top 12 Ladies and Men have performed, the one conclusion I can make is this is a season filled with quirk. There are quirky people, some quirky singers, and some singers with quirky performances. Some fall into multiple categories. And soon, we will find out what American might be looking for this year.
The judges are introduced, but not by Crusty. The show is live, the first of the season. Crusty tells us that 40 million votes were cast over the last two nights. And Idol will be making the biggest cut ever, something Crusty lets us know several times. It seems they are going to quickly announce the five men and women with the top votes, and then the judges are going to huddle together, and have several sing again, sort of a playoff for the wild card positions. They still haven't said how many there will be. J-Lo seems ready for some kleenex, Tyler ready to once again take no stand, and they leave it Randy to talk about the process. But a commercial break keeps Crusty from piling in even more faux tension...
The guys are the first in the spotlight, and we are given a review of the performances from Tuesday night. Mostly, this makes me realize how silly the judges were this week. There are two different video packages, neither which gives us anything new. Scotty and Robbie are pulled to the center, and get some chat time with Crusty. We discover that Country singer Scotty is in the Top 10. Robbie, on the other hand, have not made the Top 10. Clint, Jordan and Jovany are called to the center of the stage. Right away, Clint starts to crumble. there is some chatting, and Clint and Jordan have not made it, and neither has Jovany. We cut to a commercial, and will come back to the ladies.
We are back, and we go to the review of last night, including the misplaced comments from the judges. Soon Crusty calls for the second video for the spot, about the favorite moments of the ladies. And they thank the audience, and then talk about what happens if they go home. Pia and Lauren Alaina are the first called to center stage. Crusty announces that Lauren A. is in the Top 10. She joins Scotty on the sofa. Pia is not far behind, as she is also in the Top 10. Ta-Tynisa and Julie are called up next, and both had some iffy comments for the judges. Ta-Tynisa is the first to learn she is not in the Top 10, and she is joined by Julie. Of course, it is time for another commercial.
Kendra, Ashton and Karen are called out, and we seem to be moving awfully slow with all that is on the schedule. But soon, we learn Ashton is not in the Top 10. Only one is making it, and that is Karen. Tim, Casey and Jacob are up next. Casey and Jacob had fantastic reviews, and Tim did not. The first announced is Jacob, and he is in the Top 10. Of the two left, one is in, one is not. That person is Casey. Tim did not.
Naima, Lauren T and Thia are with Crusty, all who performed rather well. One is in the Top 10, the other two are not. Naima is the first to be denied, but Thia has not. Lauren T, unfortunately, did not make it either. Brett and Paul are called forward, and this seems like a no brainer. It is Paul who made it to the Top 10, as expected. Brett is sent back to the seats.
Rachel and Haley remain, all hoping for the last spot for the ladies. This seems to be an easy pick, and indeed, Haley gets the final slot. James and Stefano are left to compete for the remaining spot in the Top 10. They cut straight to the chase, and it is an interesting battle. What will America decide? It is James who is moving on, leaving Stefano to compete for a wild card spot. We go to a commercial, theoretically to allow the judges a chance to talk about who will be singing for the opportunity to fill out the Top 12. It is hard to say how many and who will be singing soon.
Six will be called to the stage to sing for their lives, and Ashton starts it by singing
And I'm Telling You
. For my money, it has been sung better on this show, but I am sure they will love it. Steven thought she brought it, J-Lo thinks she wants to be there, and Randy loves the attitude. Jennifer calls Stefano to sing next, and he is ready, singing Smokey Robinson's
I Need You Now
. This is quite the odd choice, but he does a nice job with it. Could be my favorite performance by a guy so far. The judges love him, and we have another commercial break.
We are back and Crusty asks Steven which girl he'd like to ogle next, and he picks Kendra. She sings
Georgia (On My Mind)
which she proceeds to over-sing immensely, loosing key on occasion. Randy thinks she rocked it. Sigh. Jennifer calls Jovany to be the next one, and he will sing
Angel
by Jon Secada. He is singing it in Spanish, and it is lovely. It is a great choice, cause this is exactly the type of singer he is. But I still think Stefano is tough to beat so far. There are two more to be called up, after the commercial break.
Naima was called as the final to shoot for the wild card, and the other girls are dismissed. That includes the one I thought gave one of the top 2 performances last night, Lauren T. And then we have Naima singing Donny Hathaway's
For All We Know
, a great song. She is showing lovely control and tone as she sings, giving the big notes but also some soft moments, which was missing from the other two. Randy calls out the final pick for a wild card, and it is Robbie. He sings Elton John's
Sorry Seems To Be The Hardest Word
. Damn, Robbie is bringing it. He turned it out. Randy was happy the Robbie they love is back, and this is a really tough night. Crusty is looking for an answer after the break. If I was judging, I'd have to give it to Robbie and Naima. But I haven't been particularly with the judges this season.
They come back, and the judges aren't ready - damn, really? I mean, weren't you prepared? So they roll the video premiere of J-Lo's new song. Well, she does look lovely in the video... I'll move on now. Wait, the only thing to move on to is the results, which we won't get until this song is over... Grrrrr. We are back, and the judges have come to a conclusion, and they will tell them, after a commercial break.
We are back, Randy is the first to make a pick, and they call Ashton. Wow. Really? They have two more. Stefano is the next one to make it. He and Durbin irk me at that moment. The third and final to make it is Naima. Really? They aren't taking Robbie? Once again, I must be listening to the wrong audio. Oh well.
So, next week we shall see James, Scotty, Paul, Casey, Jacob, Pia, Thia, Haley, Karen, Lauren, Stefano, Ashton, and Naima.