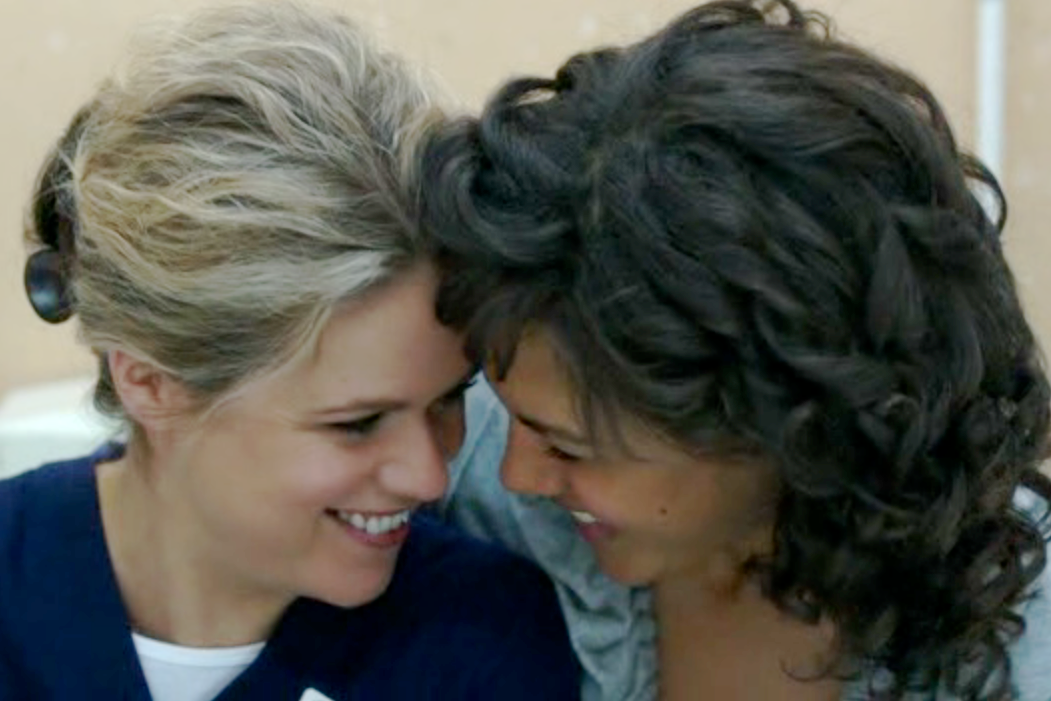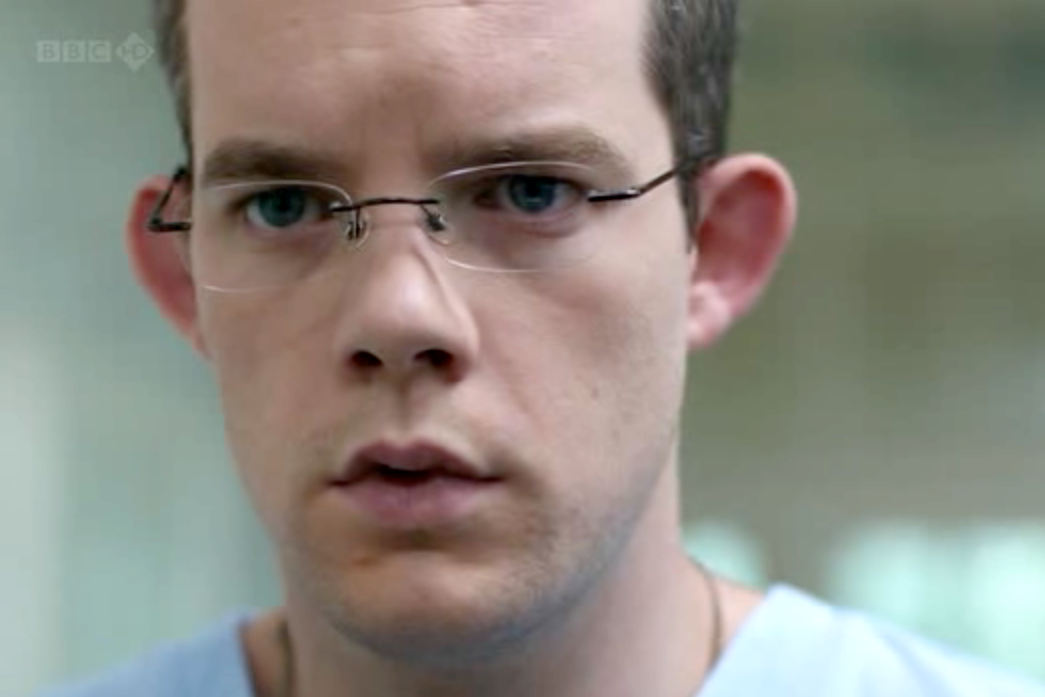 The episode begins with a bit of a flashback, to the time when George found himself locked in the basement of the Brighton hospital, with the leader of the vampires. We also see him rising out of the ground, covered in blood. Next, the cameras starts to move around the ward of the psych wing of the hospital and we hear John Leyton sing a song that reached #1 on the UK charts in 1961,
Johnny Remember Me
.
George looking rather sexy in his hospital scrubs, yum! But something stops him in his tracks, and you can see "perplexed" in his eyes. He sees someone, could it be? How could it be? Yet it is, it is Herrick. He is back. And he is in their hospital in Wales. Confused, a rambling George calls Nina. She comes over after having had a sweet moment in the ladies room with Annie, looking at the ultrasound for the baby. I had indeed survived the transformation. She makes a plan to get him out before someone tries to take a picture, and discover Herrick is a vampire. That would change the world order, for sure. They bring him home to the B&B, where Mitchell is getting further and further lost in his compulsion to read the scrapbook, and anything really to do with the Box Tunnel Massacre. That, along with the foretelling of a "wolf-shaped bullet" is certainly weighing on his mind. Having Herrick appear does not make it a lighter load. In fact, he has only one thought about Herrick, and that is he must be staked. I would agree, and think you would have to be insane to think otherwise... Nina and Annie.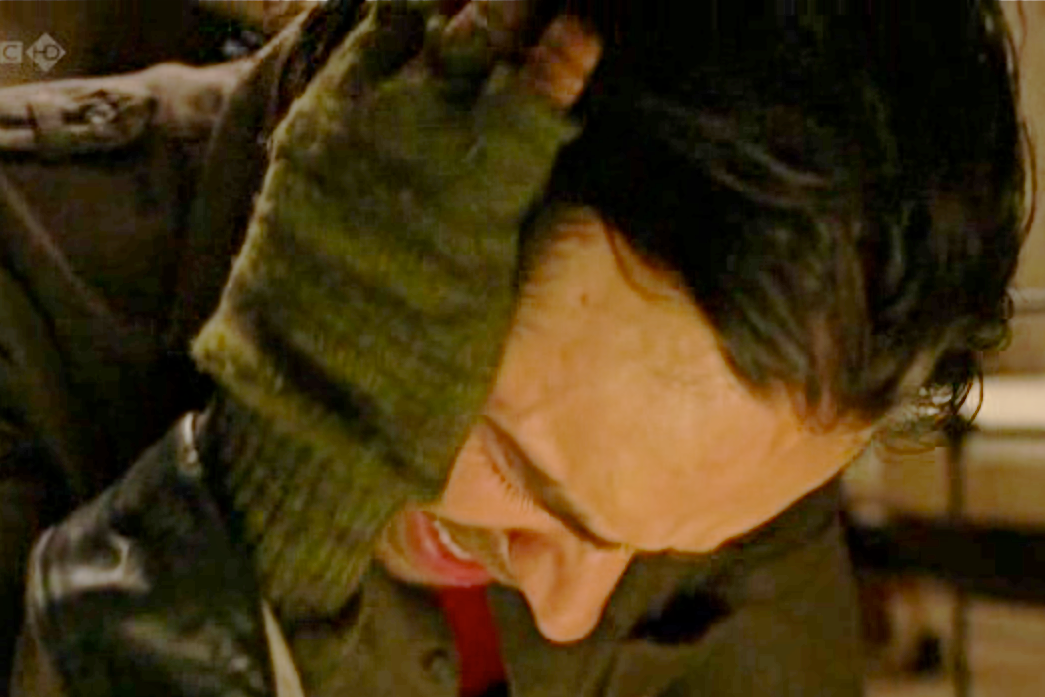 A Social Worker shows up, hyped up on caffeine drinks and shot nerves, to see about Nina's Uncle Billy, who we know is Herrick. While they are speaking to her, Herrick starts to scream, as he is unable to see his reflection in the mirror. He starts to run through the halls naked. Nina soothes him with lies of it being a trick mirror, and it seems to work. But he mentions his distrust of Mitchell, "the dark one", who did try to kill him earlier. As we see the Social Worker waiting for the crew to come down, he hear the music of Ernest Ranglin's
Surfin'
in the background.
That respite is short-lived, however, as the doorbell rings, and it is Cara at the door. She is a mess. Mitchell explains she is a raver, and just needs time to recoup. He smiles so much he beams, and that could be the scariest bit of the episode. Mitchell smiling? Makes me shudder! He send the Worker to a chair, and takes Cara to the basement to deal with her. But first we see George and Nina on the stairs, having a discussion/disagreement about what is to be done with Uncle Billy. It remains unresolved, and as we leave, we see Herrick has been listening. Back to Cara, she tracked Mitchell down, and needs his help with Herrick, whom she has misplaced. She admits to Mitchell she resurrected him. He wants to know how, but she won't tell him until he makes Herrick right again. Annie pops in to tell him the Social Worker is prowling, before he can push Cara for more information.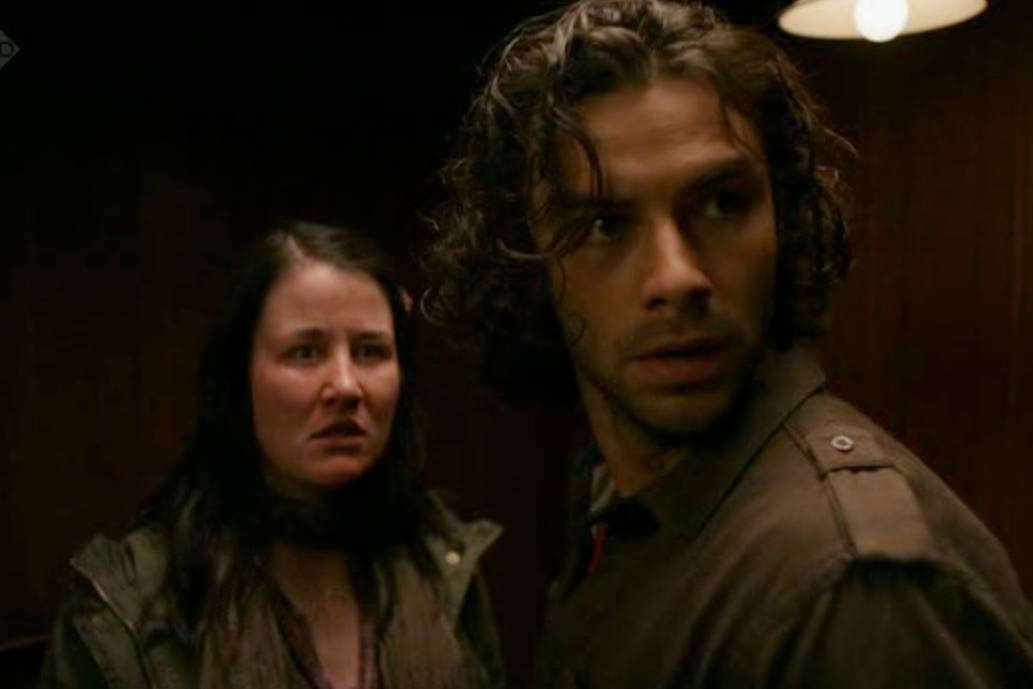 Nina comes downstairs to find Mitchell chatting with the Social Worker, who wants them both to go with her on a tour of the home. She mentions to them that when he was found, "Uncle Billy" told the police some woman was bleeding on him, wanting him to drink her blood. Mitchell suggests he might have been watching some horror movie. We go to Cara chatting with Annie, about her 'demon lover' and how she became a vampire. It was Herrick, and Cara knows she loves him. Annie knows he can't, since he doesn't remember anyone. Annie tells her, he is upstairs, and Cara runs to find him. While the Social Worker is on the phone, Mitchell tries to stop Cara, but she finds him. Soon, the two werewolves, two vampires, one ghost and one, well, we aren't sure about him, are in the room together. Herrick refuses Cara, and gets all mean about it. This is the first time we see a tick of the old Herrick there. It drives Cara to take a dowel or something and stake herself. She never did tell Mitchell the secret of resurrecting. After which, the Social Worker comes in the room. She smells the toast of Cara's remains and figures they must be smoking, which makes her very happy.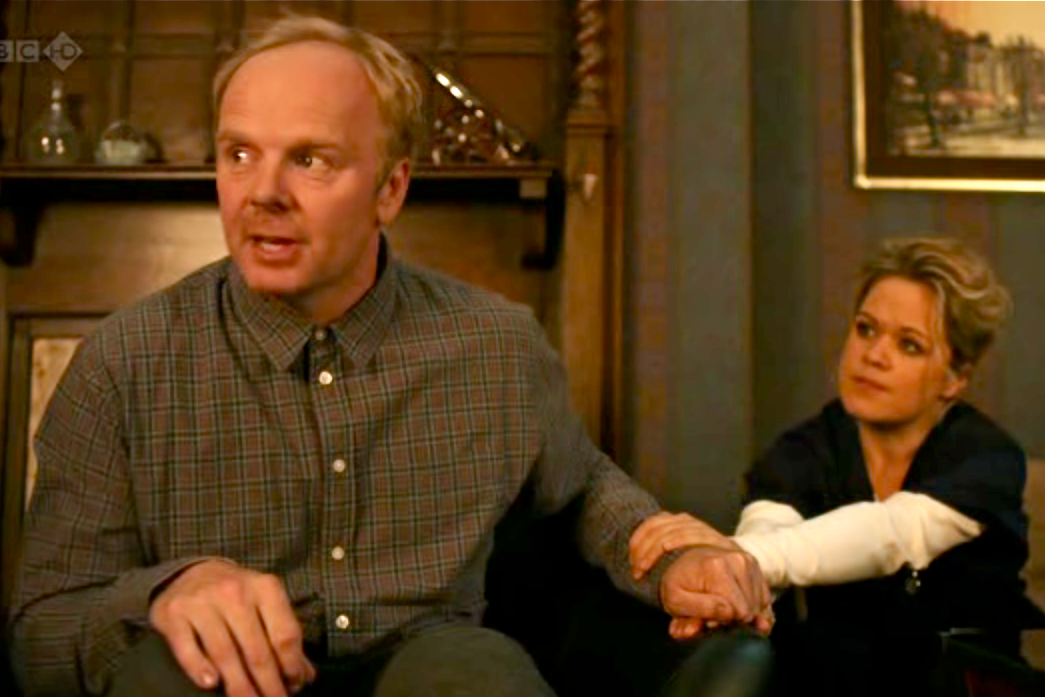 As Mitchell takes out the garbage, Annie is chatting with him, but it doesn't take long for him to explode on her. He tells her he wanted to be her savior, but instead ended up a boyfriend. He ends their relationship, and she retreats crying. Where does that leave Annie? In the corner, crying, of course. With things calming down, the Social Worker interviews "Uncle Billy", who paints a warm picture, as Nina suggested he should. Annie walks into the room and takes a seat, and it is then that Herrick has another realization, not everyone can see her. She ends the interview abruptly, asking to speak to Nina alone. George takes "Billy" upstairs, and thanks him for his cooperation. Billy warns him to be careful with Mitchell.The Worker tells Nina there si a problem, and Uncle Billy cannot be found in the system. Nina needs this to end, and is soon threatening to call her boos and "unleash a shit storm!" Herrick is still chatting with George, and the latter takes out his Star of David, which doesn't faze Herrick at all, confusing the werewolf.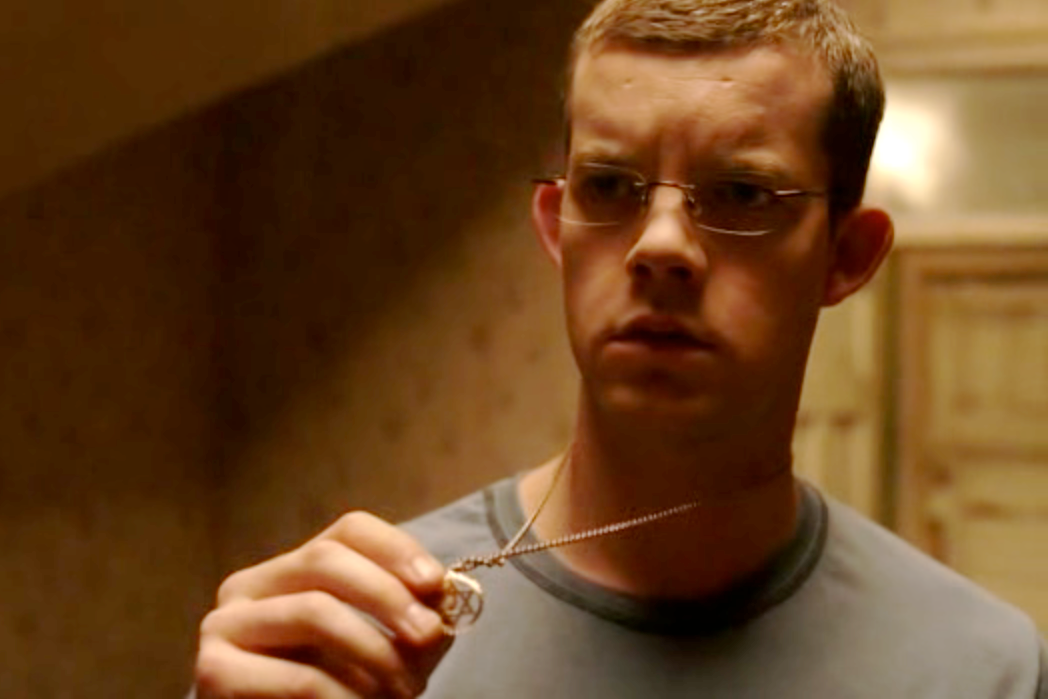 Will the social Worker file reports, making our quiet group fall under more scrutiny? Will Mitchell and Annie stay apart? Will the growing distrust of Mitchell spread to George? Does Herrick remember his past, or does he have everyone fooled? Who will Annie feel compelled to hand tissues? Will Mitchell stake Herrick? Who is looking at the scrapbook when we hear the opening for Death in Vegas' song,
Dirge
?
Tune in to the show to find out the answer to these questions, and so many more. After all, I only gave you the first 2/3s of the show, there is plenty still to come! Watch BBC America Saturday night 9PM, 8PM Central time. For more about the show, you can check the official website
here
.