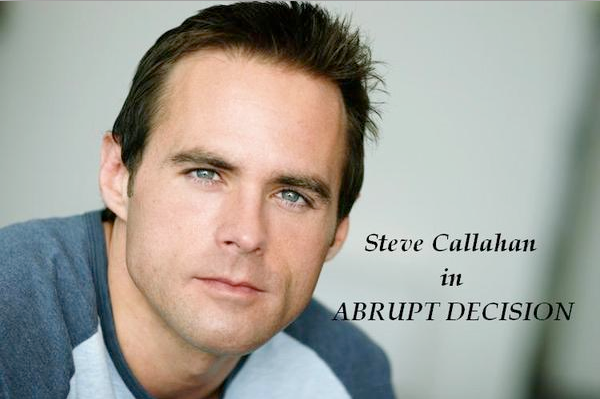 It should shock no one when I admit to being a huge fan of Silly Bunny Pictures and writer/director Paul Bright. He is currently putting together financing on his next feature,
Abrupt Decision
. As you would have just gotten your paychecks deposited, I thought now might be the right time to mention you can help with that, as SBP has set up a way for your donations to the production to be tax deductible.
The movie stars Steve Callahan and David LaDuca.
The story behind the movie is, to make a movie story short, '
after losing his career job in midlife, Denis must figure out what to do next. He never dreamed his life would go to the dogs.
' Advocating both spay/neuter programs for pets and adopting animals from overcrowded shelters, this film will be seen around the globe. The filmmaker hopes this film will influence communities to reduce unwanted pet breeding and take greater responsibility for the animals living in our streets.
For those that might need a bit of reminding, I have reviewed most of Bright's work here on the blog. The first was the absolutely adorable and charming
Angora Ranch
. It also stars Bright, and I just loved it.
There is also the movie Theft, a lovely movie with some great actors in it. Bright has a tiny role in the crowd, and did a great job with the direction.
Next came
Aaron...Albeit a Sex Hero
. This movie was so hot and steamy, it brought a bead of sweat on my brow. The action story wizzes buy at great speed, and I was sorry when it ended, cause I could have gone on watching it longer.
And, finally, there is
Altitude Falling
, which I just received in the mail, and hope to review very soon. I haven't had the chance to watch it, but know the work from Bright has been so good, I can't imagine it being anything less than a success!
I know I will support the fundraising effort, because I am just self-centered enough to want Paul Bright and Silly Bunny Pictures to continue to make movies I enjoy. They represent a part of the American fabric often unseen, the non-urban LGBT community. These movies will not be made by the studios, and if you, like me, enjoy seeing films you can relate to, you'll think about giving what money you can to the project. You can do it by clicking
here
, or on the widget under the opening paragraph of this post.