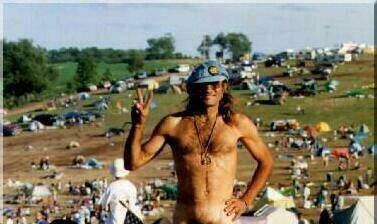 One 600-acre farm was the home to over 500,000 music fans, braving the elements, many with the assistance of, shall we say, chemical enhancement. It was 1969, a time when the youth of America were celebrating freedom and love, and this three-day concert was steeped in both. The line-up was impressive, although some big names shied away, not sure about it. We now know that many consider it one of the seminal events in the history of rock, something the documentary made very clear.
I have had a thing for
The Band
for some time. I was a fan when I went to see the movie
The Last Waltz
while still in high school, and that made me love them even more. Robbie Robertson is incredible. Here they are with perhaps their best known song,
The Weight
.
Richie Havens
is best known for his uncanny ability to blend the folk and soul music with his amazing voice and musical agility. His ability to use the rhythm guitar to evoke so much, coupled with his distinctive vocals, set him apart from many. He was the first act to take to the stage at Woodstock, and kicked it off with an amazing performance of
Freedom
.
Creedence Clearwater Revival
were one of the first 'name' bands to sign on to the concert, but not without reservations nor caveats. They did not want to be the focus of the show, nor did they want to participate in the documentary being filmed. And their set started at 3AM. It was later said to be an issue with front man John Fogerty, and some of the other band members were disappointed with their experience. However, one can't be anything but excited by their performance of
Put A Spell On You
.
With the unmistakable sound of Grace Slick's voice, the psychedelia of
Jefferson Airplane
was sure to be a highlight of the weekend. Although Slick was less than excited about the 3AM start time, calling it "morning maniac music", the performance of
Somebody To Love
does stand the test of time.
While Richie Havens might have opened the show, it was left to
Jimi Hendrix
to close it out. What could be a more iconic close to the show than to have Hendrix play the
Star-Spangled Banner
as only he could. But there is the bittersweet side to watching this clip, which also includes the outstanding
Purple Haze
, as just over a year later in London, a victim of his own excesses. But not before sharing his talent with the world.