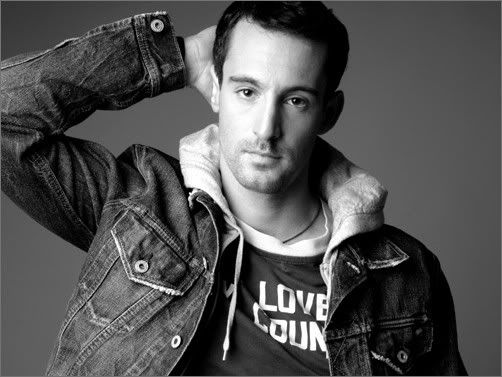 I can't believe how giddy I was when I saw a tweet from ElectroQueer mentioning a new song from Ivri Lider. I men, seriously excited, clicking like there was no tomorrow. It brought me to a lovely picture, and, best of all, a chance to listen to the new song. I will say, what I have come to expect from Ivri is the unexpected, and he delivered.
EQ mentions the name of the English language album to come,
Fly/Forget
. The song,
Mike
, is fascinating to me, with the heavily processed verse, combined with a gorgeously sung chorus. Like we are invading a private message conversation, the voice processed to reflect the electronic age, a strong juxtaposition to the chorus, filled filled beautiful vocals keying on the melancholy of the situation. Not sure radio is ready for the song, but I sure am, and can't wait to get the album.
I have been a fan of Ivri Lider since the first time I heard the song
Bo/Your Soul
, the theme for Yossi & Jagger. No matter the language, it was a gorgeous song, one I never tire of listening to. Recently, he recorded a cover song on a dare from a radio DJ. That song was Katey Perry's
I Kissed A Girl
, and Ivri slowed it down, but kept all the pronouns in tact. While he might be the biggest rock star in Israel, he is also an out and proud gay man, adding an interesting layer to the song. Here he is singing it live in a park in San Francisco.
Of course, it might be tough to beat his cover of the Judy Garland classic,
The Man I Love
. He performed it in the brilliant Eytan Foxx movie
The Bubble
. I don't know what it is, but this man's voice just moves me so. On the soundtrack, he also performed the amazing
Song To A Siren
, a song by Tim Buckley, the father of Jeff. But here is
The Man I Love
.
The Bubble was the latest collaboration with Eytan Foxx, but not the first.
Bo/Your Soul
was featured in the movie
Yossi & Jagger
, another Foxx film. And there was
Walk On Water
, another great Foxx film. Ivri performed on the soundtrack. The collection included a cover of the song
Cinderella Rockefella
, performed by Ivri and Rita Kleinstein. The joy and vivacious performances are wonderful!
For more about Ivri Lider, check out his official website
here
. You can also find his MySpace page
here
, and his FaceBook fan page
here
. I'd buy just about anything Ivri Lider is wanting to sell. To see ElectroQueer's original post, click
here
. ElectroQueer has a great blog, so check it out.