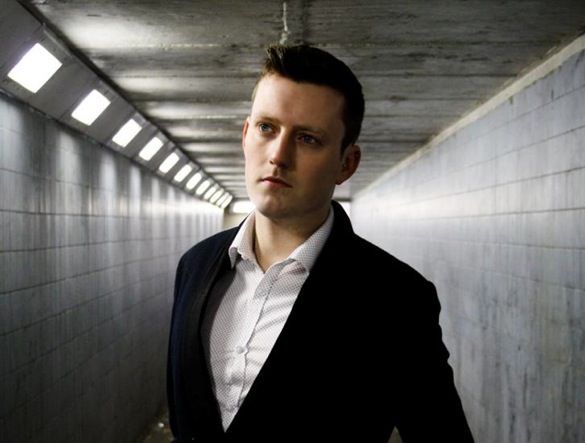 Well, chalk up another one for J.D. Doyle. He posted about an out an proud musician from the UK on his
Queer Music Heritage site
, and when I asked about him, he spoke so glowingly, I got excited. So I went to iTunes, and pre-ordered his new CD, and then got to wait. When I finally had notice that Sam Dickinson's album 'The Stories That Occurred' was available to download, I couldn't wait, and gave a listen right away. Suffice it to say the album surpassed my already high expectations, and I have a new British boyfriend. And a handsome one, at that! At least I should, as much as I listen to him singing now. He has a great sound, harkening back to the soul music of the 1960s and 1970s, with some sexy brass sections adding some depth. But Dickinson's voice is so crisp and true, and never rests on retro-sounds, keeping the feel of the vocals very fresh and new.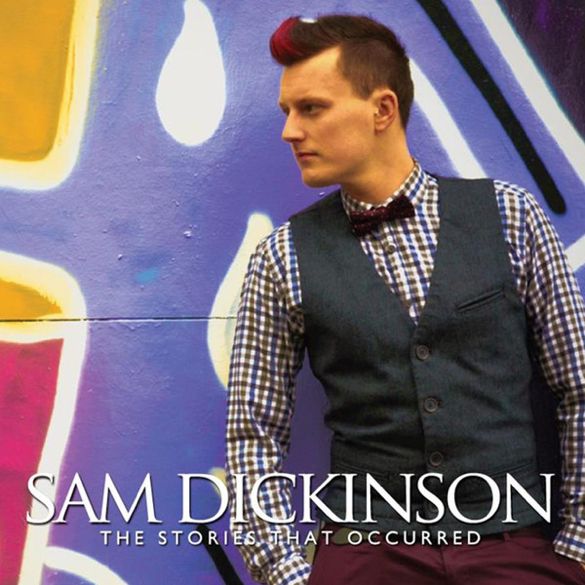 So 'The Stories That Occurred' was released July 22, 2013, and I have been loving it since. There is such joy, such exuberance in the music, I swear, even as I sit alone and listen, I soon find myself pumping my fist to the beat, and singing alone with Dickinson. It happens from the start, on "How It Used to Be". There is a wonderful energy, and much of it is channeled into Dickinson's bold vocals, which could power all of England! The soulful sound, inspired more by Otis Redding than anyone else, wraps your ears in warm comfort, getting you ready to dance. In fact, if Redding and Lulu had a musical child, his name would be Sam Dickinson. The next track, "Away From Me" doesn't offer a break from the energy and joy. Dickinson's high-octane performance continues on "Learn to Wait", an early favorite of mine. It also happens to be the first music video, so get ready for the power that his Sam Dickinson.
So now you get it, right? On "When You Left Me", the Rock 'N Roll influence is loud and clear, and is a wonderful fit with Dickinson's voice. How he manages to combine the power and hurt is beyond me, but I have to admit I love it so much. And the last 30 seconds of the song gives me goosebumps. That is followed by the first ballad of the collection, the beautiful "Mistake Again". There is a wonderful softness to Dickinson's vocals in the verse, allowing us in to his heart. I hope you enjoy this live acoustic version of "Mistake Again" I found on his
SoundCloud
page.
While we have turned down the lights, Dickinson offers up another ballad, the ethereal "A Million Miles". There is a real element of the modern day torch song here, even though Dickinson imbues the song with a bold defiance while talking about the power in "one small kiss". On the next track, I swear that Sam found his inner Gloria Gaynor, for the bold bravado of "Don't Come Running Back" soars with a clenched fist punching at the air. Soon were are being greeted by "I've Gone, I've Quit", another track filled with chest-thumping warnings of a broken heart. On "Lift Your Head", there is a true melancholy that is palpable. The honesty in the hurt here is something special. From the first few seconds of "Our Day", I new this was another stunning ballad. For a treat, check out this live version of "Our Day" recorded at Hoochie Coochie in Sam's hometown of Newcastle Upon Tyne, the home of hard Funk, solid Soul and cool Jazz.
There is a wonderful vulnerability to this, and so many of the songs on the album. There is not a single track I don't love on this album. The only problem I see is that the Newcastle boy won't be playing in my area anytime soon. I can't imagine what a great night it must be to see this man performing live. But luckily, I have this album, brimming with Rock, Soul, and love that keeps me playing it again and again. You can purchase 'The Stories That Occurred' from
iTunes
,
Amazon
, and other online music stores. To learn more about Sam Dickinson, visit his
official website
. You can also 'follow' him on
Twitter
, and 'like' him on
Facebook
.