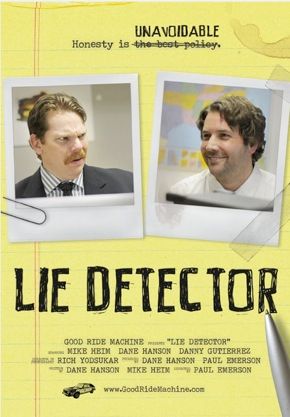 Tonight, I thought it might be time for a cute and funny double feature, starting with 'Coffee', a short film from Todd Bartoo. The cast features Christy Geslain as Polly, Alison Haislip as Jane, Cameron Northey as John, Tito Leon as Alex, Jeremy Lucas as Chris, and Andy Allen as Jim. It seems Polly, Jane and John show up at the coffeehouse for some relaxation and live Poetry reading, the same night as Alex, Jim, and Polly's ex Chris look for some off-campus fun. We learn that what the movie tag line is true, as "Some people take their coffee straight, others take it with a little cream and sugar."
'Lie Detector' was directed by Paul Emerson, and stars Danny Gutierrez as Danny, Dane Hanson as Dane, and Mike Heim as Mike. The script was written by Hanson and Heim. The film watches in as Dane is set to interview for a new job with Mike, who uses the Lie Detector 3000 to check the facts. As the interview goes on, both men reveal more than they had planned. Or did they?
Have a great weekend!