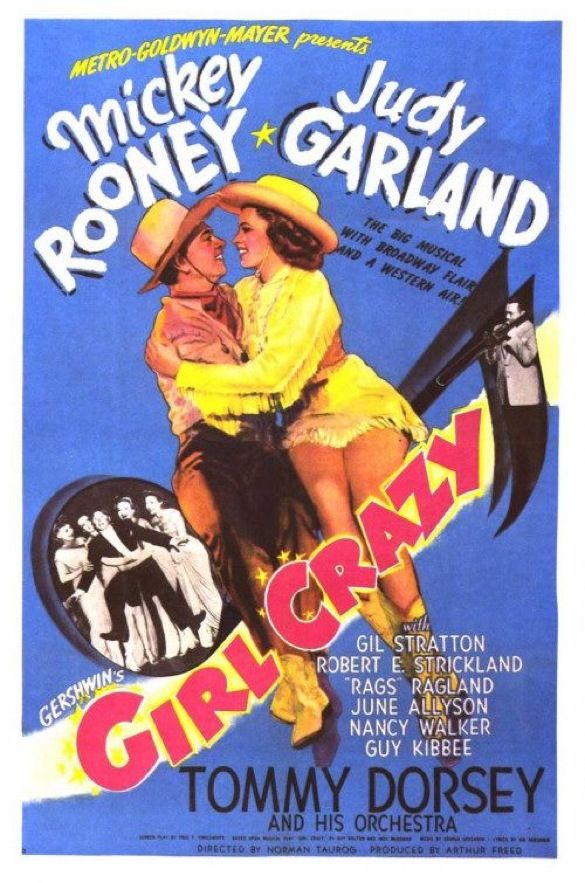 In 1943, Metro-Goldwyn-Mayer released 'Girl Crazy', based on the 1930 Broadway musical of the same name. This was the second go at the show, the first being a 1932 film that was said to have lost over $150,000, a great deal of money at the time. This seems strange, considering the music was in the hands of George and Ira Gershwin, so it took a little time before Hollywood tried it again. And once they did, they employed Judy Garland & Mickey Rooney, never a bad move. But with great songs like "Embraceable You", "I Got Rhythm", "Fascinating Rhythm", "Bidin' My Time", "But Not For Me", and "Treat Me Rough", this seemed destined to be a hit. MGM first hired Busby Berkeley to helm the project, but was soon let go after repeated arguments with Garland. His only contribution to the film was his staging of the great number "I Got Rhythm", featuring Judy. Of course, the song would go on to be a classic.
Once Berkeley was gone, Norman Taurog was brought in. Tauroq was an Academy Award-winning director, but is perhaps best known as director for many Dean Martin and Jerry Lewis movies, as well as nine Elvis Presley films. But there was plenty of talent in this film to go with Garland and Rooney, including June Allyson, Nancy Walker, and Tommy Dorsey and His Orchestra. In this clip featuring "Treat Me Rough", Tommy Dorsey and His Orchestra play for June Allyson, as well as Mickey Rooney, who joined the ladies in the chorus.
And, finally, I don't know if there can be anything sweeter than the young Judy Garland singing "Embraceable You", the magnificent song by the Gershwins. She is joined on the number by Rags Ragland and his chorus. Judy has a delightful dance break with Ragland that is just happiness personified. And Judy at just 21 years old is a joy to watch, she is positively glowing.
You can find 'Girl Crazy' on DVD in just about any online store.