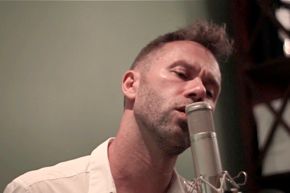 Canadian singer/songwriter Jeffery Straker has a new video on YouTube, and it is really quite good. He offers up a cover of "Landslide", the beautiful song written by Stevie Nicks and first recorded by Fleetwood Mac in 1975 for their self-titled album. There was also the recent cover by The Dixie Chicks that stormed up the charts and played everywhere. While both were gorgeous, I have to say I just love Jeffrey's take on it, a beautiful piano-driven version that allows Jeffrey's vocals to connect to the song, and to take wing and soar.
You can find my review of Jeffery's album 'Vagabond'
here
. If you are pressed for time, I can give you a quick overview - I loved it! You can purchase 'Vagabond' from
iTunes
,
Amazon
, and
Bandcamp
. To learn more about Jeffery Straker, visit his
official website
. You can also 'follow' him on
Twitter
, and 'like' him on
Facebook
.