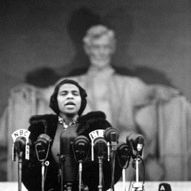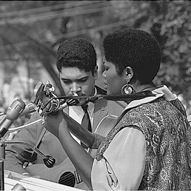 Top: The Rev. Martin Luther King, Jr. Bottom, from left: Mahalia Jackson, Marian Anderson, and Odetta.
To mark the fiftieth anniversary of Dr. Martin Luther King, Jr's, historic March on Washington, and his "I Have A Dream" speech, I thought I would do what this blog does best. I will mark the day with music, and it occurred to me to bring you the music that was being heard that very day. Now there were many artists who offered their talents on the day, but I have singled out three very talented women. All three were leading vocalists on their own, and it is easy to know why just by listening to them here. First up, we have Mahalia Jackson. She was often called the "Queen of Gospel", and it is easy to know why. Her beautiful voice is just so rich and so true, it demands you listen. This is Mahalia Jackson singing "How I Got Over" from the 1963 March on Washington.
Marian Anderson was a star of the highest variety, with her gorgeous contralto celebrated all across the world from the 1920s to the 1969s. She would sing anything from Classical arias to Gospel favorites, and would pack the house whenever she did. But all that did not keep Anderson from feeling the sting of bigotry in his home country, when the Daughters of the American Revolution refused permission to sing in front of an integrated audience at DAR Constitution Hall in Washington, DC, in 1939. Later, with the assistance of President Franklin D. Roosevelt and First Lady Eleanor, she gave a free on the steps of the Lincoln Memorial, where she was heard by over 75,000 there, and millions by radio broadcast around the world. Unfortunately, I couldn't find a clip from the march, but this is a clip of this wonderful lady singing the song, but here is Marian Anderson singing "He's Got The Whole World In His Hands".
Odetta Holmes, known simply by her first name, was a singer, songwriter, actress, and activist, and was often called "The Voice of the Civil Rights Movement". She was an important figure in the revival of American Folk music in the 1950s and 1960s, and made some seminal recordings of music during that time. During the March On Washington, Odetta sang "I'm On My Way". Again, I couldn't find any clips of her singing for the March, but I did find her recording of a trio of spirituals. This is Odetta singing "Oh, Freedom", "Come And Go With Us", and "I'm On My Way".
I know I wasn't at this March on Washington, for I was far too young, but that doesn't mean this didn't have an impact on my life. This iconic moment for the Civil Rights Movement paved the way for the struggles of all other minorities. So I did not march in 1963, but I did in the late 1980s and in the early 1990s, when I was old enough to understand that it is wrong to treat people differently, just because you don't like something about them. So I marched for Gay Rights, and I marched to tell the Reagan administration that they could not ignore the AIDS pandemic and hope the gays would just go away. We needed to stand up and let the world know what was happening, for the 40th President held office from 1981 to 1989, and never once mentioned the terms 'AIDS' in public at all. His administration ignored what was happening, even thought the Centers for Disease Control recognized AIDS and the HIV infections in 1981. And we, as a people, marched so our voices could be heard. The Names Project set out the AIDS Memorial Quilt on the Mall on Washington. We could do that because Dr. Martin Luther King, Jr., showed everyone that peaceful and organized protest could bring about change. Thank you all who took part in the March 50 years ago!