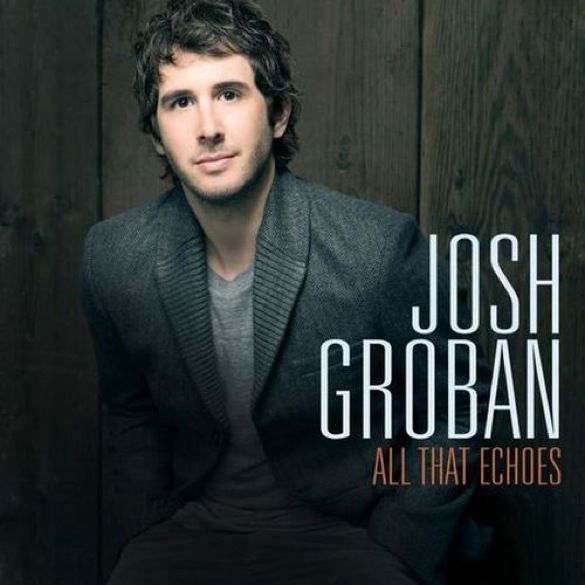 I must admit I have been a sucker for Josh Groban and his music since I first caught the singer on a PBS special, 'Josh Groban in Concert', in 2002. I loved the sound of his voice, and his adorkable look. I admit I soon owned his first album, his eponymous 2001 release. I have been addicted since, and have all his albums in my collection, and love them all. I enjoy his blend of Classical and Pop, it just works for me. I was excited when I heard he was about to release a new one, 'All That Echoes'. The album is a collection of old jewels and new music co-written by Groban. The first single, "Brave", was written by Groban with Canadian artists Tawgs Salter and Chantal Kreviazuk. Check out the music video for "Brave".
Earlier this summer, a second single was released. "I Believe (When I Fall In Love It Will Be Forever)" was written by Stevie Wonder and Yvonne Wright, and appeared on Wonder's 1972 release, 'Talking Book'. It has been covered by man, from rocker Peter Frampton to Art Garfunkel to George Michael. Groban puts his own ethereal spin on the song, as you can hear in the official music video. So I hope yo enjoy Josh singing "I Believe (When I Fall In Love It Will Be Forever)".
'All That Echoes' is the first of Groban's sell less than a million copies, but there is still time for that. The first week of release, the album did go #1 on the Billboard 200, which charts the album sales from week to week. I will honestly say that while it is not my favorite of Groban's albums, I did enjoy it. One of my favorite songs on it was the traditional song, "She Moved Through The Fair". The music had a strong Celtic feel, yet Groban's vocals escaped the expected, with the bold reading.
I could listen to Josh singing like that all day long. For more about Josh Groban, you can visit his
official website
. You can also 'like' him on
Facebook
, and 'follow' him on
Twitter
. "All That Echoes is available anywhere music is sold, including
iTunes
and
Amazon
.