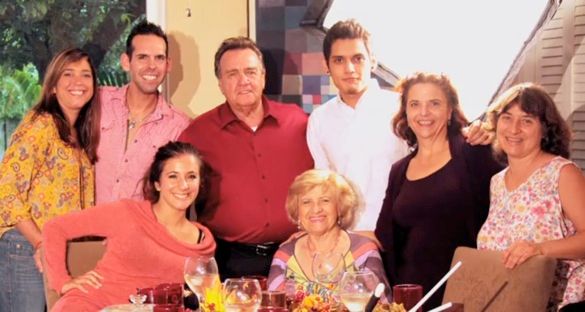 The cast of 'It's Time to Tell'
Well, tonight is a sweet film that tells a stroy in less than 14 minutes that has been lived time and time again over the last few decades. 'It's Time To Tell' is a 2012 short from Galaxia Productions, written, directed, edited, and produced by Dominic Amato. The story is based on a true story, and it is convincingly told. A young boy, experiencing his first taste of freedom while away at college, makes a serious self-discovery during his freshman year. As he plans on sharing his realization with his family when he is home for Thanksgiving break. The cast includes Jonathan Stryker, JoAnn Bromley, Eliana Ghen, Ariel Hopes, Adrian Sardny, Brad Meaney, Trent Baker, Thom Barry, Anna Dragif, and Kristin Leder.
I will also tell you my ears pricked up when music started to play, and I instantly recognized the voice of singer/songwriter Richard Cortez, and his wonderful song "The Poor Man's Love Song". The song is so sweet, so tender, it is hard to not love it. The song, found on his album EP 'rec[cord]', is just good for my soul to hear every so often. This is the official music video for the song "The Poor Man's Love Song", written and sung by Richart Cortez.