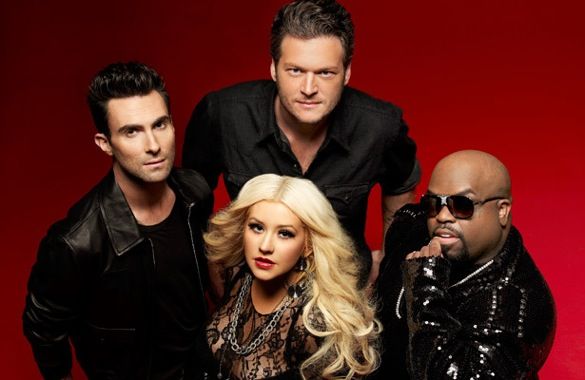 Left to right: Adam Levine, Christina Aguilera, Blake Shelton, and Cee Lo Green.
Last week was another time of great competition, and we saw two more artists packing their bags and heading home. Austin Jenckes and Kat Robichaud left the competition, leaving Team Cee Lo with just one artist, Team Xtina and Team Blake with two, and Team Adam complete with three. But it is Thanksgiving Week, and there are still eight artists ready to sing, filled with gratitude to make it thus far. But there are still two who will be leaving tomorrow night, not so eager to go home for the holidays. Will Team Adam finally lose a singer? Will Team Cee Lo be eliminated altogether? Can Team Blake prove it still has the magic that won three seasons in a row? They have to sound their best tonight, and see where that gets them with the voting public tomorrow.
Left to right: Blake Shelton, Christina Aguilera, Carson Daly, Cee Lo Green, and Adam Levine.
As is always the case, the show opens with host Carson Daly, to tell us about the night. But first he introduces the Top 8, and you can see a mixture of happy and tense on their faces. They might love performing, but this is a competition, and perhaps the nervous energy sneaks though. Before going on, Carson welcomes back a former adviser to contestants on the show, Robin Thicke. He comes out and performs his latest single, "Feel Good".
James is very excited to sing his choice this season, Queen's classic, "Somebody to Love". This is yet another side to the man who has never rested on his laurels, but has continually stretched and reached for the brass ring. While it might be daunting for many, James is up for the task, and sound great on the song. None of the slight hitches of prior weeks, from breath control to over exuberance, surfaced tonight. Clad in a tuxedo, James is on stage, and in the audience, and never looked nervous or confused. Great way to start the show. The judges loved it, but Christina got a bit lost in some cloning daydream that lost me. After a commercial break, it is time for the second member of Team Adam to perform, Tessanne Chin. She sings No Doubt's "Underneath It All" featuring Lady Saw.
Gwen Stefani and the boys from No Doubt were known for the Reggae influences, and this seems like a perfect fit for the Jamaican woman. There is such joy and love in this performance, it spills over to the audience. They sing along, and give her a long ovation. Her voice was expressive, subtle, bold, and sweet, so perfect for the show. She has been so strong from the audition, I have loved watching and hearing her. Cee Lo loved her, and Xtina gives a weird critique I think was both complimentary and a subtle dismissal of prior performances and Adam's coaching. After a break, it is time for the last artist on Team Cee Lo, 17-year-old Caroline Pennell. She wants to do something surprising, and they pick the Indie Alternative vibe of Florence + the Machine, "Dog Days Are Over".
Caroline starts off with a softness and sweetness that is nice to see. She adds strength and energy to the chorus, and really picks it up. She did a nice job, although at the end seem to be swallowed a little by the hugeness of the song. She was good, but fell a bit short of great, which I thought was very possible. I want her to have a break out moment, but she seems to stop just shy of the mark. After a break and an interview with Robin Thicke, who credits 'The Voice' fans for helping make "Blurred Lines" for big, having introduced it last year on season 4. Next we have a group performance with Cole, Ray, Tessanne and Will singing "One Day" by Matisyahu, giving us a bit more Reggae for the night. After another break, Cole and Ray go with Blake to the Jay Leno show, a chance to taste the good life, to see what they can achieve. After that, we learn Cole love Country music, and will be singing, "I Still Believe in You" a big Country hit from Vince Gill, co-written by Gill and John Barlow Jarvis.
Blake wants Cole to have a bit of desperation on the song, and I think Cole delivered on that. It is tough to compare with Vince Gill, whose voice is so crisp and clean, but Cole delivers his own performance for the song. There is grit in his voice, and it serves him well here. Blake is so proud, and thinks he does a great job. Christina loved him to, thinking it was a great quiet moment for him. After another break, Team Xtina's Matthew Schuler steps up to his turn on the stage, singing "It's Time", a song written and performed by American alternative rock band Imagine Dragons, which made it to the Billboard Top 10 in 2012. Christina wants to do a military theme on this number, and Matthew feels inspired by it. She loves that he has an Indie Rock base, and plans to utilize it on this song. During the performance, he soars in the chorus, but tends to get lost on the verse, garbling a little bit. The chorus is spectacular, but the performance does get a bit muddy in between. Of course, he brings it to a magnificent close. Christian loves him, and loves what he did with the song. Which was, of course, dictated by her... After a break, it is time for Jacquie, James, Matthew and Caroline to perform, singing "Lego House".
This is a wonderful song, but a very uneven performance. I would prefer to listen to the original above, and move forward. All four had nice moments, and times when I wondered what they were thinking. After another break, it is time for Will Champlin to join us. Will is singing a 1941 song written by Mack Gordon and Harry Warren for the musical film 'Orchestra Wives', made popular by the late, great Etta James. It is, of course, "At Last". Will considers Etta to be an influence, and he wants to make it a memorable moment for him. I must admit, I find her performance mesmerizing. He uses power, range, and adds a rough hewn quality to his voice, sweetening the tea. It was a great moment for Will, and the audience acknowledged it with a long and loud ovation. Adam just loved it, and just loves working with Will. Christina also loved it, knowing how tough it is to sing the song. After another break it is time for the final artist from Team Blake, handsome Ray Boudreaux. I must admit I am a fan of Ray, but am not sure Blake has been able to give him the songs that showcase his sexy voice. This week, Ray will be singing "Gimme Some Lovin'", made famous by the Spencer Davis Group, and written by members Steve Winwood, Spencer Davis and Muff Winwood. It is interesting, Ray's voice is reminiscent of Steve Winwood, the smoky edge on a strong voice. From the start, Ray is rocking the song out, bringing us back to a soulful time in Rock music. I am not sure this was a great song for the competition, but it reminded me why I've liked Ray from the beginning. His bluesy roots were definitely showing. The coaches loved him, with Cee Lo and Christina giving him high marks. The last performance of the night will go to the youngest performer of the lot, 16-year-old Jacquie Lee, a member of Team Xtina, Tonight, Jacquie will be singing "Who's Lovin' You Now", the Motown song written in 1960 by William "Smokey" Robinson, and made famous by his group, The Miracles. It was also recorded by Diana Ross and the Supremes, as well as the Jackson 5. Christina wants Jacquie to cut loose, and get out of her own way. As far as I can tell, we are getting back to shouty Jacquie, and I am not that enamored with her. For me, she is out of her league with this song, and she is a little girl imitating others. There is no subtlety in the performance, she is just singing at full volume from start to finish.
So that is the Top 8, all trying to make it through another week on 'The Voice'. My Top 3 for this week would be Will, Tessanne, and Matthew, with strong performances. My bottom three, would be Cole, Caroline, and Jacquie. I thought both Cole and Caroline could have used a bit more energy, more life in their performances, while Jacquie could have used a bit less. I can't say I am 100 percent sure the voters will agree with me - perhaps Ray could slip in there, but I actually thought he was quite strong tonight. Could James and Tessanne have issues, singing up front, it is tough to be sure. But those are my thoughts for the night. The results are coming tomorrow night, at 9PM on your NBC station.