I first discovered the music of Darren Ockert as a judge for the 2012 RightOutTV Music & Video Awards, when he won Best Electronic/Dance/Hip-Hop/R&B Song for "This Modern Life (1984)", off his EP 'The Rain From London'. I immediately went out to Download the EP, which I loved. It was a great collection of ElectroPop elixirs, eager to fix what ever is ailing you. Darren's music has a real sparkle to it, and I was eager for more. I was so excited I couldn't wait when I heard he was getting set to release a new album, I couldn't restrain myself, and pre-ordered it! I couldn't wait to get it, and was thrilled when November 12, 2013 finally came, and I could download 'Short Story Long'!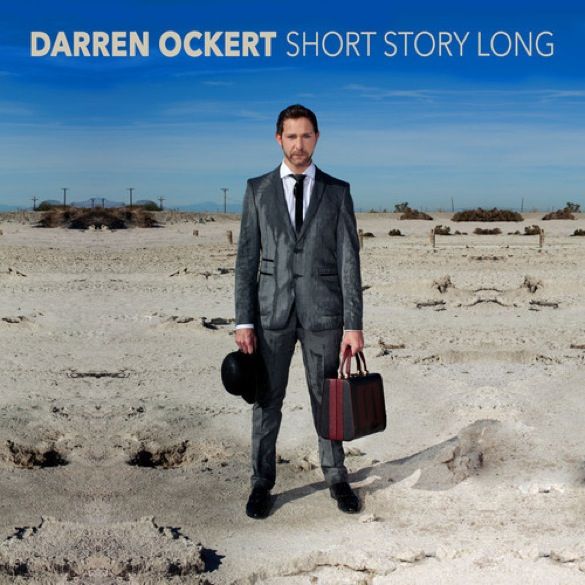 Needless to say, the moment I got the notice my purchase was available for download, I was hitting the button, getting even more excited. And it only follows suit that I would hit the 'play' button the minute it was done, and I got my first taste of 'Short Story Long'. The first track is "You Don't Know Me", a great song I had heard before, and will be hearing for some time to come. I just can't get enough of it, so I will share with you the music video for "You Don't Know Me".
The minute I heard Darren sing "Can't Think Straight", a smile grew, I must admit. The song manages to combine a youthful confusion with the innocence of the age. There is also an edge to it, a touch of anger growing out of the confusion. But there is a wonderful joy there, and I love it. That is followed by "Force of Gravity", which slows it down just a bit. Soon the chorus takes off, and the magnificence of the effect of gravity, pulling us back to earth, is a wonderful thing. There is a wonderful flirty, coy feeling on "Not Your Boyfriend", the boy teasing a girl about being her friend, but not her boyfriend. The song have a delicious feel I had a tough time not hitting replay every time I hear it. With the next song, I have to say, we've all been there before, going back to an ex, even though we knew why it didn't work to start with. Indeed, we've all been "Back For More".
From the very beginning, "Running Out of Love" sounded like it was gonna be told from the heart, and it certainly delivered. I know I've been in a relationship (or two) when you saw and felt the end coming, but opted to ignore it and keep running until we were empty. There is an interesting sexiness and strength to "Don't Let The Bastards Get You Down". The energy and tempo are opening up the throttle, looking to stand tall in the light, not succumbing to haters and bullies, looking to tear you down. There is a whole lot of joy in this one, and it is infectious. And speaking of catchy, "This Modern Life (1984)" is a glorious offering, a brilliant Pop confection with a hint of 1980s Pop without losing footing in the music of today. I cannot resist dancing to this one, fist pumping in the air. As the beginning of "Crumbs" starts, I remember how much I loved this when I saw the recent music video.
The lightness of the music for the beginning of "Center of Attention" belies the depth of the song, dealing with Mommy issues and other things that take you out of a relationship, leaving a partner very lonely. "Everybody's Lonely" starts out with the overall human condition, telling us that "everybody's lonely, everybody hurts". Ain't that the truth, that is one of the common denominators we all share, at least with a few relationships in all our lives. Maybe, just maybe, if we reached out to others when we feel this, could it help? With "I've Moved On", we've reached the last cut on the album. With music this good, it hardly seems like I've been listening for more than 15 minutes, yet the clock tells me 45 minutes has actually passed. The song talks about that moment when we know we must move away from a situation, a relationship that has become toxic to our lives and well-being. We all knew it wasn't the easy solution, but the only one that might help us spare our heart, and our spirit. This is a great conclusion to the album, the affirmation that we must take better care of ourselves at times, protecting us from the inertia that pins us in unhealthy relationships. The album is all about emotional release, from new love to moving on. There is much joy, a lot of love, and so much heart to be shared in the music, it is simply irresistible. You can download 'Short Story Long' from
iTunes
and
CD Baby
, or you can purchase the CD from
Amazon
. For more about Darren Ockert, visit his
official website
. You can also 'like' him on
Facebook
, or 'follow' him on
Twitter
.