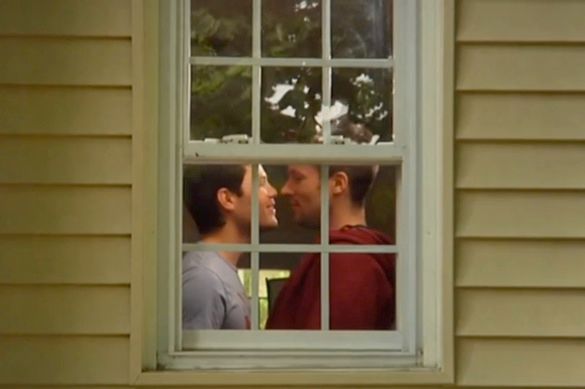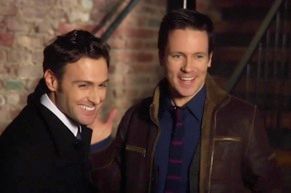 While looking for an interesting something to post tonight, I ran across this trilogy of short films I thought had such great quality, I was compelled to move on to the next. The films were made by Fine Young Man Productions, a company based in New York City. All three films were directed by Alain Hain, and written by Jason Mills, the two partners behind the production company. All three films offer a look at at least one subset of the gay social sphere. The trilogy was made in 2010, is a wonderful tapestry woven together from the actual true stories as told to the filmmakers. All three featured one actor, the adorable Danny Bernardy, who played Jared in all three. It is through Jared we see the evolution of a gay man living in New York City, starting with 'Curious Thing', which stars Bernardy, as well as Matthew Wilkas, and Rebecca Pappa. This tells the story of a young man just beginning to find and define his sexuality, torn between a girlfriend and his best friend.
'The In-Between' picks up the story of Jared some time later, as he finds himself in a relationship with handsome Robert. They both seem happy together, but soon doubt makes its way in, as questions of fidelity, and if men are capable of monogamy. It stars Sharon Batten, Danny Bernardy, Brian Patacca, Jason Tam and Derek Allen Watson, all trying to navigate the terrain of modern romance, from the point of lover, friend, or just a casual acquaintance.
Finally, there is 'A Lack of Gravity', the final installment of this trilogy. This one takes a look at how homophobia can take a toll, both on a gay man, and on a family. I was so moved as it showed how the hatred of others can strip away at your core, your self-worth, and start to bring you down. Self doubt and fear creeps in, which is never a good thing. And is show how love can give strength, and affect our very will to go on. The short feature beautiful performances by Danny Bernardy, Jason Tam, Timmy Cassese, and Daiva Deupree.
I was just so impressed with this trilogy, they all touched my heart in some very different ways. They all told stories I was familiar with, either by experience, or by stories told from friends. Both director Hain and writer Mills show a deft hand that was able to make so many stories come together in short films without ever coming up short, feeling as though the topic was not covered. I will be looking to see if they have released others. To learn more about Fine Young Man Productions, visit the
official Facebook page
.