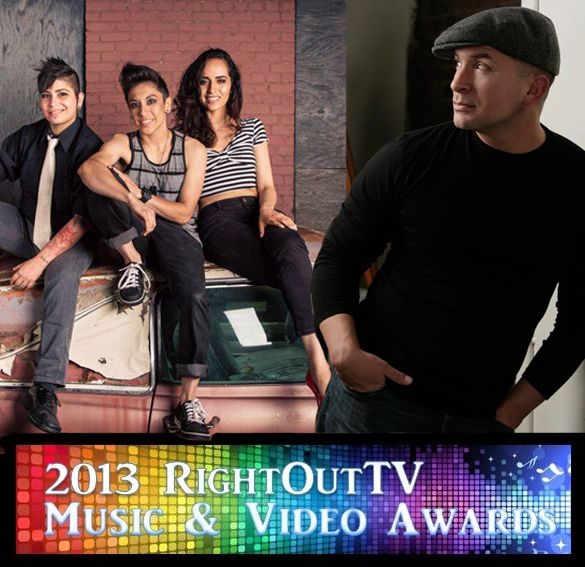 Left: Kari K & the Stonewall Riot. Right: Michael V. Doane
I am pleased to showcase the recent winners of the 2013 RightOutTV Music & Video Awards, pointing a spotlight on a few of the many talented members of the LGBT community making music. This year, awards were given in 18 different categories, with 17 different acts receiving them. The awards are given by RightOutTV, a website founded by Marlee Walchuck and Tully Callender. The website promotes Gay, Lesbian, Bisexual, and Transgender artists, allowing a platform for their voices to be heard, and a place for those wanting to support them to visit on a regular basis. "If you watch the awards show you'll see that we don't just promote and award these artists because they're gay. These are high-level, multi-talented, professionals with star quality," says Marlee Walchuk, co-producer of the awards. "Even though most of these artists are not being heard on mainstream radio yet, they deserve every success enjoyed by their straight counterparts."
Following the studied consideration of the judging panel, the award for Best Pop Song was given to Kari K. & The Stonewall Riot for their wonderful song, "I'm Not the One". I'll be honest, I wasn't on the selection committee for this category, but if I were, I would be hard pressed to come up with a stronger winner! This song, which has a beautiful balance between Rock and Pop, is a bold yet nuanced recording, a standout in any group you could find it in. The band from Austin, Texas, is made up by Kari Kuwamura on vocals, Naomi Toledo on bass, and Selina Maldonadoon drums. This is the official music video for Kari K & the Stonewall's "I'm Not the One".
New York-based singer/songwriter Michael V. Doane is the next featured artist, having been awarded Best Rock Song for "Keep Running". The song, a non-album single released in September, beautifully weds Soul and Rock to separate from the pack. Doane's vocals are strong and crisp, always hitting the notes with a laser precision. There is a wonderful density to the chorus, the sound enveloping the listener like a glove looking to keep you warm. I love it, and hope you enjoy the official music video for Michael V. Doane's "Keep Running".
To learn more about Micheal V. Doane, visit his
official website
. You can also 'like' him on
Facebook
, and 'follow' him on
Twitter
. You can purchase the single "Keep Running" from
iTunes
, and
Amazon
. For more about RightOutTV, visit their
official website
. There you can find music videos and interviews of LGBT artists from around the world. you can also 'like' them on
Facebook
, and 'follow' them on
Twitter
.