The brilliant Anthony Callea.
It have been a long time since I first discovered Anthony Callea, when he became a YouTube viral sensation for his outrageously amazing rendition of "The Prayer" on the 2004 edition of 'Australian Idol'. He blew me away with that, and I knew I had to order his album. I did, and I've been hooked since. A couple of albums and a DVD later, all imported from Australia, and I still think he has one of the most magnificent voices going. No matter what this boy is singing, I am most certainly buying! So when I heard Anthony was working on a Christmas album, excited might not be a strong enough word to describe my mood. Giddy, squee-ful, and ecstatic might capture it, if all are used. It is interesting, for as a fan of Anthony, I have seen YouTube clips of his annual appearance on 'Carols by Candlelight', held every Christmas Eve in Australia, allowing me to eagerly eat up live performances of Christmas songs for many years now. I couldn't resist, and pre-ordered it the moment I could.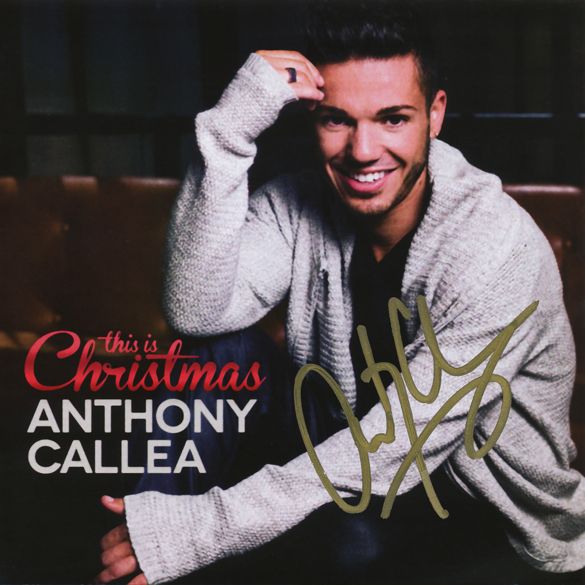 So, even though I pre-ordered it from Australia, once it was released, I could not hold out until the CD made it across the Pacific and North America, so I scooted off to iTunes and got my copy of Anthony Callea's 'This Is Christmas'. And once I hit play, I was not disappointed in the least. Quite the opposite, really, for it was everything I wanted, and more! The album starts off with "Don't save It All For Christmas" was written by Peter Zizzo, Ric Wake, and Céline Dion, who also recorded it for her 1998 album, 'These Times Are Special'. As a single, it was released in December of 2000, and the first song Dion had a writing credit. The song is a soaring and lovely addition to the Christmas catalog, and Anthony is magnificent on it. The next track, "The First Noel", is a traditional English carol, and is given a traditional feel with an orchestra playing. Anthony's voice is able to soar high above the instrumentation, giving ample warmth and heart to make this so beautiful. The next song was written by Jeff Barry, Ellie Greenwich, and Phil Spector in the early 1960s, and sung by Darlene Love in 1963 to much acclaim. The song, synonymous with the era and sound of Spector's 'Wall of Sound' and the quality of music coming from 'The Brill Building", where some of the great writers worked then. I hope you enjoy this version sung by Anthony live at a 'Carols By Candlelight' event. It is different than his studio version, but to hear adn watch him sing always make me happy. Please enjoy Anthony singing "Christmas (Baby, Please Come Home)".
"Silent Night" was composed in 1818 by Franz Xaver Gruber, with lyrics by Joseph Mohr, in a small town in Austria. The song is still a popular Christmas song, almost 200 years later. Once again, the song allows Anthony to show the control and softness in his voice, with his tender rendition of the song. Anthony is joined on the song by guitarist Stuart Fraser, who sounds beautiful as well. Together, they make a lovely duo. "Santa Claus Is Coming To Town" was written by John Frederick Coots and Haven Gillespie and was first sung on a radio show in November of 1934. It was an instant hit, and remains a favorite of millions almost 80 years later. Anthony gives it a Rocker/Swing treatment, allowing him the freedom to show off with that amazing voice of his. "Ave Maria" was composed by Franz Schubert in 1825 as part of his Opus 52. Once again, almost 200 years later, people are still singing this song, a beautiful Christmas Prayer. The strength, depth, and tone of Anthony's voice truly shines on the recording, making me very happy. The only thing that could make it better is allowing Anthony Callea to be joined by The National Boys Choir of Australia, a group of 200 talented boys aged between 7 – 15, who sound beautiful on the recording. "Do You Hear What I Hear?" written in October 1962 with lyrics by Noël Regney and music by Gloria Shayne Baker, a married couple worrying about the Cuban Missile Crisis, and what might be happen because of it. It quickly became a favorite, and Anthony gives it a strong R&B treatment, much like Whitney Houston, who Anthony did open for in Australia. This is Anthony singing "Do You Hear What I Hear?".
"Mary Did You Know?", a Christmas song with lyrics written by Mark Lowry and music written by Buddy Greene, was written in 1984, but not recorded until 1992. The song slowly took hold, with people like Kenny Rogers and Wynonna Judd singing it. Also versions by Clay Aiken and Cee Lo Green hit the charts. Anthony gives a strength and urgency to the song. It is hard to not fall in love with the recording of "Have Yourself A Merry Little Christmas", which is an amazing song. It was written by written by Hugh Martin and Ralph Blane in 1943, and first sung by the great Judy Garland in th e1944 MGM musical 'Meet Me In St. Louis'. In this recording, Anthony is joined by his partner, handsome and talented Tim Campbell. I had already been a fan of the version they had sung in 'Carols By Candlelight' a few years ago, so I hope you enjoy Anthony and Tim singing "Have Yourself A Merry Little Christmas".
"Amazing Grace" is a Christian hymn with words written by the English poet and clergyman John Newton in the late 1700s. The song is the ultimate message of forgiveness and divine redemption. Anthony recorded an outstanding version, and is joined on the song by vocalists Susie Ahern, Michelle Serret-Cursio and Rod Davies. This is a brilliant acapella version, and I can't listen to it enough. Together, the group allows each to soar to new heights, leave you wondering if they will return to earth again! The next track once again features The National Boys Choir of Australia. "O Holy Night" is a well-known Christmas carol composed by Adolphe Adam in 1847 to the French poem "Minuit, chrétiens" (Midnight, Christians) by Placide Cappeau. This is another traditional favorite, and again the sheer beauty of Anthony's voice elevates the listener, cradling us with his warm tone as he brings us to new heights. "Note To God" is a song written by Diane Warren, a talent who has written more than her fair share of great songs. It was first recorded in 2006, and soon others were wanting to sing it. The song is an emotional message to a Higher Power, a person searching for a way to carry on in a world that could use so much help. Anthony delivers on the big notes, and even bigger on the emotional quality of this tough song.
'This Is Christmas' makes for an amazing musical journey, one I will take again and again this holiday season. Anthony has an incredible voice, one I never tire of hearing. This is certainly a must-have for this and any holiday season. Put it on your Christmas List, or buy it for your friends, 'cause they will love it too! You an purchase 'This Is Christmas' on
iTunes
and
Amazon
. To learn more about Anthony Callea, visit his
official website
. You can also "like" him on
Facebook
, and "follow" him on
Twitter
. You an purchase 'Thirty', his latest Pop release, on
iTunes
and
Amazon
.