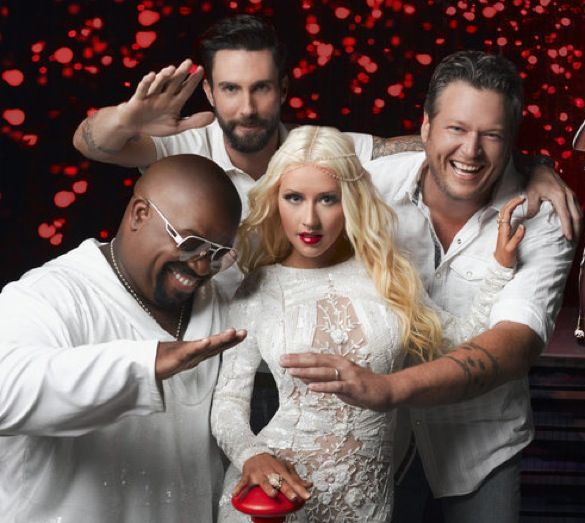 Left to right: Cee Lo Green, Adam Levine, Christina Aguilera, and Blake Shelton.
Tonight Carson Daly will let us all know who the Top Eight will be, announcing the results from the vote. Last night was an interesting night on 'The Voice', with some of the frontrunners not giving their best, making this voting a telling week. Will the frontrunners votes be affected by the performance, or will they be in jeopardy? It is always a more interesting season when the momentum shifts from week to week, really driven by performances. Last night, I picked my bottom three to be Austin Jenckes, Kat Robichaud, and maybe either Jacquie Lee or Ray Boudreaux. In truth, I thought Ray had a very good performance, but I am not sure how well it resonated with the voters. And I would also be surprised if two artists from Team Blake would be in the bottom this early. There is room for a few to be nervous. The bottom three in iTunes sales were Austin, Kat, and Jacquie, so it we have to see if that is an indicator. And who will win the Insta-Vote on Twitter? There is a lot to learn from tonight's results.
Clockwise: Team Adam, Team Blake, Team Xtina, and Team Cee Lo.
Carson Daly greets us, and quickly introduces the coaches, with Adam, Blake, and Cee Lo in their seats, while Christian was getting ready to perform. There is a quick recap, the coaches all giving props to their charges. With a recorded growl, the performance of Team Xtina begins, as Christina, Matthew and Jacquie sing Janet Jackson's "Black Cat", off the album 'Rhythm Nation 1814'. They also took on the Janet/Michael duet on "Scream", and Michael's "Bad". But for a distraction, here is Janet dancing to her "Black Cat".
After a commercial break, Carson reminds us there is a Twitter vote coming up. He also announces that Adam has been named the Sexiest Man Alive by People Magazine. Then Carson chats to the coaches, asking about how they are feeling going into the results show. Adam talks about how the coaches all fall in love with their artists, and wish them only the greatest success. There is an odd moment when Blake tells Adam it is what's on the inside that counts, and they hug. This makes Christina hug Ceee Lo, and then a group hug ensues. And hopefully, we are done with that for the night. We soon get to the results, and we learn that the first person to the Top 8 is James Wolpert, from Team Adam. Carson tells us that America also saved Matthew by their votes. After a commercial break, Will, James, and Kat join forces to take on Fall Out Boy, singing their 2005 hit, "Sugar, We're Going Down".
Before the applause is over, Carson calls the remaining eight contestants to the stage to learn who is safe. The third person safe tonight is Ray Boudreaux from Team Blake. Then we go back to Team Adam, and Will Champlin is announced safe. After a break, Team Blake takes to the stage, offering their take on ZZ Top's "Sharp Dressed Man". It is interesting, as all men on stage have strapped on their guitars for the performance, whatever that means.
While that was an okay performance, I must admit it was musically pretty strong. But there is no time to dawdle, and Carson will reveal two more safe contestants. First up, Tessanne Chin is safe, meaning all three from Team Adam are safe! In a surprise announcement, we discover that Jacquie Lee is safe, leaving Austin Jenckes, Cole Vosbury, Kat Robichaud and Caroline Pennell waiting to hear more news. When the show returns, Carson is in the Sprint Skybox, chatting about the show, like the fact there is a dozen humans in the rafters working the follow spots! Carson brings out Tessanne and Caroline, who sings "Royals" by Lorde.
This could be my favorite performance of the night, for Caroline and Tessanne worked surprisingly well together. Once that is over, Carson calls the four remaining artists, to get to the Insta-Save. But first, we learn that America saved Cole Vosbury, so Austin, Kat and Caroline are in the bottom three. I am truly surprised, for I thought Caroline would be safe, even with her anemic performance. And she was the fourth-ranked in iTunes sales. Undoubtedly, I think she should be saved, the best of the three contestants. But I must remember that is not the way I saw it last week, when Kat was saved, and Jonny was sent packing. To kill time while the voting is ongoing, Carson asks Adam what he thinks. He loves them all, but thinks Caroline has been magic. The voting is closed, and America saved Caroline, and Austin Jenckes and Kat Robichaud are going home.
Tune in next week, when the Top Eight will return to the stage to see if they can keep the dream alive! To learn more about The Voice, visit the
official website
. You can also 'like' them on
Facebook
, and 'follow' them on
Twitter
.