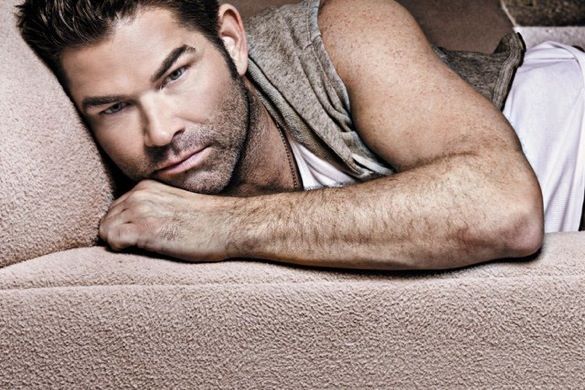 I've used many adjectives to describe Matt Zarley on this blog, from handsome to sexy to talented, and many more in between. But it seems as though I have a to amend my list to include 'hopeful romantic'. No, we haven't started dating... (Unless you want to, Matt, I am single... DM me!) I know because I watched a video Matt made for his new Kickstarter page, trying to raise funds to make a new album, entitled 'Hopeless Romantic'. This is Matt speaking from the heart about the new project.
Zarley comes with an impressive resume, having several hit Broadway shows on it, as well as winning two RightOutTV Music & Video Awards in 2012, for Best Song So Far and Best Video (Pro). The awards were for two different songs off his excellent album, 'Change Begins With Me'. The video award was for the music video for "W T F", a song off the album. The video was directed by Randall Kirk II, and features a cast of hot men. Just a slight word of warning, explicit language is used, so if you are in an office situation, turn the volume up!
While his bold and bright voice seems like a natural for upbeat songs with remixes made for the clubs, Zarley is a man of many colors. One of those colors is most definitely red, for he can sing so beautifully from the heart. The title cut from the album, "Change Begins With Me". The song, written by Zarley, Andy Zulla, and Chris Curtis, is a sensational song, and it is sung to perfection by Matt. This is the official music video for "Change Begins With Me".
And while we are getting to know Matt a bit better, I cannot miss his holiday single from 2012, "One More Christmas With You". You can also just click on the word
Kickstarte
r! Matt co-wrote the tune with Shoshana Bean, whose album 'Superhero' was a big success, and she took over the role of Elphaba from Idina Menzel in Broadway's 'Wicked', and Aron Forbes of X-Factor fame. The song has the feel of a current Pop song, with a hint of the holiday on top to make it special. This is the lyric video for Matt Zarley's "One More Christmas With You".
If you are impressed by his music and that very special voice, you can click on the wigdet below, and invest in your aural future. You can give as little as $5, and get a digital download of the album before it is officially released, to, well, whatever you you'd like to give. There are plenty of options for giving, all with great and wild rewards on your investment. For $1,500, you can be listed as Associate Producer in the liner notes for the album. Other rewards include digital downloads of all of Zarley's music, karaoke versions of his music, and shout outs on Facebook and Twitter from the handsome man himself!
If you would like to learn even more about Matt Zarley, visit his
official website
. You can also 'like' him on
Facebook
and 'follow' him on
Twitter
. Matt's album, 'Change Begins With Me,' is available on
iTunes
and
Amazon
.