It has been an exciting year for handsome Australian Nathan Leigh Jones, with the release of his fantastic video for the song "Crying Out For Love" off the album 'Sooner Or Later'. The music video was beautiful, and supported Marriage Equality, a movement that is gaining momentum world-wide, and will hopefully be adding Australia to the list of countries soon. He also worked as Producer for David Raleigh's soon-to-be-released album, how exciting is that? He also set his sights on a putting out a holiday album, but with that very special something that is Nathan. Well, I am here to tell you that Nathan's latest release, 'Brand New Christmas' is just what my holiday was looking for, more great music from the Aussie singer/songwriter.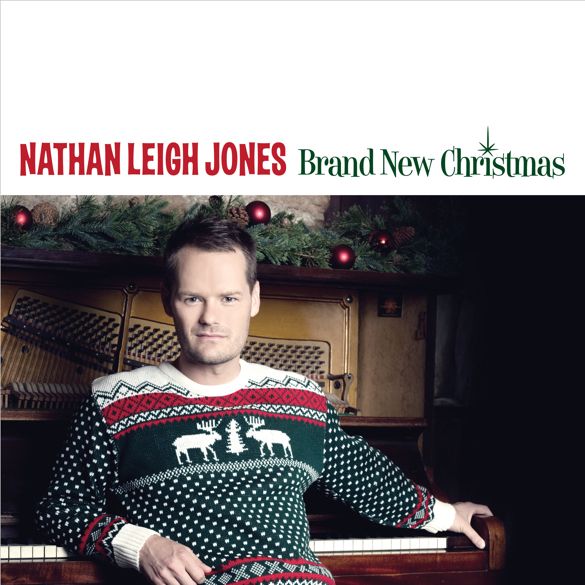 'Brand New Christmas' is Nathan's collection of Christmas music, only with a definite Jonesian twist! You see, each song on the album is a classic, and with each recording, Nathan re-imagines the song, with his own music. That is right, Nathan rewrote the music, but kept the lyrics of the iconic favorites that are such a wonderful part of our lives. A perfect example of this would be the first cut off the album, "Deck The Halls". With lyrics by Thomas Oliphant, who interpreted the original Welsh lyrics by John Jones, better known by his penname Talhaiar, the song has now been updated with music by Nathan Leigh Jones.
Irving Berlin wrote the music and lyrics to one of the most loved Christmas songs of the last century, "White Christmas", best remembered by Bing Crosby's recording. Nathan updates the sound, adding a touch of retro to make it special. There is something truly beautiful about Nathan's version of "Let It Snow", a song with lyrics by Sammy Cahn and music by Jules Styne. Of course, Nathan puts Cahn's lyrics in his own music, bringing the sound to a more contemporary R&B song. Stunning, I tell you! "Silver Bells" was originally written by Jay Livingston and Ray Evans, but Nathan replaced Livingston's music with his own. There is something a little darker with Nathan's retelling, and the chorus is pretty amazing! "Silent Night" was composed in 1818 by Franz Xaver Gruber, with lyrics by Joseph Mohr. Nathan tossed the Gruber melody to the side, and gave the song a great new sound. You can listen to it below.
Written in 1934 by composer Felix Bernard and lyricist Richard B. Smith, "Winter Wonderland" has been sung by all the great names in music. Add two more to the list, for Nathan is joined on the recording by David Raleigh, with a new Bluesy feel that suits both vocalists perfectly. There is such wonderful charm and depth to this recording, "Winter Wonderland" instantly became a favorite of mine. Total, full-out love, I tell you! "O Holy Night" was written by Adolphe Adam in 1847 to the French poem "Minuit, Chrétiens" (Midnight, Christians) by Placide Cappeau. Nathan made it a soaring ballad, and the song is refreshed, for the lyrics no longer sound as though they were written over a century-and-a-half ago. "Have Yourself A Merry Little Christmas" written by Hugh Martin and Ralph Blane, the duo behind so many songs for MGM musicals, including many of them featuring the great Judy Garland. In fact, Garland introduced this one in the 1944 musical "Meet Me In St. Louis". Nathan amps up the joyous factor, bring it up to a mid-tempo song that is more celebratory than melancholy. The original lyrics for "Angels We Have Heard On High" were based on the French poem 'Les Anges dans nos campagnes' by an unknown author. There is a delightful 1960s sound, the Phil Spector Wall of Sound, the Brill Building, the whole thing, all in this song, and I just adore it. That leaves the final track, "I'll Be Home For Christmas". The song was written by lyricist Kim Gannon and composer Walter Kent, based on the original poem of the same name written by Buck Ram. It was made famous by Bing Crosby in 1943. I love the way Nathan updated this, maintaining the warmth and haunting quality of the original. To get a listen to parts of all the songs on the album, hit play below.
With this 'facelift', there is a true freshness for all the classics. While I have enjoyed different arrangements for some of the songs, this is the first time someone have managed to make them all feel light and new, a true revelation. I loved it, from start to finish, and think this album needs to be in your collection now! For yourself, or for a stocking stuffer for someone you love, this is a wonderful treat. You can purchase 'Brand New Christmas' exclusively from
iTunes
. For more about Nathan Leigh Jones, check out his
official website
. You can also 'like' him on
Facebook
and 'follow' him on
Twitter
.