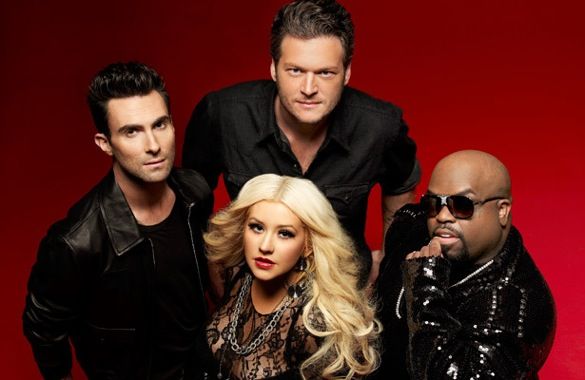 Left to right: Adam Levine, Christina Aguilera, Blake Shelton, and Cee Lo Green.
Season 5 has been rolling for a bit now, with the Blind Auditions, the Battle Rounds, Knockout Rounds, and the playoffs have come and gone, leaving all four coaches with a team of three performers, two chosen by the viewers, and the other by the coach. Blake Sheldon and Adam Levine continue to lead teams, while Christina Aguilera and Cee Lo Green are back, reuniting the original coaches. The four big personalities are grounded by host Carson Daly, trying to rein them in to stay on schedule. Which can't be easy. This week we have the Top 12 performing, and two will be sent home after the public votes are tallied.
With twelve performers to sing in the next two hours, host Carson Daly gets down to business right away. Caroline Pennell was the first to perform, making a strong star for Team Cee Lo. She sings "Wake Me Up" by Avicii, an uptempo song that was a surprise. "Wake Me Up" was the song of the summer, and a great way to kick off the show.
Caroline was a true delight, on key and sassy every step of the way. I can't think of a single negative from that performance, except I wouldn't mind it being longer! I think she is a real contender for the title, and the music charts after the show, as long as Cee Lo stays out of her way. Team Xtina is up next as Josh Logan takes on the great Michael Jackson song, "Man In The Mirror". Both Josh and Christina realize he needs to do something to connect with the voters, so they go with a softer approach, a smooth acoustic take on the classic. For me, his vocals were a bit all over the place, washed out at one moment, overdone the next. I loved his audition, and have not been impressed since. The next artist we get to hear is Team Adam's frontrunner James Wolpert. He sings a song from the Las Vegas-based rockerd, The Killers. The band has a distinctive sound, well-defined by the vocals of frontman Brandon Flowers. The song is "Mr. Brightside", the first introduction to the band in 2003. I loved the song then, and it is still a great one. James did a nice job, although at times lacked a bit of control here and there. The energy was strong, and he was moving strongly around the stage. He is a funny dude, for the minute the music stops, he relaxes back into the nerd role, quiet and quirky. But he is a bold performer. Austin Jenckes is the second artist for Team Blake to go this evening. He will be singing "It's A Great Day To Be Alive", a wonderful song by Travis Tritt. Blake is hoping to temp the Country voters to back Austin. I have to admit I wasn't too impressed with the performance, stripping a bit of the joy out of it, and it felt like it did grind on a bit. I couldn't help feeling he was sounding a little Hootie & the Blowfish to me. After a commercial break, it was time for Team Xtina's Jacquie Lee to take the stage. She will be singing "Love Is Blindness", a song off U2's album 'Achtung Baby', but Christina references the Jack White cover from 'The Great Gatsby' soundtrack.
I must say, I am not as sold on her as others might be. For me, she is more volume than depth. I don't get too much emotional connection from her performances. She tends to get a bit shouty to me, which leads her tone to sound sharp. I wish Christina would give her some Amy Winehouse, to have a subtle performance rather than blast. The sound changes up a bit, as we get ready to hear Ray Boudreaux from Team Blake. He will be performing John Legend's "All of Me". Blake hopes this will allow the audience, especially the ladies, to connect with Ray. He is a handsome man, with a strong voice. He offers a sweet and quiet vocal, one of his best so far. I thought this was rather wonderful. He was on key, and so connected to the emotion of the material. I truly enjoyed this. Next up, we have Kat Robichaud from Team Cee Lo. I was a bit surprised Cee Lo saved her last week, after a performance that failed to impress. She takes on "Sail" by AWOLNATION, a bombastic hit for the band in 2011. I didn't love this one, for I didn't think it worked well with her voice. She sounded more shrill than bold and strong. She stalks the stage, but I want more than a Miss Jay strut. After a commercial break, it is time for Jonny Gray to take his turn, singing Phil Collins' big hit, "Another Day In Paradise".
Jonny takes to the stage with his guitar, offering a quiet acoustic version of the song. The beginning seemed a little lost to me, and I am not sure why. Jonny seemed to pull it together as best he could, but the song never comes to a strong moment to take advantage of the strongest part of his voice. He is not a delicate vocalist, which the song really calls for. After another break, it is time for Tessanne Chin from Team Adam. She sings "My Kind of Love" by Emile Sandé. This song is a big and bold Pop song that shows off her emotional commitment, and her great vocals. For me, this was the strongest of the night so far. There is a great richness and depth to her voice, and never fails to deliver. I loved her. Matthew Schuler is up next, representing Team Xtina. Christina wants to change it up again and return to Matthew's Gospel roots. He sings "Hallelujah" by Leonard Cohen. My first response is to heave a heavy sigh, for this has been done far too often. He does a nice enough job, but I didn't really feel the emotional side of the song, the darker side of the song. It was more technical than from the heart. I was a bit disappointed. Somehow, we are left with two more performers, both the only two 'steals' to survive so far. The final artist from Team Blake is Cole Vosbury. I really like him, but wasn't thrilled with Blake's song choice last week. Rather than a rock classic, Cole sings "Adorn" by Miguel. Blake also convinces Cole to not play the guitar. I really like this week, for he gives a bit of a whole bunch of heart in the song, infusing it with soul. This guy is really so good, with plenty of upside. He is giving Tessanne a run for her money tonight. After a commercial break, it is time for the final performer of the night. Will Champin has the interesting history of being on Team Adam, only to be stolen by Christina during the Battle Rounds, and stolen back by Adam during Knockout Rounds. Tonight, Will will be singing for Team Adam. He sings "Demons" by Imagine Dragons.
Adam thinks this might be a 'moment' for him. Will starts out in the audience, soft and vulnerable. He builds wonderfully, so filled with emotional and vocal textures. I would have liked to hear the entire song, rather than this truncated version, but it is impossible for me to deny Will's inherent talent. Well, they got it done, all twelve artists had their turn on the stage in the two hour time frame. My top three for the night would be Tessanne, Cole, and Caroline, who all managed to have excellent performances. The bottom three for me is Kat Robichaud, Josh Logan, and Austin Jenckes. Part of the problem for me with them was in song choice, which didn't really do them any favors. While I certainly had my favorites, I am not sure the viewers and voters will agree with me. How about you, did you have a favorite tonight that I missed out on? We will learn who will be singing next week Tuesday night, 9PM EST, when they will give us the results on NBC.