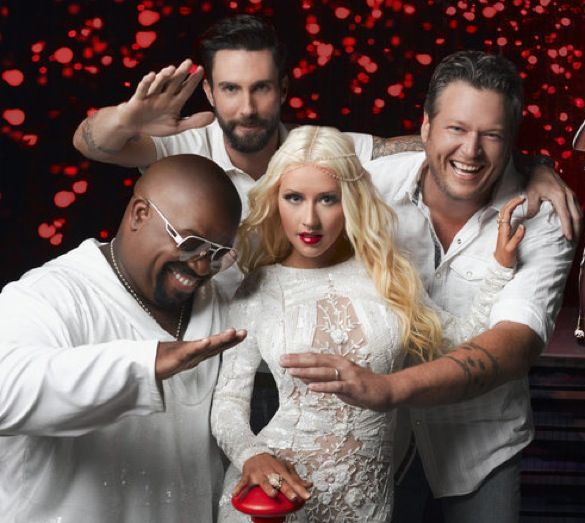 Left to right: Cee Lo Green, Adam Levine, Christina Aguilera, and Blake Shelton.
Last night, I predicted Will Champlin, Tessanne Chin and Matthew Schuler were the Top 3 performances, and Cole Vosbury, Caroline Pennell, and Jacquie Lee to be the Bottom 3. A quick look at iTunes sales tells me America disagrees with me in a big way. Via iTunes at the close of voting this morning, Will's At Last led the way, followed by Cole, and James Wolpert. At the other end of the spectrum, Mathew's "It's Time" was the lowest selling by far, followed by Ray Boudreaux and Caroline. On the Rickey.Org poll, the Top 3 vote-getters when asked about going home were Ray, Caroline and Cole. The only thing that proves is no one knows what will be happening tonight! If iTunes holds true, and Matthew, Ray, and Caroline are in the bottom, who will be saved by Twitter? Only time will tell, and it must in the next 60 minutes! Because I honestly a not sure what will be happening tonight!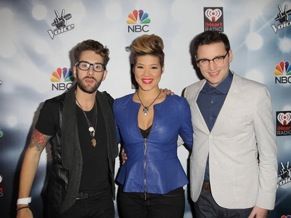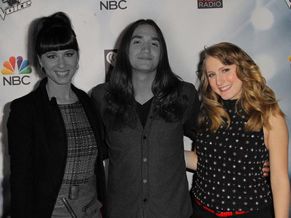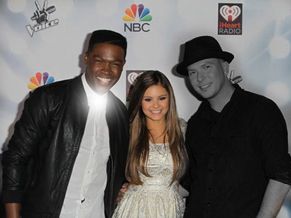 Clockwise: Team Adam, Team Blake, Team Xtina, and Team Cee Lo.
As is always the case, the show opens with host Carson Daly, on stage with the Top 8 and introducing the coaches. That quickly led to the recap clips, and how happy the coaches were with their charges. #1 on the Rock charts, #1 on the Reggae charts, and #1 on the Country charts, and one who landed in the overall Top 10, the contestants were making their voices heard. Since the show began, they have surpassed 15 million iTunes downloads. And even more exciting, they have musical guest Ellie Goulding to sing her latest hit, "Burn", with James, Matthew and Will.
Once that performance is finished, it is time for a commercial break, and then time to see who are the first people safe. The coaches are worried about who might be going home, and think their artists were great last night. Carson announces he will be asking random questions tonight, and starts with Tessanne, asking her about her mentor. She loves him, and holds him in such high esteem, for all the support he offers both on and off camera. But it is time for business. The first artist safe tonight is from Team Adam, and it is Will Champlin. That is no surprise, he was the on with the Top 10 placement, the most downloaded song of the week. After a break, Carson chats with Ellie Goulding, and she is a sweetie. Then it is time for Top 8 to get together and sing "Will The Circle Be Unbroken (By and By)", the song made famous by the Carter Family, and later by June Carter Cash and husband Johnny Cash.
They did a nice job, but soon it is time to get back to the results. First, Matthew is asked about his Coach, Christina, and he loves her, and the way she pushed him to be a better artist. Now we learn the second person saved by the votes this week, Cole Vosbury from Team Blake is safe. Interestingly enough, the two safe so far are both artists procured with a 'Judge's Steal'. After another break, Carson chats with Adam and Blake, to kill time so Cee Lo Green could prepare to team up again with Big Gipp and the Goodie Mob is back! They sing "With Amy".
After that, it is time for the coaches and contestants to do quick impressions, which are obviously not their forté. But there are six artists wanting to find out who is safe, so Carson tells us it is Jacquie Lee from Team Xtina. She and Christina have a big hug, but there are still three artists who are not leaving that are sweating bullets up there. And a big group of fans wanting to know it they have to save their favorite via Twitter, with the #VoiceSave and the first name of a singer. After a break, we learn Ryan Tedder, of One Republic fame, will be writing a song with the final three, who will then sing it live on the finale! They are so excited, the Top 8 sing the OneRepublic medley, starting with the hit "Apologize".
As soon as they are done, Carson calls them into a line to announce two more as safe. Tessanne Chin is the next artist called to safety. That is followed by the final save from last night, and it is James Wolpert, making Team Adam clean once again. That leaves Ray, Matthew, and Caroline in peril. Blake, Cee Lo, and Christina ask for the fan's support of their artists, and it is time for the Save. Carson asks Adam about who he thinks will be saved, and he thinks it might be Matthew, but he loves and supports them all. America saved Matthew Schuler, and Ray Boudreaux and Caroline Pennell are sent home.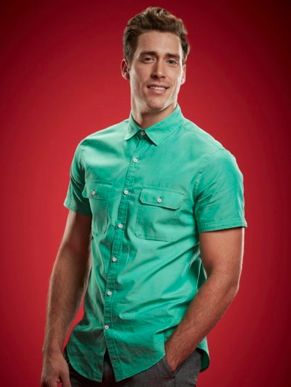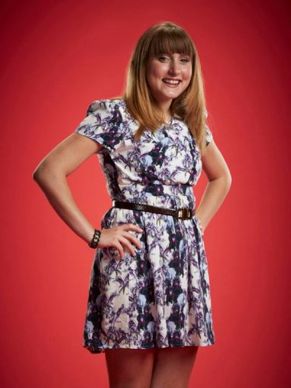 Tune in next week, when the Top Six will return to the stage to see if they can keep the dream alive! To learn more about 'The Voice', visit the
official website
. You can also 'like' them on
Facebook
, and 'follow' them on
Twitter.