I first discovered the music of SIRPAUL, being immediately enchanted by what I heard. Listening to 'Dismantle', I put it it on 'Repeat', settle in and allow the music to wash over me, cleansing my soul better than a river ceremony in the Confederate South. Several of the songs remain favorites of mine, including "Addicted". The music echoed some of the great 'dark' songs of Depeche Mode, yet always sounded fresh and new. Soon I was buying his next release, the industrial 'Objectified', the 'Do You Remixes', 'Music & Me', and, well, you get the point. I have them all, the albums, the EPs, and the remixes, eagerly digesting each stop along the SIRPAUL musical journey that takes me places I couldn't predict, but love to revisit time and time again. I was incredibly excited when I heard SIRPAUL was back in the studio, working on a new album. I was even more excited when I got to download it, and give 'Seventh Star' a listen.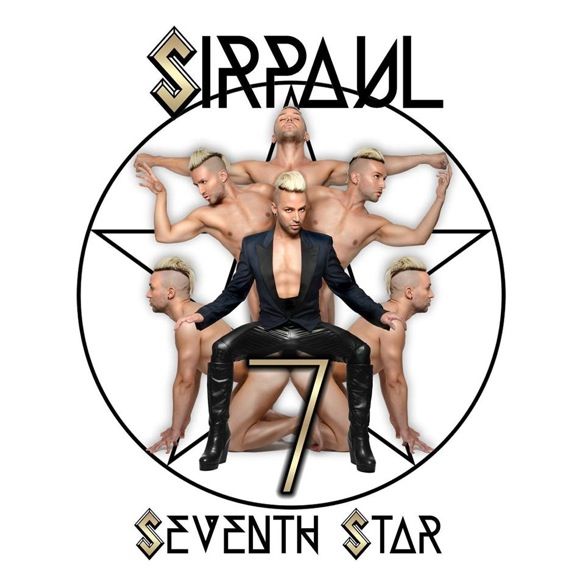 Now, I will admit I was already familiar with the first cut, for I purchased "Every Single Moment" as soon as it was available as s single in September. From the first strains of the song, you hear the way it is just vibrating with life, and erupting with love. Thankfully, SIRPAUL has made the track available for streaming, so you can get a treat a week after Halloween. This is "Every Single Moment".
From the outset, I thought "Typical Blue" gave me a little Blondie feel, but as is often the case, SIRPAUL had me forgetting about Debbie Harry, and focusing on the amazing artist he is. It is a wonderful Pop song with an edge, and you soon recall there is nothing typical about his music. There is a lush feel to "Be Mine", with a great melody wraps me up all warm and cozy, giving me the opportunity to feel it and believe it. While we might find a nod to the great Cyndi Lauper in "He's So Unusual", blooms into a great song, and delightful confection of SIRPAUL's making. "Feelin' Free" has a buoyancy that is light and fresh, like an effervescent dream. The song is just makes me float with it, light and airy. The percussive start to "Turn Me On" is driven and sensual, the warm sensation of blood and hormones rushing to my skin, making me flush. From the start of "Black Leather", there is a edginess, a rawness that cannot be denied. Give a listen and judge for yourself.
There is something slightly dark with the opening of "Your Bedroom", the next track that also features a rap break by Baron. The song captures new love, when love, hope, lust and desire cloud the mind, when we believe we are acting with clarity. The edge continues with "Love Sick", club tune that radiates heat and explodes with danger. With the first listen, I could feel my dark side being drawn out to play. "Give Me More" looks for something beyond that momentary distraction, but not that far away. When the mind kicks into overdrive, sometimes you are looking for than a quick roll in the hay - like an amazing weekend locked in an apartment. There is a jubilant feeling to "Side by Side", a defiant anthem extolling the joys of sharing your love with the world. It is interesting, for "X-Rated" starts a bit coy, flirting with the listener, before heating things up. Things get a bit steamy, tasting and sharing with your lover. It is the moment when sultry and sexy meld into a wonderful time. We come to the last cut of the album, "The Centenary Diamond". We are all hunks of carbon, waiting for life to compress us into the large and flawless diamonds that shines inside. This is SIRPAUL's "Centenary Diamond".
'Seventh Star' is a bit more driven than the last two albums, but it still maintains an Electro-Pop feel, taking a journey over the emotional landscape of relationships, when Lovers Lane sometimes crosses over Sexy Boulevard, testing both our patience and out own self-awareness. At times we get on the emotional roller coaster, barely able to control ourselves, screaming with hands in the air. For other moments, there is nothing like the feeling as you ride with your hand in the hand of another, keeping contact. It is all part of the human journey, keeping our lives exciting. You can purchase 'Seventh Star' from
iTunes
and
Amazon
. To learn more about SIRPAUL, visit his
official website
. You can also find him in the social medias, 'like' him on
Facebook
, and 'follow' him on
Twitter
.