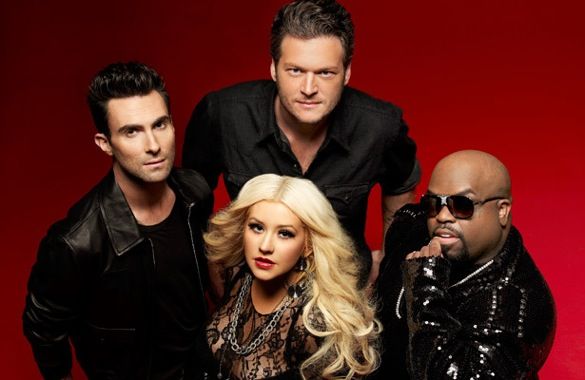 Left to right: Adam Levine, Christina Aguilera, Blake Shelton, and Cee Lo Green.
Last week, we had a couple of firsts. It began with the first chance the public had to vote, having complete control over the outcome. There were no "saves" for the coaches, only a voting process. Once the bottom three was announced, a five-minute voting period on Twitter saved one of the contestants, sending the other two packing. The bottom three were Josh Logan, Jonny Gray, and Kat Robichaud, and it was Kat who was saved, leaving Team Cee Lo and Team Xtina each down a member. Team Adam and Team Blake sailed through the first week, free and clear of potential dismissal. The week began with 12 contestants, 8 men and 4 women. The numbers are coming into parity, with the men now at six, and the ladies remaining at four. Can Kat use the momentum of the Twitter Save to pull herself out of danger? Can Team Adam and Team Blake continue to dominate the competition? We shall see as they take to the stage this evening.
Left to right: Blake Shelton, Christina Aguilera, Carson Daly, Cee Lo Green, and Adam Levine.
The evening tonight started out with a recap of the performances from the Top 10, looking at and listening to the performances from last week. As the show kicks off, Carson Daly introduces the coaches, and reminds us that tomorrow night, two more contestants will be sent home as a result of tonight's vote. The evening starts with the Top 10 joining forces to sing "Say It, Just Say It", the song by The Mowgli's. This is unfortunate, for the song doesn't really work for any of the artists singing it. The solos were a bit of a mess, but at least in unison, they sounded in tune. Now let's just move on. Before heading to a commercial break, Carson tells us that Austin Jenckes will be starting off things with a song from the 1980s. It is most certainly true, for he sings "Your Love", a song by the British band The Outfield from 1985. Blake hopes to show the voters that Austin is a singer with power. The original is big and bold, a big rock anthem. Austin pares is back, to build toward an ending. That ending is a bit blown out to me, and I just felt the rest of the performance was a bit washed out, the heart weak. After a chat with runner Usain Bolt, there to promote his new book, it is time to introduce the youngest contestant on the show, Jacquie Lee. Coach Christina has her perform the song "Clarity", the 2013 hit from Zedd. The song is a quiet, more introspective song, and I am glad to hear her take it on. The song starts off a bit slow, with some pitch issues for me, and was also a bit rushed. But it seems it might have been nerves, for the last half of the song she found herself, and the song. While it was great for her to try something new, and avoid getting shouty, I wish it was a bit smoother. To my surprise, Cee Lo, Blake, and Adam heard that same thing. Next up, we will hear Will Champlin, and he will be singing "Love Me Again" by John Newman. The British song hasn't really made it here in the States yet, so this is a great chance for a standout performance.
Will starts off with a soft soul, but soon is giving us full-throated Pop. I thought he sounded great, and so at home with the song. There was a fire inside, keeping the song hot. I think it was his best performance to date, and the song that best suited him as an artist. And once again, the judges agree with me. Hmmm. After another break, it is time for Caroline Pennell, who will be singing "Leaving on a Jet Plane", written in 1966 by John Denver, and made popular by Peter, Paul & Mary. It is a favorite of Caroline's, although Cee Lo is not sure about it. I have to agree with Cee Lo on this one, the choice is odd. As she starts singing, you can hear that voice, it is lovely and interesting, but it does seem a bit wasted on this song. She is better than this performance, which felt a little lethargic. I truly hope she will be sticking around despite this. After yet another commercial break, we learn that Cole Vosbury will be singing "To Be With You", the huge hit by Mr. Big from 1991. Cole loves the song, a fact Blake didn't know when he picked it for him.
It seems it is almost impossible to not sing along to this song. It seems a great match for Cole, who allows his voice to really open up as the song goes on. This is a wonderful bar-song, and gives such a warm feeling. While I don't think it was the grand statement Blake was looking for, I think it was tight and strong. Blake was proud, and just loves Cole. Adam loves him too, but manages to talk about the artists, and not the performance. After another break, and an odd minute or two with Carson, it is time for Tessanne Chin to take her turn on the stage. Adam picked "If I Were Your Woman", the iconic song by Gladys Knight & the Pips from 1970. It is scary to take on a voice as amazing as Gladys, but if anyone can, it would be Tessanne. She starts off so quietly, but soon brings the power, and delivers a gorgeous version of the song. She is so on form, so right on every step of the musical journey, this was show-stopping. This went beyond a 'moment', to something really special. We move from Jamaica to Louisiana, as it is time for handsome Ray Boudreaux to perform. When I heard he was going to sing "You Are The Best Thing" by Ray LaMontagne, I was immediately excited.
I don't think the song choice last week was a great one, but this is so on track. There is a beautiful soulful quality in all of his vocals, and it suits this song so well. He gave an excellent vocal, and he seemed so comfortable up on stage, and delivered the goods. I loved it. The judges seemed to like it muchly, too. Carson tells us that James Wolpert will be up next, taking on a great Power Ballad. It turns out he will be singing "Without You", the iconic song written by Pete Ham and Tom Evans of British rock group Badfinger, and recorded by the band in 1970. It was made famous in 1971 by Harry Nilsson, and again by Mariah Carey in 1994. This is a big song, so James will have to deliver big time. He begins with a soft vulnerability, and brings the power on the chorus, with an edge of desperation. While compressing the song in the 90 seconds allowed by the show is tough, James did a fantastic job with it, taking it over a bit. He allowed it to soar, and gave it is creepy edge. The judges liked him, although Christina mentioned a pitch problem at the end I didn't hear. Kat Robichaud is the next to take the stage, and she will be singing "We Belong", the phenomenal song by Pat Benatar, a huge hit in 1984.
I think this is a far better choice for her, allowing her to get in front of the music, instead of hidden by it. Unfortunately, she just sounds nervous during the verses, and only comes alive on the chorus, although a tad wobbly at times. I don't know if the pressure got to her, or the song was just too big for her. Cee Lo was so proud, and tells her it was "a performances that will live forever". Adam was so glad she finally became the performer they wanted her to be. Obviously, I am a tad confused. After the commercial break, we come back for the final performer of the night, Matthew Schuler. Christina chose the song "Beneath Your Beautiful", an interesting song by Labrinth featuring Emili Sandé.
There is a softness to the beginning of the song, a little too wispy for me. But thankfully, he picked it up on the chorus. He ended so well, with such a strong sound, this was a hit for him. For me, this was his strongest song so far from him. Christina loves him, and is blown away by him. Adam loved him, too. But it is time for the show to come to a close, and voting will be open until 11AM EST Tuesday morning. Remember, you can also place a vote by buying a single on iTunes. This wasn't the strongest show to date, but not a bad one either. There were some strong performances, and a few misses. Last week, I did pick bottom three, but missed on who would earn the save. This week, I am not as sure. My bottom three would be Austin Jenckes, Kat Robichaud, and maybe either Jacquie Lee or Ray Boudreaux. I don't think Ray did badly, but I am just not sure if his performance was not big enough. Jacquie started off nervously, but gained her footing by the end, so I fear she might be vulnerable. Heck, for that matter, Caroline's sleepy performance could leave her is a troubling position. I think the Top 10 are the strongest so far, and a mistake with song choice or an off performance can send someone home. We will find out the results at 9PM on Tuesday night, and see if my predictions hold true.