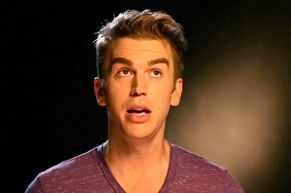 Spencer Day has a new music video out, and man, is it hot! Spencer sure is a handsome devil, and much of the video is just focused on that pretty face. I must admit, there were times when I couldn't take my eyes off his lips... The video features "Something Wicked", a song off his wonderful new album, 'The Mystery of You'. The album, which I reviewed
here
, is a wonderful Jazz offering, spiced with the wonderful vocals from Spencer. While I have several favorites from the album, one of those would definitely be "Something Wicked", a sexy and delicious song about fighting our inner bad boy. The music video brings that voice on our shoulder to life. I hope you love the music video for "Something Wicked".
I don't know what is more wicked for me - that dancing demon, or having Spencer be all cute and flirty! I love the song, and love the entire album. 'The Mystery of You' is available for purchase from
iTunes
and
Amazon
. For more information about Spencer, visit his
official website
. You can also 'like' him on
Facebook
and 'follow' him on
Twitter
. He has begun adding touring dates to the schedule, so make sure you check in to see if he is playing near you. He is playing in Philadelphia next month, and hope to see him then! I hope you get a chance to see him as well. Be sure to join his fan mailing list on the front page of the official website to get the latest news delivered to your mailbox!