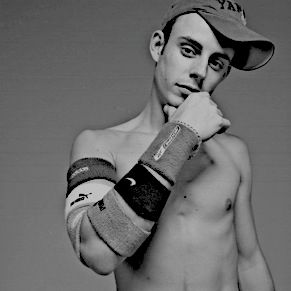 Top: Handsome men Levi Kreis, left, and QBoy, right.
Levi Kreis has released a set of remixes for one of the hot songs off his latest album, 'Imagine Paradise'. On the album, Levi collaborates with British Rapper QBoy, ending up with an energetic and sexy song. And if having Levi and QBoy together isn't sexy enough for anyone, you know what ups the ante here? Levi has released an eight-track Remix collection that is now available. I've heard it, and it is wonderful. It is perfect for your workout playlist, kicking off your weekend, or just to satisfy your aural needs. And, if you buy it between now and November 4, 2013, 100% of the money will go to Positively Living, a Knoxville, Tennessee-based charity.
Positively Living is a not-for-profit service agency that provides housing and care for persons that are homeless and suffering from HIV/AIDS, mental illness, addiction, or physical disability. Life has not been great for LGBT residents of Tennessee, who has seen some of the most hurtful anti-gay legislation, at a time when many states are making the dream of equality a reality. Levi was raised in Eastern Tennessee, and knew the hardships of growing up in an environment of bullying, religious persecution, and attempts at ex-gay therapy. After fighting that and addiction issue, Levi found his way to sobriety and a new life, one that included being an out and proud gay man making music, and winning a Tony Award for his first show on Broadway. Now Levi has the opportunity to offer back to the community, to offer a hand to the LGBT adults and youth, he is stepping up to the plate. All the money for purchases of 'Love Revolution: The Remixes' from BandCamp will be going to Positively Living. While you ponder that act of altruism, give a listen to one of the tracks from the collection, "Love Revolution (Golishevsky Remix)".
'Love Revolution: The Remixes' is available on
BandCamp
. If you click on "Buy Now", you can name the amount of money that will be given to Positively Living. So between now and November 4th, you have the opportunity to get some great music, and make the lives of some folks just a little bit better. That sounds like a win-win to me! For more about Levi Kreis, visit his
official website
. You can also 'follow' him on
Twitter
, and 'like' him on
Facebook
. To learn about QBoy, visit his
official website
, 'follow' him on
Twitter
, and 'like' him on
Facebook
. I am sure both would appreciate hearing from you, so feel free to do so!