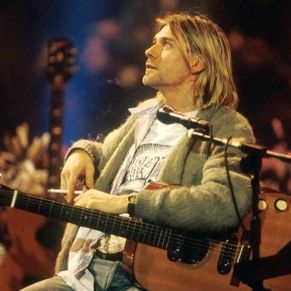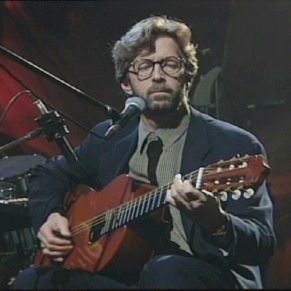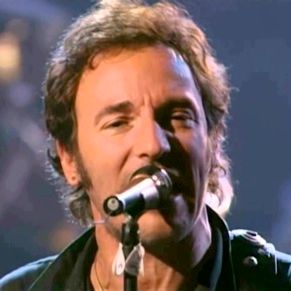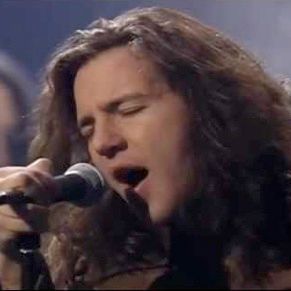 Clockwise: Nirvana, Eric Clapton, Pearl Jam, and Bruce Springsteen.
In what seems like a very long time ago, when the 'm' in MTV stood for music, the station offered the viewers a more intimate look at some of their favorite musical artists, from most of the popular genres. Many of my own personal favorites were the Rockers, who came on to the show and allowed their music to be heard stripped down. In many instances, it made a great song that much better. It also seemed to give us better insight into the men and woman most often heard through a radio. The series began in 1989, and has created some great musical memories, at least for me. I have decided to go with a few of my favorite performances, which makes for an impressive group, to be sure. I will start with the 1992 performance by Grunge Rockers Nirvana. There is something quite wonderful about the performances of Kurt Cobain, Krist Novoselic, and Dave Grohl, so light and almost sweet. It is hard to believe this was Cobain's final televised performance, for the following year, he struggled until he was found dead. You would never be able to tell when watching him sing "All Apologies" that he was struggling so much. The song, off the five-times Platinum selling album 'In Utero', was beautiful stripped down, allowing Kurt's vocals to shine. Watch as Nirvana sings "All Apologies".
Eric Clapton also did the show in 1992, and it was another memorable one. Clapton had a um longer career, with music he played in band going back almost three decades. And he alo had a magnificent catalog of solo work from which to choose, so the wealth of material was not an issue. In fact, there were so many great songs, I had a tough time picking which one to go with. However, I narrowed it down to just one of my favorites, from when Clapton was front man for Derek and the Dominos. The band had a big hit with the 1970 song "Layla", still considered by some to be the best Rock love song ever written. By the way, Clapton sp[lit the writing duties with bandmate Jim Gordon. This is Eric Clapton playing an absolutely amazing Unplugged version of "Layla".
Now, I would be hard pressed to do this post and not include The Boss, New Jersey's great musical ambassador, Bruce Springsteen. Back in college, I had a roommate from Vineland, New Jersey, who lived and breathed everything Bruce. Normally a quiet Pre-Med major, Steve would go crazy whenever Bruce started playing on the stereo. And forget about when he was getting ready to go see The Boss performing live... While it seems there are so many iconic songs in Springsteen's catalog, I have another strong memory associated with some others. Nearly 30 years ago, I worked on a production of Lanford Wilson's 'A Balm In Gilead' at the Circle Repertory Theatre, a co-production with Chicago's Steppenwolf Theater Company. The show included several of Springsteen's early songs, and one of my favorites, "Thunder Road". The song, off the 1975 album 'Born To Run', has a truly magical quality about it, able to remain huge in sound, yet also tell an intimate story, something Springsteen was a master at doing. This is Bruce Springsteen playing his acoustic version of "Thunder Road".
Finally, I have another personal favorite of mine. I still am a huge fan of Pearl Jam, a band with amazing heart, sense of self, and a sense of amazing music. Of course, it never hurt that I found lead singer Eddie Vedder to amazing to watch, so beautiful and so expressive. While many of their classic live performances were bold and bombastic, there was something so wonderful about their pared down sound unplugged. The band, made up by Mike McCready, Stone Gossard, Jeff Ament, Dave Krusen, and Eddie Vedder, managed to have a laid back feel to the show, yet the intensity for the songs was still there. This was amazing, for they were still quite new, having released just one album, 1991's 'Ten'. Of course, that was an astonishing album, with so many great songs. While I could have easily picked any number of the songs, I am going with "Alive", one that still remains one of my favorites. The song, written by bassist Stone Gossard, has an strong message, wrapped in a dark paper. There is just something so honest about the song and the performance, I continue to return to it year after years. This is Pearl Jam playing the acoustic version of "Alive".
Hope your weekend was a good one and this helps kick start you week!!